It's been a real year of 'Ups and Downs' or maybe 'Ins and Outs' would be more appropriate as we found ourselves moving backwards and forwards between physical and virtual classes. Despite the challenges the KLASS Community has lots to celebrate as we reflect on the achievements of our 75th year! #KLASSturns75
January
We didn't get the start to the year we were hoping for and, although we welcomed our students back face to face for the new term, by the end of the first week further school closures were announced and we reverted back to virtual learning.
There was some good news in January though and we were delighted that our Personalised Learning Faculty won the Inclusion category at the International School Awards 2021 with their initiative, 'KLASS Student-Support Programme: empowering students to lead on in-class support'.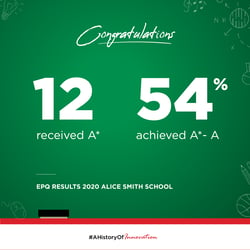 Our EPQ students also received their results and we were very proud that:

- 12 students were awarded A* for their projects
- 54% of students achieved a grade A*-A
- 100% of students passed their EPQ

These would be fantastic results in any year however this group also had to cope with the additional factors of not being able to access the campus or work with their supervisors face to face due to the MCO and then making their final presentations virtually.


January also saw the start of our online Academic Lecture Series that helps students to understand what field of study they might like to pursue at university. If you missed them you can check out all 27 lectures on the school YouTube channel.
February
While our youngest kindergarten students and our oldest exam year students could return to campus for face to face teaching the majority of the KLASS Community continued to study virtually. In this blog our Primary Principal, Alan McCarthy wrote about how our Year 2's were continuing to enthusiastically engage with our curriculum despite the challenges of distance learning and the ongoing MCO.
Throughout the year our staff sought numerous ways to find alternatives to the activities we would have participated in at school and the results included a wonderful online 'Young Musician of the Year' competition, our twice weekly 7am workouts from the PE department and a virtual version of our annual 'Futurescope' talks.
March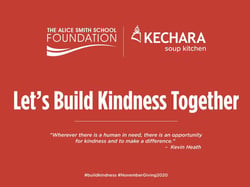 With all students finally back on our campuses and vaccination happening globally, there was cause for optimism and hope. The challenges of the pandemic had not prevented our community from supporting needy urban families in Kuala Lumpur though and our Foundation's #BuildKindness campaign continued to support 25 poor urban families of the Kechara Soup Kitchen Malaysia (KSK).
Face to face learning also brought opportunities to restart some of the activities we had been missing; in JB our Year 6's were able to do their new skills presentations (part of their year long Year 6 Challenge), we saw the return of International Week and our fabulous student prefects for STEM at EP treated staff and students to a medley of activities and learning moments as part of STEM Week - a week-long exploration of all things Science, Technology, Engineering and Maths related.
There was also success for the Geography Department with Emily and India winning the British Geological Society 'National Schools Geology Challenge'!
April
With the passing of HRH Prince Philip we commemorated his lifelong legacy of service and dedication, by reflecting on how our students have developed independence, resilience and perseverance through The Duke of Edinburgh International Award.
On April 23rd we celebrated World Book Day across both campuses and it was a delight to see so many book characters come to life! Take a look at our album on Flickr and see which characters you can spot!
May
May began with a flurry of activity; we welcomed the Year 6 students from JB to EP so they could get a taste of what life is like at Secondary School, we celebrated our 2020-2021 Sports Captains and welcomed our new Head Students into their posts.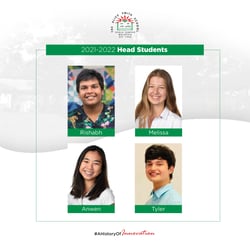 Congratulations to
Rishabh Sen, Tyler Lewis, Melissa Midzic and Anwen Tay who are proving to be great
ambassadors for the school. Becoming a Head Student isn't easy though, with a rigorous application and assessment process, which Rishabh and Tyler shared with us in their first blog post.
It was disappointing that many of our students had to return to online learning during May but our examination students stayed on campus to complete the final stages of their (I)GCSE and A Level courses, finalising course work and teacher assessments on an eerily quiet campus.
June
June saw our second virtual graduation (and hopefully our last!) as we wished farewell and good luck to our #KLASSof2021.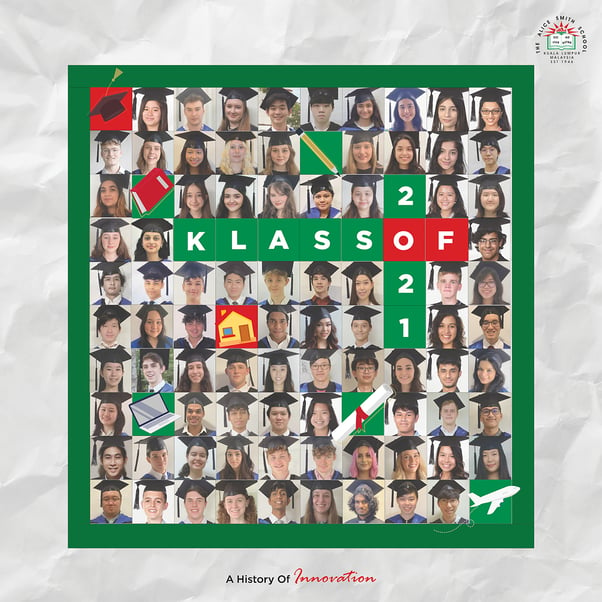 We also received the fabulous news that Alice Smith had been shortlisted for the International Independent School of the Year for the second year running. While we didn't win overall, being placed in the Top Four International Schools Globally is a wonderful achievement of which we are exceptionally proud.
July
The academic year ended with our students and teachers working virtually again but whether on campus or online our learning never stopped.
August
It may have been the school holidays but things are never quiet at Alice Smith! August saw us welcome our new teachers to the school.
Our A Level students received their results a little earlier than usual but that didn't stop 95% of them confirming offers from their first choice universities. Our (I)GCSE students did well too!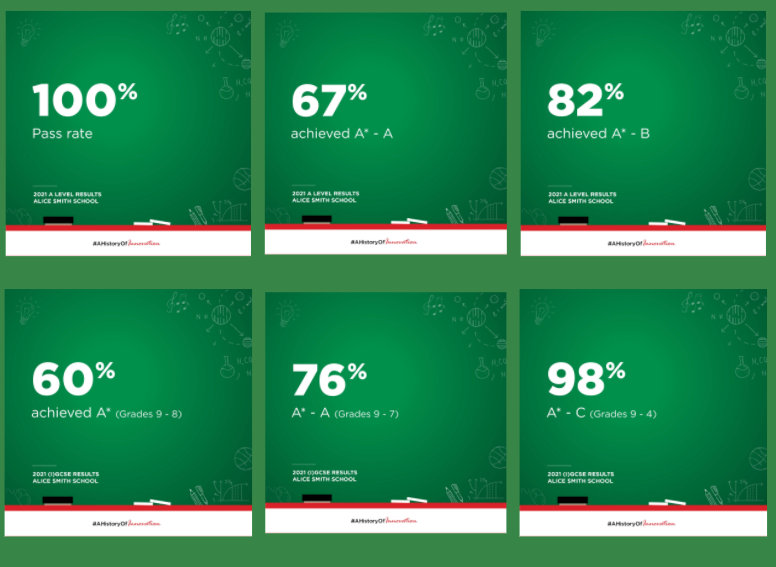 September
We begun the new academic year, as we had ended the last, with our students returning to a virtual new school year with our campuses remaining closed. We spent time 'Connecting and Reconnecting' with the KLASS community and our students embraced the new term. Our Primary students began their new units of learning through 'Hook from a book'. We even heard from one of the UK authors who sent our Year 4's a wonderful message!
October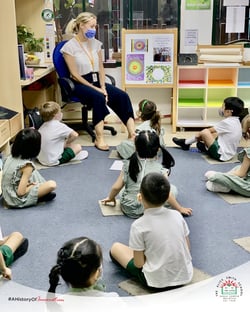 By October many of our year groups had begun to return to campus, starting with our youngest students in kindergarten and our oldest students in our examination years, and over six weeks our campuses gradually came back to life.
Student Successes
We always love to hear about our students successes both inside and outside of school and Term 1 brought us much to celebrate including Harry Ho winning several significant photography competitions, our team of Constance Williams, Shao Chen Quek and Zhongyi Ho, being crowned champions in the Sunway College Diploma Investment Portfolio Management Competition, Eugene Hwang achieving a gold medal in Digital Technologies at the UNSW International Competitions and Assessments for Schools (ICAS) and Rebecca Lim who was awarded 2nd prize in the 15-17 years category in the international Lyrical Flute Legends Competition. There were many other successes during the year - check out our Facebook and Twitter feeds to see more!
Our students also participated in a number of FOBISIA and AIMS virtual events winning several awards in dance, gymnastics, sports and mathematics and some even ran their own competitions like Andrea and Annushka's 'Kode for Kindness' event.
November
November was a difficult month with the sudden loss of several members of our community. On the 1st November Wodayar Kumar, Facilities Manager at our Equine Park Secondary Campus, passed away unexpectedly. On the 19th November we were saddened to hear of the passing of Premila, a member of our Domestic team following a long and difficult illness. This was followed by the tragic news that our Year 11 student, Qi Yan Chee, died at home in the company of his family the same day.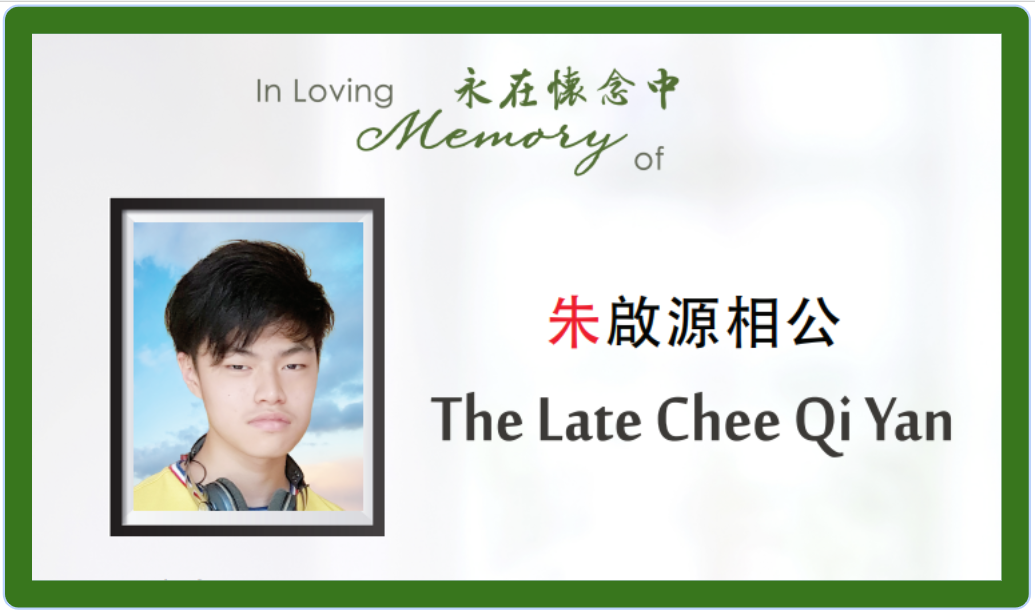 Our thoughts and prayers are with all the members of our KLASS community who have lost family and friends during this difficult year and our Counselling teams are available to offer help and support.
December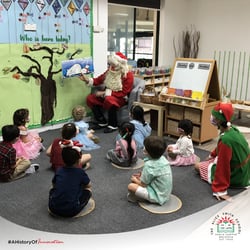 We were grateful to end Term 1 on campus, face to face, and while we were not able to be on campus for the final week of Term 1 last year, we certainly made up for that this year!
In the Primary School Santa visited and read our students a festive tale, there were (physically distanced) Christmas parties and a virtual Christmas Concert.
In the Secondary School we enjoyed MFL carols from our Year 7's, a 'Pop-up' brass band, a virtual Carol Concert from St. Mary's Cathedral and ended the term in our traditional way - with a pun-tastic Spongebob Squarepants staff pantomime and the House Christmas Sing off!
Happy New Year! Here's to 2022!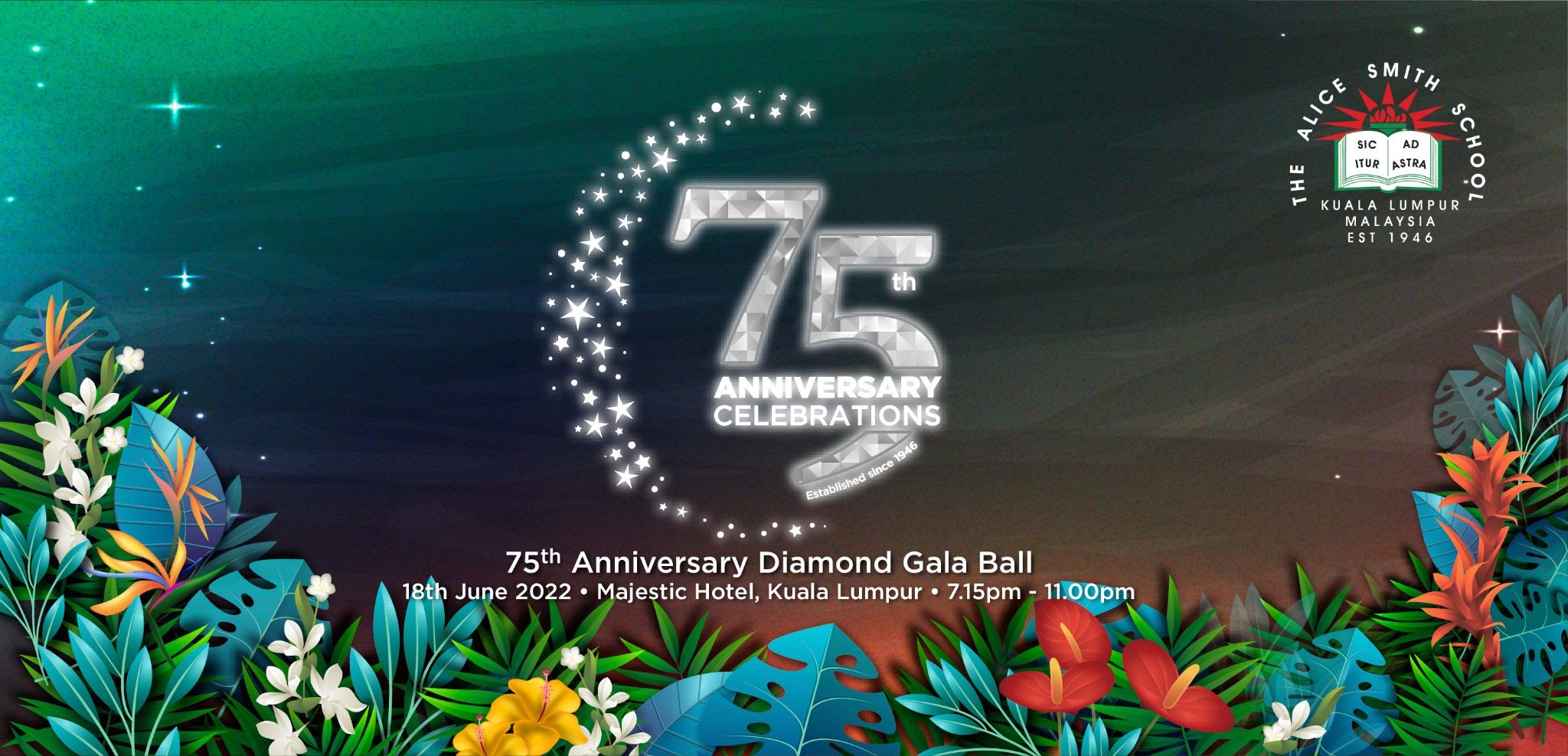 We've a lot to look forward to in 2022 as we continue our 75th Anniversary celebrations which culminate in our Gala dinner in June and we have our fingers crossed for our Higher Education Team who have been shortlisted for the Pathways to Continued and University Education award in this year's International School Awards 2022!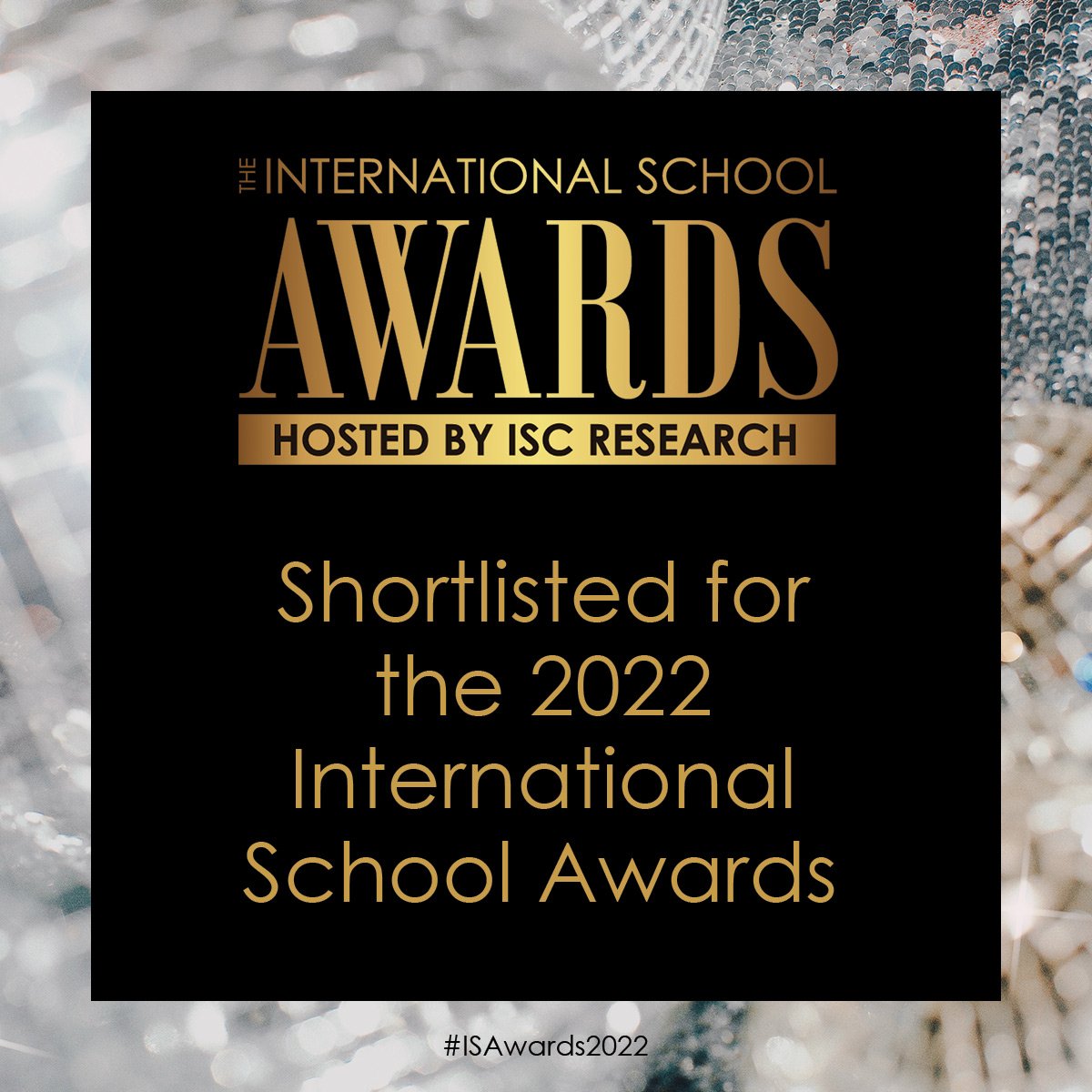 Happy New Year! 🎉

Here's to 2022!

#KLASSCommunity