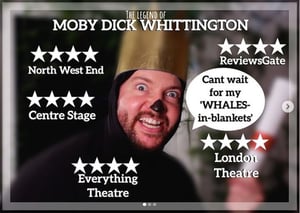 This week, in the run up to Christmas festivities, the Drama and English departments at EP have been showing students The Legend of Moby Dick Whittington, by UK theatre company The Sleeping Trees.
The show is a traditional British pantomime - with a difference! It was completely created, performed and filmed at home.
With Covid numbers rising in the UK, a live pantomime was not possible this year, but that didn't let the company dampen their Christmas cheer. Instead, Sleeping Trees brought their unique Christmas adventures from their living rooms to ours! We got our mince pies ready, gathered our props and watched the show, streamed via Zoom.
Directed by Kerry Frampton, Artistic Director of Splendid Productions, and good friend of the Alice Smith School, the show was great slapstick fun.

Mayor of London, Dick Whittington, is turning on the Christmas lights of London for the very first time. But when a giant white whale swims into the Thames and swallows Santa Claus whole, Dick, his trusty sidekick Cat and a host of fairytale favourites must embark on a quest to stop Christmas being ruined forever. Join the Sleeping Trees on this at-home adventure where sofas become boats, wooden spoons become swords and your imagination will take you on a magical expedition like no other.
As if that weren't exciting enough, actor John Woodburn sent our students a special pre-show message!
Selamat Happy Christmas one and all!