A Levels or Advanced Levels are the passport to university entry in the UK and are also widely accepted by universities and colleges around the world. They follow GCSE qualifications and offer a higher standard in their examinations, with fewer subjects chosen for these qualifications. Students select their subjects in year 12 and go on to take the exams in year 13; these two years are sometimes referred to as Sixth Form. Most students studying for A Levels will be between 16-18 years old.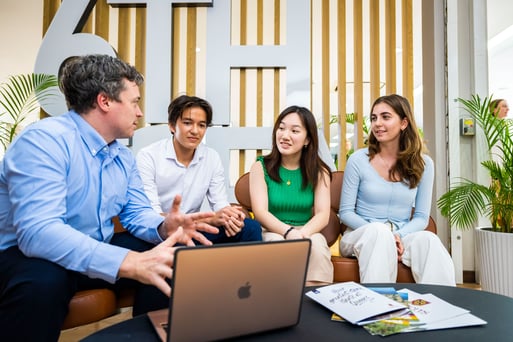 Selecting your subjects
The subjects you'll take at A Level depend on your GCSE results. Those exams in which you gained the highest results will help in your selection; these include those where you attained grades 9-4. At Alice Smith School, you'll soon find that your teachers will be happy to help you make the right selection.
Most students generally choose three or four subjects for A Level. This choice really depends on your dream university; Oxford, Cambridge, or Harvard have difficult entry requirements. If you plan to study a more complex and competitive subject, such as law, medicine and veterinary science, it might give you an advantage to take four subjects. Selecting the subjects you feel more comfortable with and will enjoy researching is a good idea. At Alice Smith School our dedicated Higher Education Counselling team supports students to make the right choices for A Level based on the subject and location they would like to study in and then provides advice and guidance throughout the application process.
Ready to choose your A Levels?
If you know what you want to study at university, look at the A Level entry requirements for the courses that interest you on the UCAS and university websites.
If you are not sure what to study, keep your options open. Consider taking 2 of the "Facilitating Subjects". These are the subjects most likely to be preferred or required for degree courses and are English Literature, Mathematics, Physics, Biology, Chemistry, History, Geography or Languages.
Your GCSE grades matter. Are you on track to achieve the GCSE grades to progress to the courses you would like to do at A Level and at university? Oxbridge and Medicine applicants will usually be expected to achieve at least 8A*/As.
Do you have a balance of subjects that reflect your abilities, strengths and interests?
If you are taking up a new subject at A Level - do you know enough about it and why you want to study it?
Studying for A Levels
At A Level, your essays will need to be more complex and detailed than was expected for GCSE; you'll be expected to cite references and give quotes from the materials studied. Be prepared to spend a lot of time in the library sourcing books for your subject in addition to your school textbooks. If you are worried or have problems with your study, chat with your teacher; this is the time to ask the staff questions so you're in good shape for your final A Level year exams.
This second year of A Level study will be hard work. You'll use your essays and other coursework to revise for the year-end exams. Setting up study groups so you and your friends can revise for the all-important end-of-year exams is a good idea. The Universities Colleges and Admissions Service (UCAS) received three million university applications in 2022 from 761,740 EU, international and UK students looking to study in the UK. Each student can apply to many different universities. The better your exam results, the more likely you'll be able to study at the university of your choice.
If you're interested in studying A Level courses with us at Alice Smith School, get in touch today or download a brochure.