We always love hearing about our students success both in and out of school. Recently several of our students have had fantastic success in competitions nationally and internationally across a diverse range of subjects from photography to engineering and from English to investment management. Read on to find out more!
Sony Malaysia Photography Competition 2021
First, congratulations to Sixth Form student Harry Ho who was recently announced as winner of the Sony Malaysia Photography Competition 2021. He submitted a number of photographs reflective of the theme of the 'Storytelling Series". The competition was open to all ages and experiences which makes for an even more impressive achievement as he was competing against Sony Photographers senior to him and with more life/photography experience.
Here Harry describes his photographs;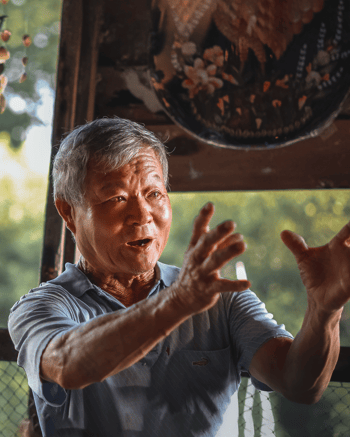 "Hidden in the district of Kuala Selangor is Malaysia's typical rustic fishing village by the name of Sungai Janggut. Today, however, there are sizable numbers of both Chinese and Malay communities, making it a distinctly Malaysian example of multiculturalism, a living embodiment of cultural tolerance and harmony.

This is a story of a Fisherman. Lee Seng Huat also known as 海浪爸爸, born in the year 1955 (66yrs old). He has been fishing for his entire life, he chose to continue his passion by supporting his son Mr.Steve Lee on opening a homestay "海•浪滔滔民宿".

During my stay in Sungai Janggut, I spent most of my time with this Uncle ( Lee Seng Huat ). He told me, "Back in the days when he was a kid, his parents couldn't afford to pay for his education... But that's not the case, he told me "Faith can start You from the Bottom and Dreams will take you to the TOP!". And so he stood up his mind and decided to be a fisherman his entire life. Knowing that "hard work" will only be his source of income, Uncle Lee sacrifices most of his childhood and lifetime by the sea.

𝗕𝗨𝗧 𝘄𝗵𝗮𝘁 𝗺𝗮𝗸𝗲𝘀 𝘁𝗵𝗶𝘀 𝘃𝗶𝗹𝗹𝗮𝗴𝗲 𝘂𝗻𝗶𝗾𝘂𝗲?

I told myself. I'm here as an observer of the ebb and flow of life, documenting people's unfiltered expressions and emotions. The proverb "Unity is strength" defines the dignity of this village. From my observation, It is a norm for villagers here to stay united so they will emerge stronger as compared to what they would've been individually.

Furthermore, I was fortunate to capture the "Traditional fishing boats". Uncle Lee told me that this type of traditional boat is ridiculously rare, it can only be found at tiny fishing villages like "Sungai Janggut" & parts of Malaysia. As a whole, this village is surrounded by the magnificence of flora and fauna, flocks of seasonal birds lingering around the bay area, and the calmness of the relentless sea bringing you a sense of relief and peace, only in Malaysia!"
(taken from Instagram where you can also view the images on Harry's feed here)
Harry's work is currently exhibited in the KL Sony Photography flagship store.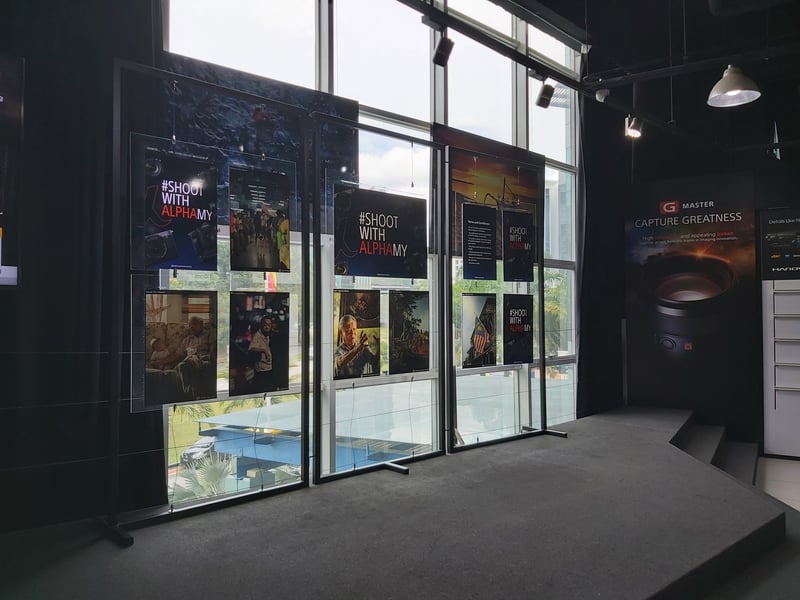 Champions in the Sunway College Diploma Investment Portfolio Management Competition 2021
During the summer holidays a team of three students, Constance Williams, Shao Chen Quek and Zhongyi Ho, represented the school in the Sunway College Diploma Investment Portfolio Management Competition.
Here's one of the winning team members, Zhongyi Ho, to tell us more;
"After two whole months of researching, analysing, and investing in different companies on Bursa Malaysia (simulation), my team - Plutus (Constance Williams, Shao Chen Quek, and myself), representing The Alice Smith School - were honoured to be awarded Champion in the Sunway College Diploma Investment Portfolio Management Competition 2021!

Throughout this competition, we worked together as a team to write a 48-page report & produce presentation slides. Through this experience, I have definitely strengthened my communication & teamwork skills.

We have also improved our Accounting, Finance, and Economics skills by learning how to analyse companies' balance sheets & annual reports, as well as using fundamental analysis (PESTEL Analysis, market ratios) and technical analysis (EMA, MACD, Stochastic) to determine if we should invest in the company or not.

Thank you to Sunway College for organising this eventful competition, and thank you to Ms Tracy Yen Teng Lim for answering any questions our team had!"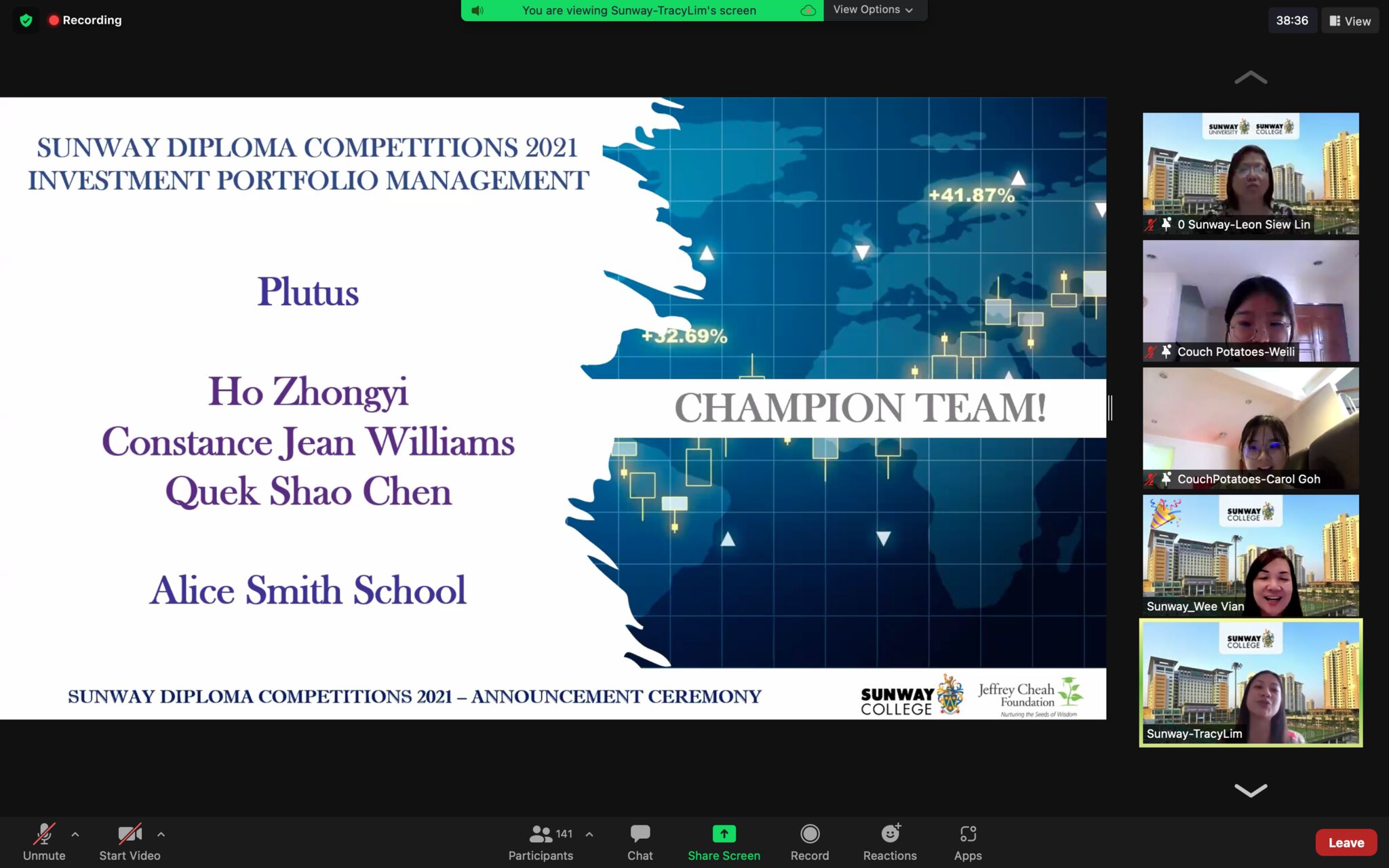 Immerse Essay Writing Competition
Next up we have Siobhain Doyle, Year 13, who has won a scholarship in the Immerse Essay Writing Competition with her fantastic essay on 'Why Is Engineering Important?'.
"The Immerse essay writing competition is a global event, hosted to give students the opportunity to explore their academic interests to a highly intellectual level. As part of the criteria, students are required to write no more than 500 words to elaborate on their findings in their chosen field. Due to the pandemic, the number of entries increased significantly this year, but despite this, I managed to attain a scholarship from being one of the highest calibre of entries in the world. I demonstrated my passions in the field of engineering, exploring why it is truly important in our world today, with particular focus on sustainability and carbon capture & storage technologies, as that is an area that I hope to further explore in the future."
Please click here to read Siobhain's essay.
The Queen's Commonwealth Essay Competition 2021
Finally we were delighted to hear of Anson's (Year 9), success in the The Queen's Commonwealth Essay Competition 2021. Anson was awarded a silver prize, a magnificent achievement considering the competition attracted over 25,000 entries!
👏👏👏Congratulations to all our award winners and if you are an Alice Smith Student who has success in a competition outside of school don't forget to tell your teacher's about it or email us directly with the details.