Every year our secondary students organise a whole week of activities focusing on improving our physical and mental wellbeing. With our campus still closed and online lessons replacing our usual face to face activities this year they have provided us with some great facts and quizzes and supported by our catering team from Delischool who have suggested some recipes to try.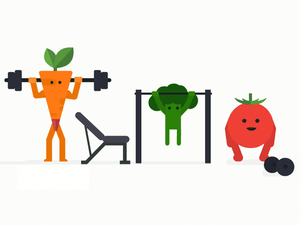 Each day has a different focus:
Tuesday - Breast Cancer
Wednesday - COVID
Thursday - Fitness
Friday - Mental Health
Here's some of Wednesday's fitness focused information
Eating a well balanced diet can help you get the calories and nutrients you need to fuel your daily activities, including exercise.
It's also about eating the right types of food at the right times of the day. Eating a regular healthy breakfast is linked to lower risk of obesity, diabetes and heart disease. A healthy meal at the start of the day can replenish your blood sugar, which the body needs to power your muscles and brain.
Approximately 45-65% of our total daily calories should be from carbohydrates. Focus should be on the complex carbs in whole grains, vegetables, fruits and beans; these take longer to digest leaving us feeling fuller longer and providing fuel throughout the day.
Protein is needed to keep the body growing, maintained and repaired. Rich sources of protein can be lean poultry and red meat, fish, dairy, legumes such as beans and lentils and eggs.
Fats are necessary to provide essential fatty acids and calories, however fats from unsaturated sources are the healthiest. These include nuts, seeds, avocados, olives and oils such as olive oil.
Any balanced diet would not be complete without fruits and vegetables, which are great sources of natural fibre, vitamins and minerals. Challenge yourself to filling half your plate with vegetables at every meal !
Try some of our delicious well balanced recipes, especially chosen to help your fitness and don't forget to check our social posts for more information on Health Week.
Spicy Meatball Tagine with Bulgur and Chickpeas
Ingredients:
2 Onions, 1 quarter, 1 sliced
2 tbsp Tomato puree
2 Garlic cloves
1 Egg
1 tbsp Chili powder
500g Lean minced beef
2 tsp Rapeseed oil
4 Carrots, cut into batons
1 tsp Ground cumin
2 tsp Ground coriander
400g Can chopped tomatoes
1 Lemon zest
12 Kalamata olives
1 tbsp Vegetable bouillon powder
⅓ pack Fresh coriander, chopped
200g Bulgur wheat
400g Chickpeas, canned
2 tsp Vegetable bouillon powder
2 tsp Ground coriander
Method:
Put the quartered onion in the food processor and finely chop. Add the minced beef, 1 tablespoon of tomato puree, garlic, egg and chilli powder and mix to smoothish paste. Divide into 26 even-sized pieces and roll into balls.
Heat the oil in a large frying pan and cook the meatballs for 5-10 minutes to lightly brown them. Put onto a plate.
Add the sliced onions and carrots to the pan and stir fry in the pan juices to soften them. Add the spices and pour in the tomatoes with 1.5 cans of water. Stir in the lemon zest, tomato puree, vegetable bouillon powder and olives. Return the meatballs to the pan then cover and cook for 15 minutes until the carrots are tender. Stir in the chopped coriander.
Tip the bulgur into a pan with the chickpeas and chickpea water from the can. Add 2 cans of water, the vegetable bouillon powder and coriander. Cover and cook for 10 minutes until the bulgur is tender and the water has been absorbed.
Serve.
Melted Feta and Veggie Bake with Salad
Ingredients:
½ cup Brown rice (uncooked)
75g Feta cheese
2 tbsp Olive oil
2 tbsp Dried basil
2 tbsp Dried parsley
1 Garlic clove
1 Onion
1 Red bell pepper
2 handfuls Cherry tomatoes
1 Chilli
1 handful Olives
10 tbsp Water
¼ tsp Salt

Optional:
4 tbsp Hummus
1 handful Mushrooms, sliced
Method:

Preheat the oven to 180℃ / 360℉.
Cook the brown rice according to package instructions.
Cut the cheese into two equal, thin pieces and lay in a baking sheet.
Layer half the herbs over the cheese.
Chop all the vegetables (and garlic) into small pieces and place in a bowl.
Add the oil, salt, water and herbs and mix well.
Place the vegetable mixture on and all around the cheese.
Bake for 30 minutes or until the vegetables become soft.
Serve with brown rice and hummus