Calling all coders from Years 7 to 13: test out your Python programming skills with unique challenges of various difficulties!
Andrea and Annushka (Year 13 Computer Science students) are running 'Kode For Kindness' - a virtual fundraising coding competition! Over to Andrea and Annushka to tell us more.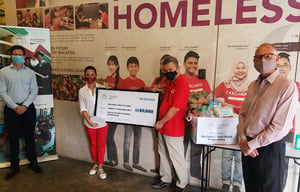 "This is a fundraising event where individuals pay a RM40 / $10 entry fee to participate, of which all the proceeds go towards Kechara Soup Kitchen, a charity that Alice Smith has had the pleasure of working with in the past. The event will be run on the 15th of October and participants can participate at any time in the 24 hours from 5pm MYT onwards. The virtual nature of the competition allows for complete flexibility for participants to compete at any time, from anywhere. The challenges are hosted on Hackerrank, an online coding platform, ranging from basic if-else challenges to those implementing powerful libraries. The various levels of difficulties of the challenges encourages beginners to try out too, as points will be awarded for participation.
Participants can sign up at this Google Sites page
along with additional information about the competition and FAQs.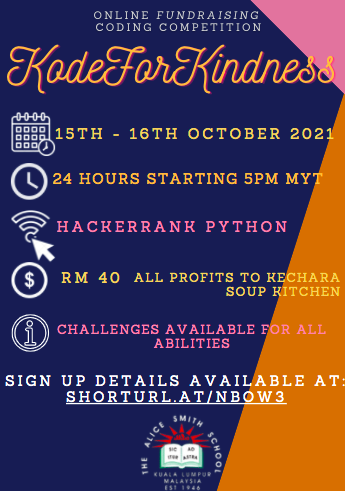 As this is a fundraising event, no monetary prizes will be given to the top participants. However the top 5 participants receive a unique certificate in recognition of their high score. All participants will receive a certificate of participation, and we aim to raise awareness of the brilliant programs which Kechara Soup Kitchen runs.
Kechara Soup Kitchen has been working throughout the pan

demic to support the most vulnerable of the urban poor. Among their many outreach programs, they provide hot meals for the homeless living in the city centre. If you would like to further support the charity, please visit their

website

. You can donate more there, or explore their amazing volunteering opportunities.
We hope to see you there virtually!"
About the competition
Programming language: Python V3
Who: Students ages 13 - 18 years old (We welcome other international schools and students too!)
When: Friday 15th October from 17:00 MYT to 17:00 MYT on Saturday 16th October
Where: The competition link will be shared with all of the participants who sign up and pay to participate in the event.
Fee: RM40
About the cause: Kechara Soup Kitchen is an organisation in Kuala Lumpur, Malaysia, which aims to provide food to the homeless, the poor and the Orang Asli populations through their Soup Kitchen, Food Bank and Empowerment programs.
Further details, FAQs, the signup form and payment methods are on this Google Sites page. Participation earns points and certificates &