UPDATE Jan 2021: We are delighted to have won the Inclusion category at the International School Awards 2021 with our initiative, 'KLASS Student-Support Programme: empowering students to lead on in-class support'. Congratulations to our Personalised Learning Faculty for the recognition of their great work!
November 2020
We're so honoured to announce that we have been shortlisted in both the Inclusion and Wellbeing categories this year for the International School Awards (IASs) 2021. The Awards recognise and celebrate the learning, teaching, community, wellbeing, leadership and strategic initiatives at international schools throughout the world.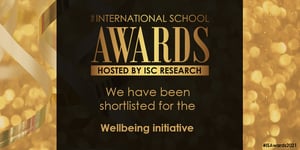 This year our Primary School is receiving recognition in the Wellbeing category for 'A practical approach to supporting good Mental Health - a Student Wellbeing Toolkit'. You can read a more about this initiative below.

"At Alice Smith Primary School, wellbeing is at the core of everything we do. We believe that by explicitly teaching and enabling wellbeing, we are promoting good physical and mental health that will lead to positive life outcomes. In order for our students to thrive and flourish, we decided it was vital that they learnt to become architects of their own wellbeing. We therefore designed a practical Student Wellbeing Toolkit and embedded it in the Home/School student dairies. The contents of the Toolkit were designed to support student wellbeing, we wanted to ensure that the students had the resources to develop the skills, knowledge and understanding to cope with physical, mental and emotional challenges in their lives."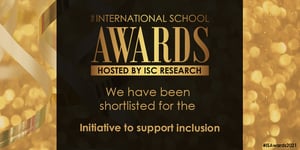 Our Secondary School colleagues are receiving recognition for their 'KLASS Student-Support Programme: empowering students to lead on in-class support'. Head of Personalised Learning Faculty, Ray Jennings, explains more about programme.
"The Student Support Programme involves Y12 students putting forward subjects they would like to volunteer support in at KS3-4. We match these preferences to requests made by teachers for assistance in their classes for initially one period per week. Training is then provided for these volunteers. The aid provided by Y12 students has moved beyond the targeting of SEN students and now covers all pupils within a given class or lesson, i.e. there is an equality of experience across students in lessons that allows for targeted SEN support in an environment where all students are accessing this.
The initiative has shown that our SEN student population is an integral and valued part of our school community by providing support to them in subjects not ordinarily covered by our regular Learning Support Assistants' in-class assistance and by introducing peer support which has strengthened their sense of belonging. Inclusion has become a community endeavour, with students taking the lead on this.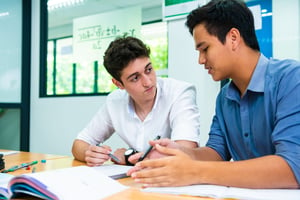 Of the latest cohort, 21% of the Y12 volunteers are on the SEN register themselves. They have commented that the scheme has given them more confidence in their own abilities They state that they sometimes feel like role models to KS3-4 SEN students in that this programme shows that they, possibly like them, have strengths in other curriculum areas that others aren't necessarily aware of and that in itself, should be celebrated. Younger SEN students receiving help have commented on how they are more comfortable enquiring in a 'student to student way' than that they would if asking a regular teacher."
It is fantastic to see Alice Smith School recognised again having had previous success in 2019 when we won the Pastoral Initiative category and 2020 when we were shortlisted in the Digital Technology in Learning Initiative category.
The International School Awards are hosted by ISC Research with the support of International School Leader Magazine and the final winners will be announced during a virtual ceremony on Monday 18th January 2021.