Many congratulations to Emily Chong and India Kolb in Year 13 have won the British Geological Society 'National Schools Geology Challenge'. The National Schools Geology Challenge is a worldwide competition where students showcase their interest in geology, learn more about the way geoscience impacts our lives, and put their teamwork and presentation skills to the test!
Over to Emily and India to tell you more;
"Yesterday, we competed in the 5 hour long 'National Schools Geology Challenge' final, run by The Geological Society of London for students worldwide. To reach this stage, we had submitted a video explaining paleomagnetism which succeeded in advancing us to the top 11 out of the 2000 entries who competed this year, with the Alice Smith being the only international school reaching the final.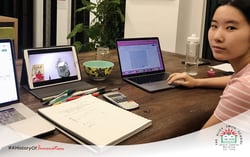 During the final, we had an applied geological problem-solving challenge, where we had to choose locations to build hydropower dams for a sustainable future, using the resources provided and our own geographical knowledge. In one hour, we created a budget for the costs as well as a proposal. Then, we carried out a presentation about our decisions for the judges where we received much praise.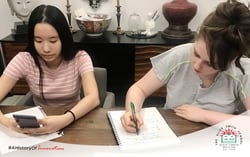 We won £200 to further geoscience education at KLASS as well as a 1 year membership to The Geological Society for both of us and a trophy. This was a thrilling experience and we enjoyed the challenge so much! It was a very exciting way to learn beyond the curriculum by applying our knowledge to real-life scenarios and meeting people with such accomplished and diverse careers."
Well done again to Emily and India and our thriving Geography department with this win coming only weeks after Dr. Osowiecki, presented a framed copy of the Secondary Geography Quality Mark certificate from the Geographical Association to the Geography Department team members. 🌏👏🎉 #WeAreKLASS