We are delighted that our fantastic Alice Smith Higher Education team have been nominated as one of the finalists for the Pathways to Continued and University Education award in this year's International School Awards! 👏 Here's the team to tell you more about their Future Pathways initiatives.
"The Alice Smith School Future Pathways initiatives aim is to expand both Higher Education and Career advice out of 6th form, down to Primary School, and beyond University Graduation, with a particular focus on the challenges of both COVID-19 and the 4th Industrial Revolution. It is overseen by three full time professionals working with teaching staff, alumni and other providers.
We no longer ask students what they want to 'be', but rather 'who they want to become'
Most importantly the initiative ensures our current students have the necessary skills and understanding to be successful once they graduate from Alice Smith. Through lessons in all Year groups, along with one to one interviews with experienced HE staff and a plethora of other resources, we provide our students with a deep and long lasting understanding of how to navigate the changes expected in the coming years as well as their own best fit journey once they leave Alice Smith.
While the school has a fantastic track record of getting students into elite institutions like Oxford, Cambridge and Yale, we do not believe that this alone is enough and it is clear from our own Alumni that job satisfaction comes from the students' understanding of their own skills, interests and passion.
The HE team's aim is that students leave school with;
A higher self awareness of their own skills, interests, abilities and decision making skills.
Broader horizons globally for both HE choices and careers
Preparation and knowledge on how to succeed in the current job market focusing on flexibility, interconnectedness, and emotional intelligence.
Knowledge of Tech and IT Literacy in the workplace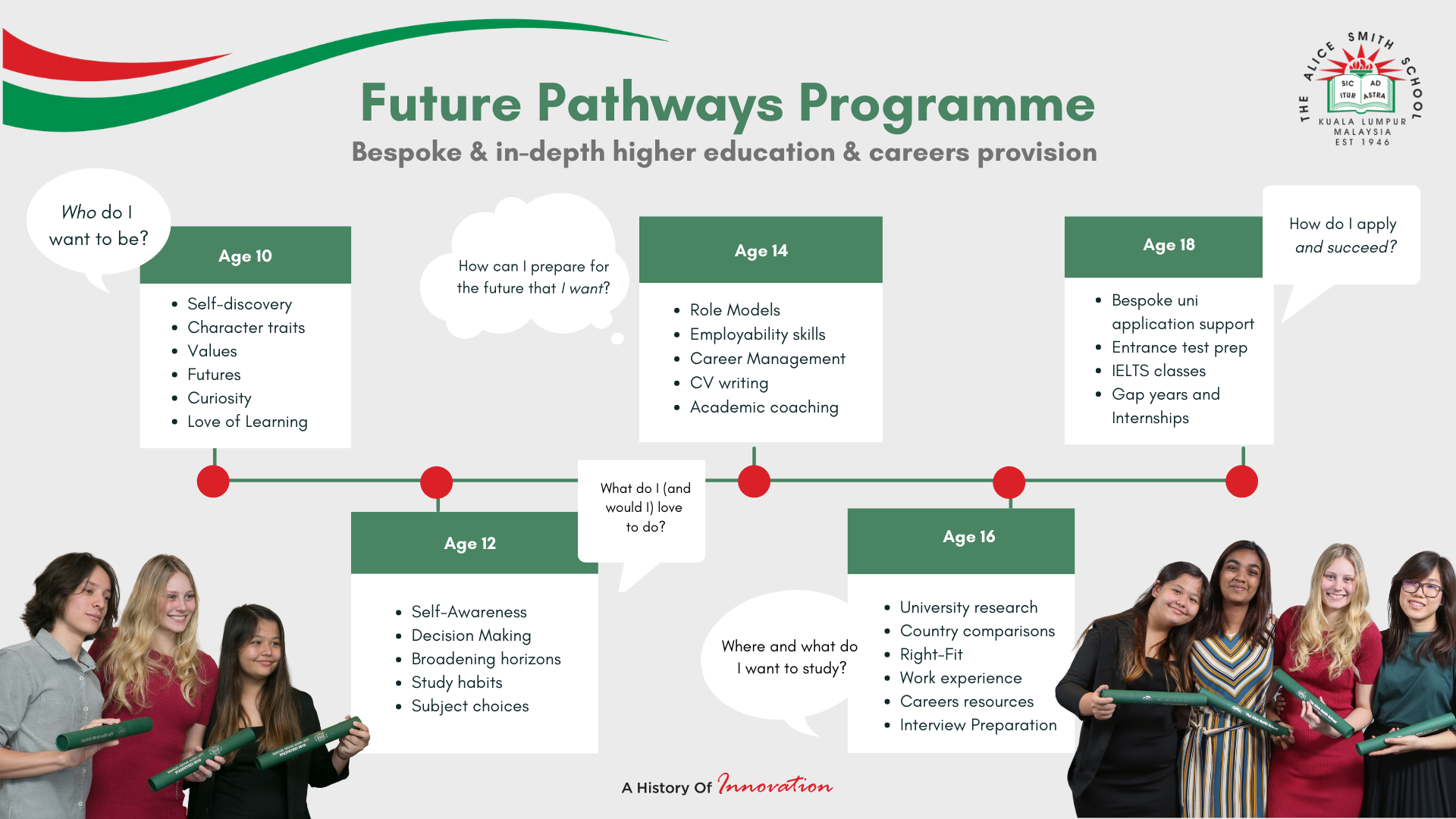 Self awareness is essential as Student goals and ambitions will change over time due to personal growth, technology and economic factors; whilst this has always been the case the rate and frequency of change will be far greater for this generation. Students need to be able to evaluate their own competencies, skills and desires as well as understanding which areas can and should be developed. For some, such as those looking at very prescriptive training like medicine, this involves incredibly detailed support on the very specific things they will need to prepare. But for others, this process will be far more about exploring their skills and interests and becoming aware of all the different options relating to these.
To do this we utilise both lesson time and one to ones with students, and offer parent one to ones and lectures. We ensure these elements use the most up to date and relevant statistics and information such as:-
Regional careers experts such as Shanton Chang (University Melbourne)
Collating data and guidance provided by UCAS, universities, Oftead, Gatsby Guidance, World Economic Forum and others and making it applicable to Asia
A team member dedicated to enhancing our social media output (Twitter and Instagram) and producing high quality and regular information to our community
Expert member of staff taking an NVQ (careers guidance) which is then remodeled for our own specific local and global needs.
The single overriding duty of a school is to equip students with the skills, understanding and resilience they will need as adults. As an international school, the future is always more diverse because our cohort is peripatetic and outward looking. This combined with the rapid rate of change, well documented in 4th Industrial Revolution analysis, means it is imperative to make students comfortable with the continually changing landscape. The pure educational advantages held by highly regarded schools of the past are eroding and simply focusing on exam results and high ranking university destinations will not give students the competitive career advantage it once did. The heart of the Future Pathways initiative is to prepare our students to succeed well into the future, beyond even University graduation."
The final winners of the #ISAwards2022 will be announced at a live streamed ceremony on 18th January 2022.
You can read more about the work of the HE Team in a range of articles on our blog. or take a look at some of the great academic lectures the team arranges for our students on our YouTube channel.