If you want your child to graduate from their school as a confident, curious, and well-rounded human being, then an international school may be the answer.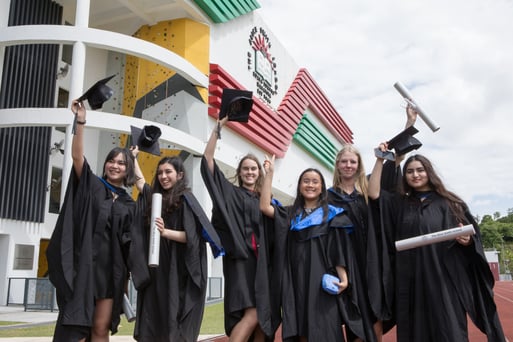 A broader education
Even though your child will still attain certain academic standards and pass their all-important graduation exams in preparation for university, they'll also have learned many other life lessons that they might not have absorbed at a standard day or boarding school.
Mixing with other children from diverse nationalities and cultural backgrounds means that your child will benefit from absorbing information and knowledge about cultures other than their own. The Alice Smith International School in Kuala Lumpur educates children from 50 nationalities. The curriculum follows the standards set out in the UK, and subjects are taught in the English language, but the social interaction between the different students cannot be measured in terms of formal exams but will be absorbed by your child and remain with them for the rest of their lives. This follows the true meaning of the word 'education', translated from the Latin 'educare', meaning the student should be trained to their full potential.
University access
Any child who has attended an international school should have a wide perspective, and their views will have been formed from mixing with so many different cultures as well as their academic learning. International schools provide a wealth of cultural activities so that students can learn more about the country where they're being educated and gain knowledge about their home country from their parents.
With access to university becoming ever more competitive, admissions tutors are looking for school students who can talk easily to strangers, have confidence in themselves and possess a broad cultural outlook. Of course, good exam results are also vital, but with so many pupils competing for so few places across the globe, the more your child can offer at interview the better placed they will be to be offered a place at a prestigious university.
Good for employers
Your child's future employment opportunities will also benefit from the broad education offered by an international school. It's not uncommon for major companies to have offices across the globe, and the languages your child will have learnt at an international school will help them enter this type of employment. In fact, every sector of employment, including international charities, will welcome a student who understands cultural differences, has an open mind and is keen to appreciate local communities where they may end up working.
If you want your child to leave school with good grades in their exams, and benefit from a school where their interests have been promoted and nurtured, then an international school could be for you. Your child will leave school with an excellent understanding of the differences between the nations that can benefit the globe, with a broader outlook on life and increased confidence in their own abilities.
If you're interested in your child attending The Alice Smith International School, get in touch today or download a prospectus.