Our school has embarked on an environmental sustainability journey since last year with various exciting developments happening at both campuses as shared in this article here.
In order to further support the great work done by our students, The Alice Smith School Foundation purchased a plastic upcycling machine last March, working in partnership with The Sea Monkey Project to support the plastics upcycling initiative in school. Launched in November 2018, the Alice Smith School Foundation has been established to support the philanthropic work of the school and further enhance our commitment to education in Malaysia.
It's amazing to discover how plastics could be upcycled to become lovely coasters, made by our dedicated Eco-Club secondary students, using this fantastic machine, purchased with the donations received by our Foundation.
Ananya Gupta, a member of the EP Eco Club, shares her thoughts on this incredible initiative:
"I have really enjoyed using the upcycling machine from The Sea Monkey Project, from starting off sorting the plastics to shredding it, melting the plastic in the extruder, and injecting it into the mould. Seeing the final product and the journey from something like a used plastic bottle into a new product that can be used and sold was a fantastic experience. What makes it even more special is that the opportunities for projects are endless, from coasters to trays, jewellery, and cups, that all can be sold to raise money for the Alice Smith School Foundation to keep supporting charities and our environment. It's a win-win, the process is fun, we are learning new skills, the process is reducing the amount of plastic waste, and new amazing products with varieties of colours can be made easily - from the start as a waste plastic container to a colourful coaster that many can buy!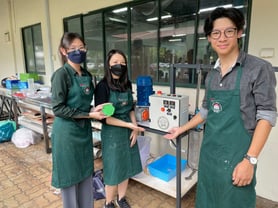 Recycling plastic is extremely important as it reduces the need for landfill, which takes up space and has a myriad of environmental impacts like the emission of greenhouse gases and chemical leaching into soil and rivers that can kill organisms. Plastic can also affect marine life by causing them to be trapped in it, like turtles in plastic bags, and fish can also consume the plastics which contain toxins that harm the animals. Moreover, it reduces energy consumption by eliminating the need for extracting and processing these raw materials, which all create great amounts of water pollution along with emitting greenhouse gases. By introducing this initiative that allows us to upcycle the plastic we are collecting, we are having a huge impact on the planet and positively impacting our school community."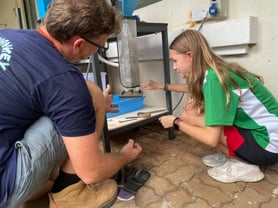 As we begin our new term, we are looking forward to the return of sustainability-themed ECAs in the form of our all new 'Exploration Pathways'. The Eco Club will be continuing with their mission to turn plastic waste into unique items, and we will also see the return of KLASS Apprentice where students will be creating their own sustainable businesses. Also look out for Formula E, which is a brand new opportunity that will allow students to design and race an e car with sustainability at the forefront of its design. Make sure you follow our Instagram page, @KLASS_eco to ensure you don't miss out on any updates of the many exciting student-led initiatives that will be taking place this year.