Things were just beginning to feel like 'normal'. We had been back in school since the beginning of term and our community had successfully adjusted to the SOPs required to stay safe and healthy. Facemasks, hand washing and physical distancing had become part of our everyday, our 'normal'. However the rise in Covid-19 cases locally means that all schools in Selangor and the Federal territories of KL and Putrajaya will be closed from Wednesday 14th October until Wednesday 27th October, including both our campuses.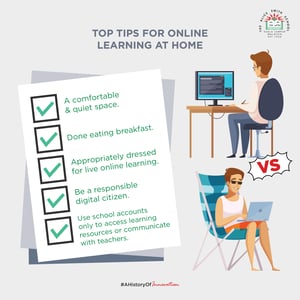 In a message to our Secondary pupils Dr. Osowiecki, said "As much as we had hoped to end this half term as we began it six weeks ago, together and on campus, that will now not be the case." But although we won't be together on campus learning for our students does not stop, it continues and our community stays together online.
Our teachers are fully prepared and experienced in helping students learn virtually and you can read more about how this happens in our blogs from earlier this year:
In addition our Primary School Counsellor, Dan Lawrence, wrote a series of articles during the last MCO/CMCO which might help you reflect on the situation we find ourselves in now. Below are a number of links and you can find more by searching the KLASS blog for 'Thought for the Day'.
If you have any concerns or questions about the current closure please direct them to our school teams on:
infojb@alice-smith.edu.my for the Primary campus (JB)
infoep@alice-smith.edu.my for the Secondary campus (EP)
Stay safe and we hope to see you all back on campus soon!