Our musicians throughout the school continue to delight and amaze us and it is wonderful to hear and see them at work! All students, from Preschool to Year 9 have specialist music lessons each week and we offer music at both GCSE and A Level. Here we hear from James, one of our current music A Level students, about his composition work.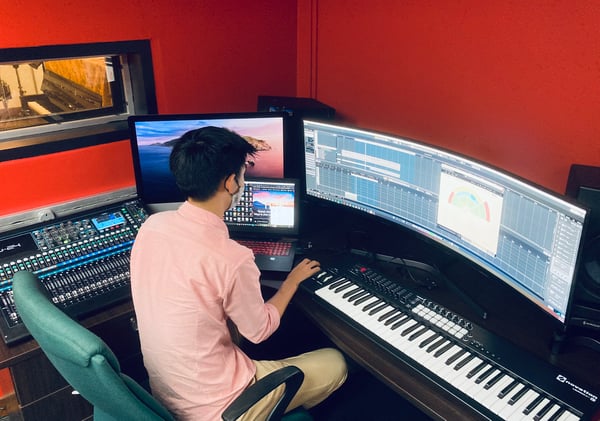 "This photo highlights a major milestone in my compositional journey. Two weeks prior, I was inspired by John Powell's stunning soundtrack for "How to Train Your Dragon" and set out to compose an orchestral piece for film. I wanted to challenge myself and decided on a 2-week deadline, a timeline much shorter than any of my previous works. Fortunately for me, I had the privilege of using our newly updated studio. Using this state-of-the art equipment has been a joy I never dreamed possible. Through this new sound system, melodies and chords have truly come to life. It is as if there is a live symphony at my fingertips and it has allowed my creativity to run wild. I was surprised by how much I was able to compose and seeing my compositional skills develop has been extremely rewarding."
The year has only just begun, and I cannot wait to continue exploring musical ideas in the school's amazing music facilities.
Elsewhere in the music department we were delighted to hear of the success of two of our flautists who successfully passed the Malaysian round of the Osaka Music competition in the summer. Congratulations to Rebecca Lim (Year 11) who passed in Section 1, the open section, and Inez Hafina Heemeskerk (Year 8), who passed in Section 3. We look forward to seeing how they progress in the competition.
For students who may want to learn the flute, like Rebecca or Inez, or one of the other many instruments we offer, weekly peripatetic instrument lessons are available to our students on a 1-2-1, or small group basis. Many of our students take up this opportunity and enjoy learning with our highly experienced tutors.
To find out more about our GCSE, A Level or peripatetic music teaching contact the music team at music.ep@alice-smith.edu.my for the Secondary School or music.jb@alice-smith.edu.my for the Primary School.
If you'd like to hear more from our music students click the link below to experience the wonderful recording they made during the MCO last year and read all about how they made this student led production come to life despite the restrictions here.