It's fantastic to be back in school this week but our memories of Zoom and online learning aren't far away and we were delighted when Alif, parent of Aynn (Year 3), shared with us this wonderful project they had worked on together during the MCO.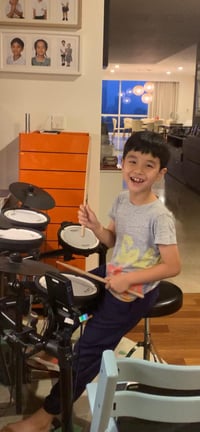 "It all started when my son Aynn began making up his own song about distance learning and how he dreaded it after almost one year of online classes. So I decided it was time to do a father and son project to help him express his feelings about it.
I told Aynn we needed to find a song and tweak its lyrics to fit with the current environment we all face now. Aynn finally settled on the Queen song 'Bohemian Rhapsody' and we got to work straight away.
I would probably describe our partnership in this collaboration as 'John and Paul' from the Beatles as we searched for the right words that would gel together with the melody of the song. Once we had drafted out the new song, we contacted Aynn's music instructors at Ironwood Damansara Heights and they were more than happy to be involved in the project. Ironwood did a wonderful job with the musical track and made Aynn and me raise our game once we started filming.
It almost felt like making a movie as we drew out the storyboard of the scenes we wanted to capture. We wanted to include Aynn's classmates and even his Year 3 teacher. Aynn added his opinions on how certain scenes should begin, a good example was how we filmed the students at the gate. Originally they were supposed to start at the gate, banging away but Aynn wanted to start with everyone running up and then start demanding to open the gate and let them into school!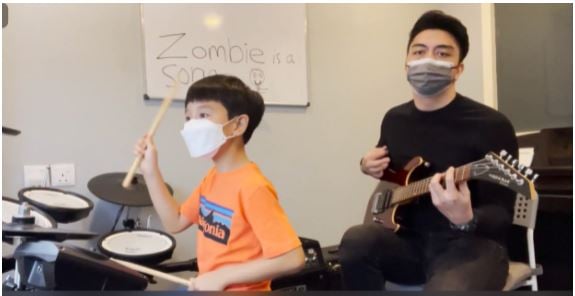 So as a guerrilla filmmaker you can achieve quite a lot if you set your mind and heart to the project. Just using my iPhone and Zoom app, it was possible to create this music video. We filmed so many nice scenes and it was so hard to try and keep it all in once the editing process began. I hope this song and music video will inspire others.
I explained to Aynn editing is like taking a big block of wood and cutting, carving and polishing it until it's something beautiful like a chair, desk or fine sculpture. Editing a film is the same thing!
Looking back it was a fun project during a very tough period due to this pandemic that hopefully cheered and touched people's hearts."
Thank you Alif and Aynn for sharing and please take a few minutes out to enjoy 'Zoom Rhapsody'.