Alice Smith School faculty have been working hard to ensure we are providing our quality learning and teaching online.
Innovating in our delivery methods to ensure learning continues for all our students. With the MCO extended into Term 3 it will be a little longer before we get back onto campus but learning will continue across the school.
Read on to see how distance learning works, as told by a KLASS primary school teacher.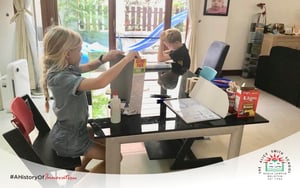 "My day starts early by double-checking the resources and links for the day ahead, and checking that my technical set-up all works.
First up is one of the highlights of my day; when all the students enter our Zoom room at 09:00 and we begin by celebrating the excellent learning from the previous day.
The children will have already shared a photograph of their learning with me, so I can kick start the conversation with those. It's also great to be able to check in with them all and to ensure they know what they have to do for the day.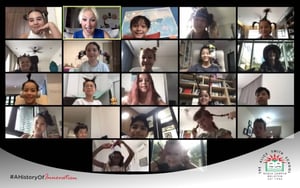 Every day is full of new and unique adventures. Whether it's singing happy birthday to a classmate over Zoom, celebrating the achievements of the students, or moving into a breakout room to discuss different aspects of our class novel we are learning together in a positive and conductive digital environment.
Finding ways to mention individual children and keep their personalities present in our digital interactions is a key part of this. Other year groups manage this in their excellent daily videos.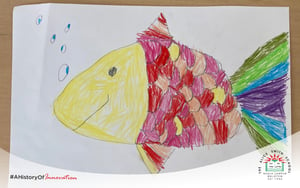 The 10:00 slot is given over to either Art or PE. The inspiring videos produced - and the professional quality of them - certainly help my students progress.
Whilst they are participating in those activities, I start to reply to emails; a lot of the day is spent replying to emails (I'm amazed at the amount I receive!).
Giving feedback to students about their work, answering questions from parents or just being a reassuring voice form an integral part of the distance learning day.
At 13:00 we have a year team meeting to discuss the next day's planning and to check in with everybody.
We discussed some fantastic ideas for our maths planning. Simply filming yourself solving maths problems whilst talking students through the solution is surprisingly simple but effective.
When planning lessons, we also have to think outside of the box and to be mindful of what resources students might have at home.
Hearing different methods that teachers have employed to further support and develop individuals is inspiring and helps to further develop teaching ideas for following learning - we are all learning at the moment!
I have been impressed by their ideas and independence
Distance Learning brings its own set of unique challenges to both teachers and students in ensuring that all activities are accessible and manageable for all students.
Hence the reason I love the support I get from my colleagues in the Learning Support Department.
They are constantly looking at the year group's plans to see what my children can access, and then emailing parents with alternative plans accordingly when necessary.
Their 'shout out' videos for all the hard work their students have been doing in their sessions with me, and for the parents to get the lightbulb moments we love to get in school.
I look forward to seeing the children's learning based on the activities I've set. It's great to see how they have interpreted the task and all of their ideas.
It's very different to how we work in school but I have been impressed by their ideas and independence. I recently received over 20 videos on an activity I set.
Seeing how involved the parents are in the activities and receiving videos of precious family time is especially pleasing. I have enjoyed watching dads dancing choreographed routines, parents playing musical instruments and acting as funny characters in role play activities. It has given a lovely insight into the families and lives of my children. Watching lovely videos of the children dancing, writing, painting, cooking and more such a variety of activities and the children are enjoying them all.
My own children are also participating in distance learning. I love to see the videos their teachers have made. Putting these together requires a serious amount of thought, time and planning. I love it when they show examples of children's learning and photos of all the creative things they are doing at home, sharing interesting facts generated by the students, celebrating when children have reached their reading targets and just connecting with the class.
The videos and activities created by the specialist teachers - music, computing, MFL PE and art - also allow my own children to explore different aspects of the curriculum.
I'm amazed at how well - and quickly - the students have adapted to online learning
I'm amazed at how well - and quickly - the students have adapted to distance learning. However, I miss my class and think about how much they brighten up my day; you lose some of those ad-hoc, humorous moments you have in a classroom environment. "
Innovation is something we do naturally at Alice Smith School. It's been in our DNA since the school was started in 1946, becoming the first British International School in Malaysia.
Our current situation is challenging, but the KLASS Community, students, teachers, parents and everyone is continuing to innovate to ensure that learning continues until we can see you all back on campus.
#AHistoryOfInnovation #WeAreKLASS