Finally our last few year groups are heading back onto campus. For many of these students it is the first time they have been into school since May having finished the last academic year, and started this one, with online classes.
It is great to see the students connecting with each other and their teachers in way that isn't possible on 'Zoom' or other virtual platforms but it is important that as they return we have a range of SOPs in place to ensure they can learn in a safe environment.
At both campuses we are ensuring that:
All staff onsite are fully vaccinated

Masks are worn by all students and staff

Regular hand washing and sanitising takes place

Physical distancing of 1 metre

Key touch points (door handles, taps, air con etc) are sanitised every hour and resources and surfaces are cleaned after each use

High quality

Alen Air purifiers

are in every classroom and there is regular circulation of air throughout the day

Student well-being is regularly monitored
All students entering campus will be temperature checked upon arrival at either the bus (for secondary students) or car drop-off points. If a child has a fever (a temperature of 37.5°C or greater) or are symptomatic (cough, cold, sore throat or shortness of breath) they will not be allowed to stay on campus and must return home.
If any student is symptomatic while at school, they will be separated and placed in a separate, isolated, medical room within the school. Parents will be contacted to collect students and take them home immediately. The school will notify the relevant authorities of any suspected cases in line with government issued guidelines.
Here's our youngest children in Foundation coming back to school; checking their temperatures, sanitising their hands and wearing their facemasks.
You can view the school's 'Protocols for attendance'

here

which includes details of when it is safe to attend school and what you should do if your child has a temperature or they have come into close contact with a COVID-19 case.
The short video below shows how we manage the Secondary Campus when students are on site.
Of course we also realise that some students won't be able to return to face to face learning yet and we are fully committed to ensuring every student gets the support they need whether in school or not.
For Kindergarten age children we are providing online learning with a dedicated online teacher for each year group.
Kindergarten Years (Preschool, Reception and Year 1) Hybrid Curriculum

Secondary Hybrid Curriculum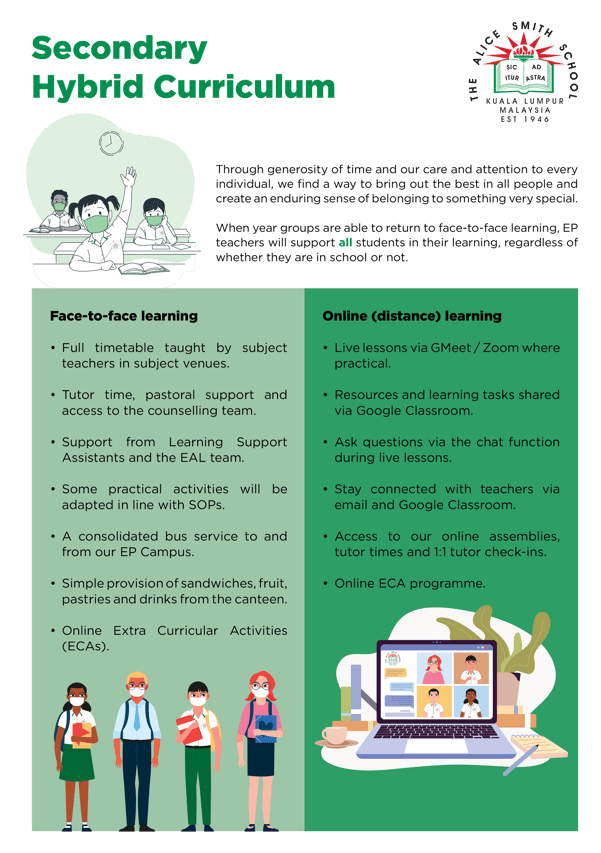 If you have any questions about our SOPs or how we are managing a safe return to school please contact the school using the form here.