In this week's Secondary Blog, our Head of Creative and Expressive Arts, Holly Sullivan, takes us into the world of make-up artistry and shares how our students are increasingly stepping into this highly technical and creative field.
Make-up artistry has seen a massive growth in interest in recent years. Through the explosion of transformation videos on social media and the increase in exposure of the industry through such programmes as the BBC's Glow Up, Make Up Artist (MUA) is an increasingly appreciated skill.
Here at EP, we have closely followed this trend. As part of the Drama Department's diverse curriculum, which includes elements of theatrical design, including stage lights, sound, set and costume taught from Year 7 up to A Level, we have embedded stage make-up skills. First seen in the Stage Make Up House Day in 2020, theatrical make-up skills are now taught in our Year 7 Lion King and Year 8 Frankenstein schemes of learning and throughout Key Stage 4 and Key Stage 5 Drama. Placing technical and design aspects of theatre-making at the heart of our curriculum formed part of our Digital Drama Initiative, which has been shortlisted for an International School Award in the Innovation and Creativity in Learning category.
In response to the high levels of interest in stage make-up by KLASS students, the Drama Department hosted a FOBISIA-wide stage make-up competition. Following the success of the online competition, the FOBISIA Monologue Challenge hosted by EP during Covid school closure, the Stage Make Up Challenge, has extended the scope for an inter-school online competition to include technical theatre skills.
In support of the Challenge, the Drama Department organised a student-led MUA masterclass for fifteen students, who were taught special effect skills including bruises and scars, led by Year 11 student Erin and line-work and colour theory with Year 12 student, Mia. See the results of the masterclass here.
Student MUA, Mia, says: "I enjoy the concept of makeup and experimenting with tools as if my face were a canvas, I believe that makeup is a form of art and to be skilled in this area is something to be celebrated. I frequently do different and abstract makeup on my face or I cosplay a certain character. I find makeup a great and safe form of self-expression/care, and I stand by the fact that much of the stigma and controversy of young teens wearing makeup should be challenged. Makeup (when used properly) can be a way for a teen to feel better and more confident about themselves, and a way to show who they are in a safe, non-permanent way. "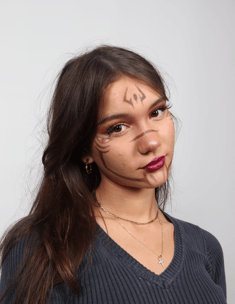 All entries to the Challenge are being judged by West End MUA, Tanya Noor, who is Head of Makeup and Wigs on Phantom of the Opera and who has recently worked on hair and makeup for The Crown, Mission Impossible and the James Bond franchise. We are excited to hear her feedback!
Entries, including our Alice Smith submissions, are showcased on our dedicated Instagram profile. Winners will be announced via Instagram soon!
Please do take a look at Alice Smith submissions - they are indeed creative artistry.
Wishing you a wonderful weekend,
Maria Osowiecki
Secondary Principal