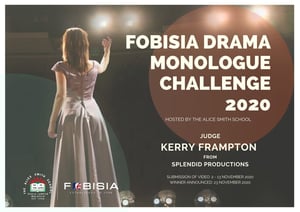 Alice Smith's Drama Department is delighted to invite the FOBISIA community to join us virtually for this exciting new event in the FOBISIA Drama calendar. The Monologue Challenge is an opportunity for our school communities to share solo work and offer a platform for dramatic performance. We recognise how the recent lockdown and social distancing measures have afforded many of our students the opportunity to perform monologues. Our aim is to capture, share and celebrate the brilliant work created by our students in the face of adversity.
We cannot wait to see what you've been working on!
We are thrilled to announce that the fabulous Kerry Frampton, Artistic Director of the UK theatre company Splendid Productions, will be this year's judge. Splendid Productions are the UK's foremost education theatre company. Led by Artistic Director, Kerry, they tour sell-out shows across the UK and internationally. Their work has recently been added to the new GCSE and A Level specifications, such is their reputation in the UK.
Kerry will watch each monologue performance entered and award prizes for a host of criteria, including awards for truth, bravery, commitment, innovation and rapport. Find out more from Kerry herself in the video below:
If you're a FOBISIA school you'll find the entry form and the details on the Monologue Challenge website. There are four categories and each FOBISIA school can enter one monologue per category. The categories are:
● Age 11-14 classical text
● Age 15-18 classical text
● Age 11-14 modern text
● Age 15-18 modern text
We are defining 'modern' as post-1964. Therefore 'classical' includes Greek tragedies, Shakespeare and his contemporaries, Oscar Wilde and everything in between. Modern can be anything after 1964, so contemporary and living playwrights, including many who challenge the typical idea of theatre being by and for dead, white men! Also make sure your monologue is from a published play, and not from TV or film, or solely found on the internet. Don't do a song or recite a poem, or do anything else that is not a play. And make sure it is no more than two minutes in length when performed.
You'll find all the guidelines along with useful hints and tips on the Monologue Challenge website. including this tip from our own KLASS Drama team here at Alice Smith School to get you started.
Save the date!
The winners will be announced at the FOBISIA Drama Monologue Challenge Zoom Party on Monday 23rd November 3pm KL Time by your hosts, Holly from Alice Smith School and Kerry from Splendid Productions.
So get choosing those monologues and learning those lines as we can't wait to see your performances!