As a busy term 2 draws to a close our Creative and Expressive Arts (CE Arts) Faculty were delighted to be able to host their annual celebration for the first time since 2019! The event was organised by our brilliant CEArts Prefect Team. Led by Senior Prefects Anya and Zhi Lin in Year 13 the cross-year-group team organised the guest list, catering, entertainment and decorations. Amongst many great acts on the night was a reflection by Kieran (Year 11) on the many varied activities the students have taken part in over the past year. We'd like to share it with you to show what a wonderful, diverse and vibrant Arts community we have here at Alice Smith School. Over to you Kieran!
Looking back, you can't help but feel amazed by how far we've come through the challenges we've faced.
"It's also surreal that this is the first time in 4 years we're having this dinner again. For those of you who are new, the CEArts dinner is an annual dinner for us to celebrate and acknowledge the many vast and well-deserved achievements of our KLASS CEArts community. It's been such a shame, we've missed 4 years worth of dinners, and 4 years' worth of celebration… and yet, despite the challenges, the number of achievements, works, and creations; whether done virtually online or in school back when SOPs were still in place I believe it only means that this year's dinner has to be 4 times as great.
This particular past year has been a whirlwind of creative events at our school, here are only some of the highlights of what has been an amazing year for our CEArts community. Let's start with the Art department, where we've seen an explosion of creativity. The ART Jam was a popular event, where students in KS4 and 6th Form gathered on the weekends to work on various art projects for their GCSEs and A level coursework.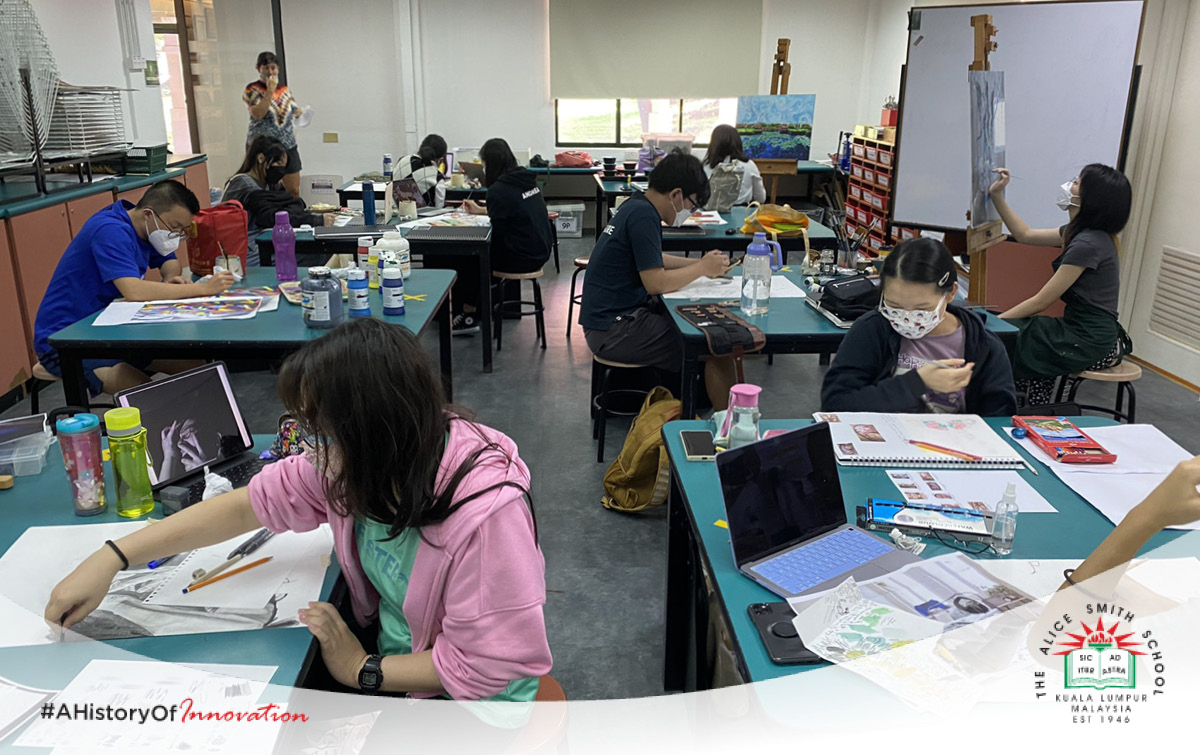 A notable event took place as well as the 2022 Advent Calendar event, an event combining both music and art, where each day leading up to Christmas, a different piece of artwork created by our talented students, accompanied by beautiful Christmas-themed student performances, was displayed on our school's social media. It was truly a treat for everyone who got to see and hear the incredible works of art and music that were created.
Finally, the new Garden Sculpture club this year led by Mr Farell and guest instructor Alice Chiang helped guide students to create functional sculptures that are now going to be placed in areas around the school; decorated with mosaics of the different cultures of the school, using recyclable materials. The showcase of art this year was overall a stunning display of professionalism and virtuosity from the students.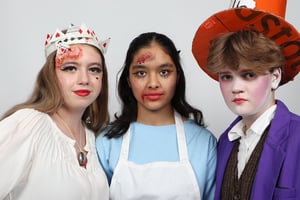 Moving on to Drama, it's been another year of exceptional performances and events. The Paper Birds Devising Residency was an exciting event, where students taking GCSE and A level drama had the opportunity to work with a professional theatre company to create their own devised performances. The result was a showcase of originally devised pieces that were thought-provoking and inspiring, conveying a deeper and more meaningful message.
This year's FOBISIA Stage Make Up Competition hosted by Alice Smith was also a popular event, where students showcase their art of stage makeup and had a chance to learn from a professional MUA.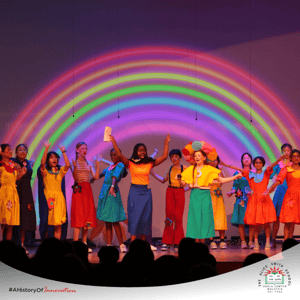 And last but not least… For the past 6 months, the production crew, musicians, prop designers, and everyone involved, poured their hearts and souls - well mostly everyone, into this year's school production which was The Wizard of Oz, and what a production it was! The cast and crew put in countless hours of hard work to bring this beloved story to life on stage, and it was truly a memorable experience for everyone who saw it.

Now let's talk about Music, which has been a constant source of joy and inspiration this year. The Music Department's Grand Opening after refurbishment was an exciting event, where students, teachers, and staff gathered to celebrate the completion of our music department's renovation. The space looks amazing, and it's clear that it's already having a positive impact on our students' creativity. The Christmas Concert and Carol Service at St. Mary's Church were both beautiful events, where our choir and musicians performed a range of festive songs and carols. It was great to see so many people come out to celebrate the holiday season with music.

The KS3 & KS4 Lunchtime Concert and Celebration of Music Concert were both incredible showcases of the amazing talent in our school's music program. From classical to contemporary, our students proved that they can do it all, and do it with style. And let's not forget about the recent A-level recital, where our talented seniors showed off their skills and prepared for the next chapter in their musical journeys.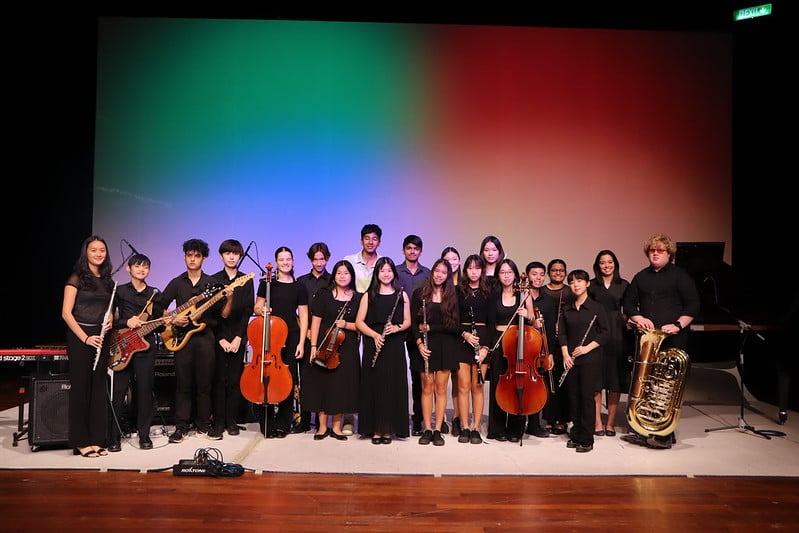 Finally, Photography. The Year 9 Elective was a popular choice for students who were interested in learning the basics of photography. The Photography ECA was also a big hit, where students had the opportunity to work on more advanced techniques and explore different styles. The GCSE and A-level photography showcase was a massive success, where our talented students displayed their work in a gallery-like setting. It was amazing to see the creativity and skills of our students come to life through their photographs.

All in all, it's been such an incredible year for our school's creative community. We've seen so much talent, dedication, and hard work from our students and teachers alike. Let's remind ourselves that this is just the beginning, and there's so much more left that we can achieve. The creative arts are a vital part of our school's culture, and I think everyone in this room should be very proud, knowing that they have been able to contribute to it.

So let's give a round of applause to our talented artists, actors, musicians, photographers and more. Here's to another year of creativity, passion, and hard work. Goodnight!"
Author: Kieran, Year 11
Editors note: You can see lots more photos of our events this year on our Flickr Albums and a final big thank you to our amazing team in CE Arts for all the work they do! 😍🎉🙌