The countdown has begun to EP's musical production, The Wizard of Oz which opens on 21st February. 🌈👠
For those of you who have not been involved in a school production before, here's what the final few weeks will look like for the team:
Actors are rehearsing for 12 hours over the course of a week finalising blocking, becoming completely 'off-script', taking care of their voices, costume-fittings and...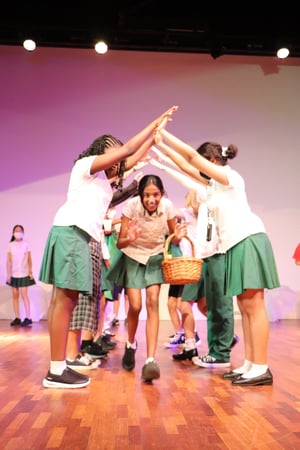 Musicians are working together as an ensemble to perfect the songs and putting them together with the singer-performers in the theatre space.
Dancers are polishing up their numbers, ensuring they are on time and in sync with the music and each other, beginning to rehearse in costume and taking care of their bodies to ensure they are in top shape for the show.
Stage Managers are organising the props table, ensuring actors have exactly what they need at exactly the right time for their scene and ensuring their scripts are up-to-date with any last-minute changes.
Costume designers are pulling together the final items of costume, doing final fittings and adjustments as the actors and dancers learn how to perform their scenes now in costume.
Sound technicians are finalising sound effects and their cues, working with actors and musicians to ensure mics are correctly worn and sound levels are just right.
The lighting team are programming the lighting desk with all their cues, fades and snaps, refocusing the lamps as blocking is finalised and ensuring they are in sync with the actors, sound operators and musicians.
Our projection designers are finalising their creative designs, filming and editing some final sections and programming their software to ensure their cues are on point!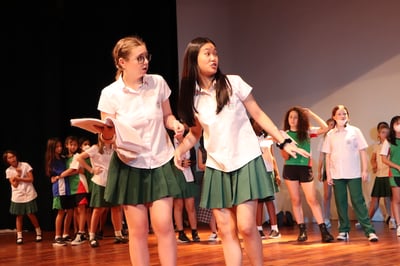 Our set design team are almost done - sets have been designed, constructed and painted - now stage lighting and actors are added to the mix final adjustments to colour and manoeuvrability are underway.
Our Box Office and Marketing teams are busier than ever selling tickets, responding to queries, and finalising our digital programme. Don't forget to scan the QR code when you arrive for the show
Our brilliant directing team are coordinating all of these areas coming together and pushing the show over the line with gusto, humour and lots of cups of tea!
We can't wait for you to see the final performance!
Tickets on sale and selling fast on KLASSOPS NOW!
Test your knowledge of EP's forthcoming production The Wizard of Oz
1. How many of the KLASS Community (staff, parents and students) are involved in staging The Wizard of Oz?
2. In what form will Toto appear?
A real dog

A puppet

You'll have to wait and see
3. How many actors are playing Dorothy?
4. What is the name of the people who live in Oz?
Ozians

Wozians

East-Emeralders
5. Which professional theatre company have the performers taken inspiration from when staging the tornado scene?
Splendid Productions

Handlebards

Gecko
6. When was the last time an EP production was staged in the Main Hall with a LIVE audience?
Bonus point if you can name the show…
7. Name three EP teachers who make up our Costume Team. One point for each
Answers:
95+

You'll have to wait and see

2

Ozians

Gecko

2015 (It was

Oh What a Lovely War!)

Ms Szelesi, Mrs McAteer, Dr Osowiecki
Count up your points
1-3 If you only had a brain!
4-7 Follow the Yellow Brick Road for better answers!
8-10 We're Off to See the Genius!