Why on earth would a Drama lesson need a tin of lychees?!
This term Year 9 have been exploring how to stage Shakespeare's most violent and gruesome scenes in their Drama lessons.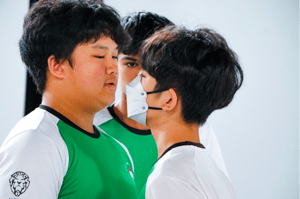 Kicking off the term with some stage combat, students staged the opening scenes of Romeo and Juliet culminating in the fight between the Montague and Capulet families - "do you bite your thumb at us, sir?" Students learnt how to safely and effectively perform stage combat, giving the audience the illusion of physical contact through both physicality and sound effects. Two key skills learnt by all students are the knap - a clap that creates the sound of skin-on-skin contact and masking - to block the scene so the audience cannot see that the characters aren't really fighting.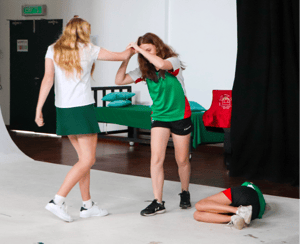 Our next text to explore through performance skills was Macbeth and his wonderful Weird Sisters. Students staged the three witches opening scene using physicality and voices to create an eerie atmosphere. Once rehearsed, students found spaces around campus to film "upon the heath - there to meet with Macbeth!"

The term has culminated in students staging the famous torture scene from King Lear, where poor old Gloucester is punished for helping Lear escape by his vengeful daughter. Using fake blood and lychees, students applied the masking techniques learnt earlier to gouge Gloucester's eyes out on stage. The audience screamed with delight when the student playing Regan stamped on the 'eye' lychees dashed upon the floor - 'See 't thou shalt never' exclaims Cornwall as they push the blinded Gloucester out of the castle.

The Shakespeare's Tragedies scheme of learning makes these important plays accessible to all students and encourages a love for theatre-making, with a lot of fun along the way.