Learning is a multi-layered experience: through immersion in a learning environment, our own experiences and interactions we acquire knowledge and skills, which develop into competencies and dispositions. Some of this learning relates to specific 'subject' areas, some - arguably the most important - relates to our growth of self and how we understand and navigate the world. We learn from our environment and the systems therein as much as we learn from discrete teaching. The messaging we send - that we teach and instil - from cultural norms and behavioural frameworks remain with us for life. This is why, in this week's Secondary Blog, I am delighted that our Vice Principal for Our Students, Richard Stockings, and our Key Stage 3 Leader, Jane Stweart-Williams, are sharing how and why Restorative Practices are employed at Alice Smith.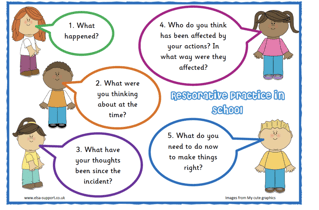 As a school, we use Restorative Approaches and Restorative Justice to help students learn from mistakes and to manage conflict. This aligns with our school values and our coaching culture and whilst it varies according to the context and situation, we are committed to its use in aiding our young people largely (though not exclusively) for the following reasons:
This approach is about giving everyone a voice
It does ensure all parties are listened to
We want to try to get students to take responsibility and understand the impact of their actions
It provides an opportunity for students to learn and consider how to move forward more effectively
It is an individualised approach that appreciates every situation is different.
As students develop, conflict is an inevitable and integral part of growing up. This can be caused by a number of things: changing friendships, misunderstandings or frustrations. Such conflict can restrict a student in thinking and action and prevent them from moving forward positively. As such, Restorative Practices will have the primary aim of finding a way forward which works for all involved. A teacher would lead students to reflect and restore though not with the intention of having things go back to how they were before but focusing on what all parties need at the time in order to move forward more positively.
It is also used in resolving incidents - in the classroom or in our social spaces. Smaller upsets can quickly escalate and become bigger incidents and so restorative approaches are employed to guide thinking around consequences and ensure that learning has taken place. The initial phase provides an opportunity for voices to be heard, individual reflection and an acknowledgement that time is needed to calm. A subsequent restorative conversation with all parties involved can then enable movement forward with more positive results.
As educators we also use restorative approaches in managing situations within our classrooms and in lessons. Again the focus is on ensuring the child is listened to and fully understands the expectations moving forward. This may be due to a missed homework or a challenging response or behaviour; restorative practices aim to maintain a positive relationship between student and teacher.
Whilst restorative practices are not a quick fix and take time, research (Meta-analysis and Review of Quantitative Studies) certainly assures us of its longer term benefits and our policies reflect a commitment to the use of this approach and to teaching and guiding our young people to better decisions, choices and actions.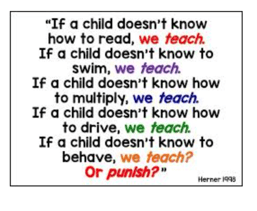 Wishing you a wonderful weekend!
Maria Osowiecki
Secondary Principal