What a week it has been as we have embarked on the myriad celebratory and farewell events that mark the culmination of this academic year. It has been a week of joy, pride and emotion as we have said goodbye to our leavers at our two KLASSics farewell events and recognised the outstanding achievements and contributions of our Year 11 and 13 students in our Year 11 and 13 Awards Ceremony. Thank you to all parents who attended these events, to the staff who made them possible and the students for giving so much of themselves. As I am writing this, we are on our final countdown to the Year 13 Graduation Ceremony and I cannot wait to burst with pride yet again when we honour our Year 13 students and congratulate them on the completion of their studies and time with us at Alice Smith.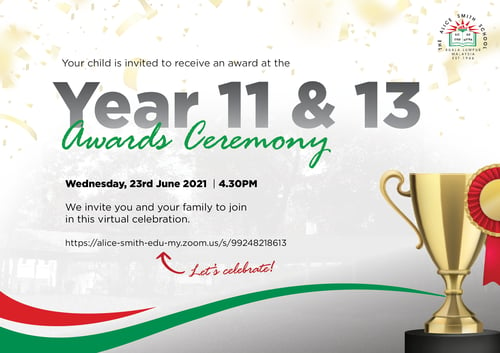 On Monday of this week, our Year 12 Extended Project Qualification students formally presented to a virtual and live audience their year-long research projects. These projects are independently resourced, researched, planned and structured around an issue, theme or artefact of the student's choice. The experience is a formative one and really provides an opportunity for students to tap into an interest or passion, research it and craft a written analysis that is in essence an original piece of research. Over the course of Monday, our students professionally presented and explored with their audience their initial ideas, aims and objectives, a summary of their research and argument, their methodology and approaches, including source analysis and validity testing, as well as their own reflections on what they had achieved or learned through the process. They also answered questions from the audience. As an audience, we were treated to discussions as far ranging as 'Is time an illusion?' to the use of robotics in surgery, the British electoral system and the impact of the 2010 World Cup on South Africa.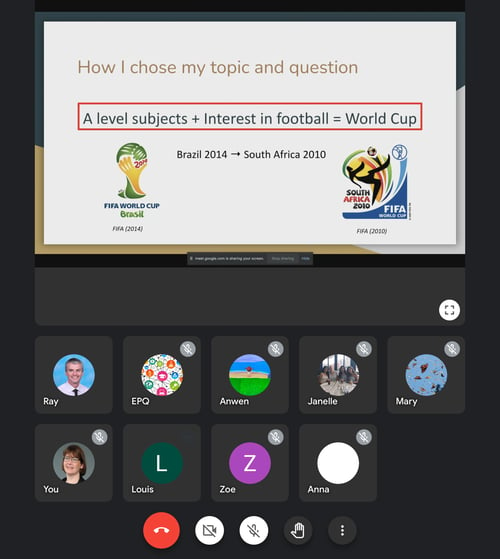 Our Head of Subject for EPQ, Francesco Corbetta, shared that:
Over the course of the year I have been incredibly impressed with the work ethic of all EPQ students. The passion they demonstrated and the sheer amount of resilience at navigating through the virtual learning environment to still produce such jaw dropping presentations has been incredible to witness. The EPQ is a subject intended to build the resilience of young adults and to improve their independent learning skills, and they have really excelled in this over the course of the whole academic year. Well done to all of them!
Huge congratulations to all our Year 12 EPQ students.
Wishing you a wonderful weekend,
Maria