In this week's Secondary Blog, our Enrichment Leader, David Morris, gives us an insider's view of the recent Silver Duke of Edinburgh International Award practice expedition. During the expedition, our Year 11 students were tested by weather, terrain and exertion, overcoming each of these by drawing on their resilience and some serious Alice Smith team spirit! Over to you, Mr Morris…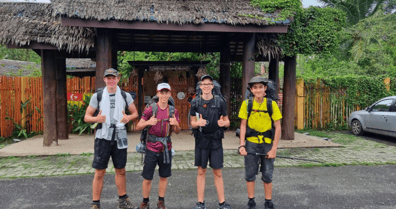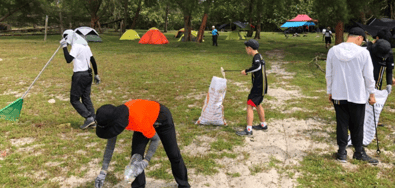 On Friday 8th December, our Silver Duke of Edinburgh International Award participants departed from campus on their practice expedition. The sun was shining and there was a buzz of excitement at the meeting point as kit and hiking packs were checked. Then we were off on the bus to Carey Island for a 3D/2N adventurous journey that would test the physical and mental resilience of each trekking team, while developing their practical survival skills.
Day 1 consisted of a short trek from the drop-off to the campsite by the shore. After the tents were set up, we engaged in some positive community action by performing a beach clean-up. That is, at least, until the rain started! The rest of the day was exceptionally wet, though Brandon and his team of guides made the most of the few short dry spells to run workshops on knots and effective bag packing for the next day.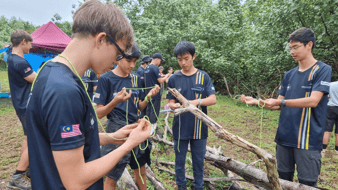 After a night of little sleep and some flooded tents, we rose early to break camp! Breakfast cooked and eaten, we set off on our first full day of trekking through the palm plantation. As we embarked on the journey, the heavens opened once more. Despite the constant heavy rain, our wonderful students refused to let the weather dampen their spirits. This was a true display of their resilience and connectedness!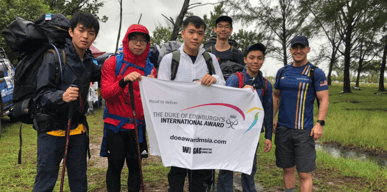 The second evening saw the students participating in a wilderness first aid training workshop, including CPR. After dinner, they were able to have some downtime and come together over card games. The night was thankfully dry and everyone was able to get some well-deserved sleep before the next long day of hiking.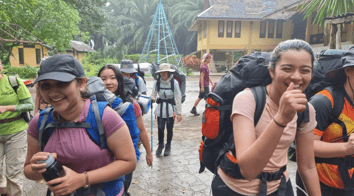 Our final day was much nicer in terms of weather, but trekking in the heat increased the challenge even further. Our students looked out for each other and displayed impressive navigation skills to finally reach the pickup point in very good time. The return bus journey was a lot quieter than the outward trip as the students reflected on their success and recovered from the difficult but positive experience. There was a palpable (and very well-deserved) sense of achievement and satisfaction, as well as great excitement at the prospect of a bath, some good food and a night in front of the TV!
It is always such a pleasure and an honour to lead these trips for our students. Seeing them grow and develop their skills and character while making new friends and supporting each other through difficult times makes me incredibly proud to be part of the Alice Smith family.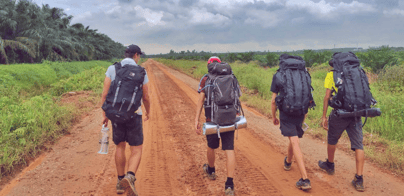 A huge thank you to David Morris and Jane Stewart-Williams, who accompanied the students on this expedition - stepping every step beside them.
Wishing you a happy and healthy weekend!
Maria Osowiecki
Secondary Principal