Our students have dazzled us again this year with 40 of them submitting poems to the English department for the COBIS Poetry Competition which is a brilliant opportunity for them to express their thoughts and feelings, hone their skills and showcase their talent. In this week's Secondary Blog, Assistant Head of Department for English, Anna Phillips, introduces and shares poems written by Alice Smith students on this year's competition theme of 'Who am I?'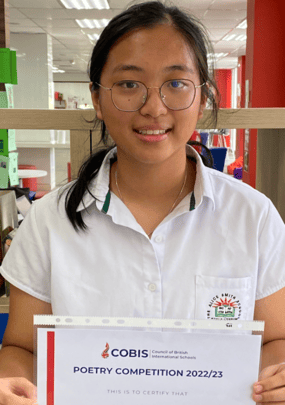 Clarissa in Year 9 led the way for KS3 with her poem about identity, assumptions and expectations. We thought she wrote with a refreshingly direct style and the poem was genuine, thoughtful and well-structured. Read Clarissa's poem here.
Sophie in Year 11 was our top school representative for KS4 - KS5 with her poem about identity and all the different elements that go into growing a person. We thought she wrote thoughtfully, selecting the choicest words for her intent and her extended metaphor structured her poem in a beautiful manner.
The talent does not stop there. Here are some more snippets from other top poets at our school who got involved in the competition - and there are many more.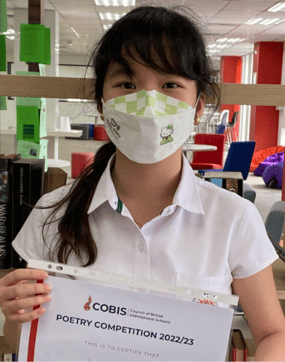 Aaliya in Year 12 is a gifted writer who has represented the school before in the Sunway National Poetry Slam, coming second in the country for her age group. Here is her intricate and epic poem exploring the nature of identity and societal repression as a woman condemned by society. Her use of wide-ranging literary allusions and well-structured imagery impressed us as she explored the evolution of a character doomed to suffer.
Evan in Year 8 wrote his poem with a wonderful rhythm and rhyme that sweeps you from the start of the poem to the very end, as he explores the idea of self-definition.
Well done to the overall winners of the competition as well! COBIS received close to 270 entries from over 142 COBIS schools worldwide, and if you would like to read some of the global creative talent on offer, please click here, sit back and enjoy.
Congratulations to all students who entered the competition and huge thanks to Ms Phillips and the English Faculty for supporting their creativity.
Wishing you a happy and healthy weekend!
Maria Osowiecki
Secondary Principal