As Remembrance Day approaches on Friday November 11th, many people around the world will wear a poppy as a symbol of remembrance and hope. Should you wish to wear a poppy, then you will find them in Reception, together with the accompanying charity donation box.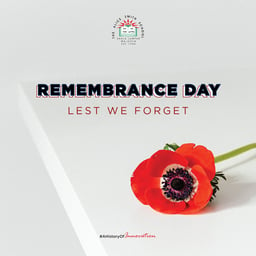 The poppy is a well-known and well-established symbol, one that carries a wealth of history and meaning with it. Wearing a poppy is still a very personal choice, reflecting individual experiences and personal memories. It is never compulsory but is greatly appreciated by those who it is intended to support.
But what is the inspiration and history behind the poppy becoming a symbol of Remembrance?
(Adapted from the Royal British Legion website where you can find out more about the annual Poppy Appeal.)
During WW1, much of the fighting took place in Western Europe. The countryside was blasted, bombed and fought over repeatedly. Previously beautiful landscapes turned to mud; bleak and barren scenes where little or nothing could grow.
There was a notable and striking exception to the bleakness - the bright red Flanders poppies. These resilient flowers flourished in the middle of so much chaos and destruction, growing in the thousands upon thousands.
In the Spring of 1915
Shortly after losing a friend in Ypres, a Canadian doctor, Lieutenant Colonel John McCrae was moved by the sight of these poppies and that inspiration led him to write the now famous poem 'In Flanders Fields'.
You can watch a recording of our former Head Student Noah Shine reading the poem here.
The poem then inspired an American academic named Moina Michael to adopt the poppy in memory of those who had fallen in the war. She campaigned to get it adopted as an official symbol of Remembrance across the United States and worked with others who were trying to do the same in Canada, Australia, and the UK.
Also involved with those efforts was a French woman, Anna Guérin who was in the UK in 1921 where she planned to sell the poppies in London.
There she met Earl Haig, our founder, who was persuaded to adopt the poppy as our emblem in the UK. The Royal British Legion, which had been formed in 1921, ordered nine million poppies and sold them on 11 November that year.
The poppies sold out almost immediately. That first 'Poppy Appeal' raised over £106,000 to help veterans with housing and jobs; a considerable sum at the time. Today's Poppy Appeal? 40,000 volunteers distribute 40 million poppies.
Get your poppy from the main Reception at both the Primary and Secondary campuses and on Friday 11th November, the Secondary Campus will be having a whole school assembly to mark Remembrance Day.