It really has been an extraordinary three weeks for our EP Drama Department. Embracing the freedom of movement and interaction provided by the removal of Covid SOPs, our students have been involved in the auditions and casting for this year's EP Production - The Wizard of Oz, and they have immersed themselves in the 3-day devised theatre residency led by the internationally-renowned Paper Birds Theatre Company. The team have also launched the latest FOBISIA Drama event inspiring the next generation of theatre artists through the Stage Make-Up Challenge. On top of this, we have recently received the exciting news that the Drama Department's Digital Drama Initiative has been shortlisted for the Innovation and Creativity in Learning Award in this year's International School Awards. Let me tell you more…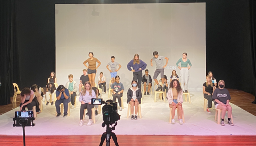 The International School Awards celebrate learning, teaching, community, wellbeing, leadership and other strategic initiatives at international schools. They provide the opportunity for international schools to share best practice, creative endeavours, community participation and innovation. To be considered for the prestigious innovation and creativity in learning award, entrants must demonstrate that their initiative has gone beyond what might be expected in order to encourage students to develop innovative and creative problem-solving, investigation, collaborative, discovery and research skills.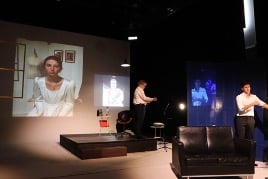 So, what precisely is the initiative that our Drama Department has been recognised for? The Digital Drama Initiative at KLASS has diversified and electrified our Drama programme through cutting-edge approaches to theatre design and innovations in communication technology. Faced with Covid-19 school closures, our Drama team had to make quick and responsive choices about how to adapt a kinaesthetic, group work-focused curriculum for online learning.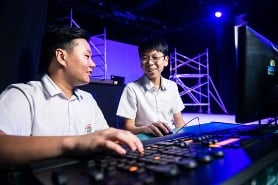 They seized the opportunity to follow the Performing Arts industry's lead by actively embedding emerging communication technologies, despite being physically distanced. Students in each year took the opportunity to engage in experiential digital drama - such as the outstanding live production of 'Us and Them' where students found they could imaginatively incorporate Zoom backgrounds to indicate shifting locations. Older students expanded their concept of theatre by adopting 'live cinema' techniques, which fused film and theatre in cross-form learning.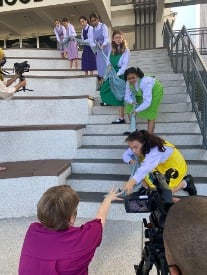 Even our extracurricular offer was enhanced by looking to the theatre industry's digital lead: our production of 'Daisy Pulls It Off' was originally rehearsed for the stage but, in the face of Covid-restrictions, was reimagined digitally, taking influence from National Theatre Live techniques of filming staged theatre.
The initiative opened up opportunities to access top industry professionals who would not ordinarily have visited Malaysia. Our students reached out and interviewed theatre professionals, including director Kirsty Housley, actor Niamh Walsh and West End make-up artist Tanya Noor. These experiences supported our students' growth as theatre-makers and opened up their awareness of the creative industries in a way that would not normally be possible. Returning to face-to-face learning last year, the Drama curriculum again shifted to cement the inclusion of communication and digital technologies so that our students' experience remains at the avant-garde of professional practice.

Please join me in congratulating our Drama Department: Ms Sullivan, Ms Watkinson, Mr Jeff and Miss Aisyah on being shortlisted for the International School Awards. The category winners will be announced in January 2023.

Wishing you all a wonderful weekend,

Maria Osowiecki
Secondary Principal