The Physical Education (PE) department is passionate and dedicated to our provision for Early Years children and feel that your child's experiences in their PE lessons build the foundations for happy, healthy and active lives. We deliver a programme which has been carefully considered for our Alice Smith students using Fundamental Movement Skills (FMS).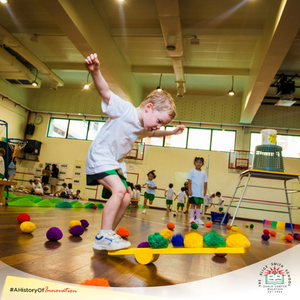 Your child will experience three PE lessons each week, one of which will be swimming. Our PE team carefully plans lessons each week designed around the three areas of the Fundamental Movement Skills: locomotion, stability and manipulation. At the core of our philosophy is the creation of engaging, fun and active lessons that support learning.
These lessons are taken with our specialist team of PE teachers who are highly experienced in designing lessons that engage our students at the same time supporting their physical development and learning.
Here is a great Instagram video here showing the children in action as they develop their locomotive skills.
What are locomotor skills?
Locomotor skills allow children to move through different environments, moving their body from one place to another. The locomotor skills that we use at Alice Smith currently are running, jumping, rolling and our own skills of stepping, climbing and crawling.
In a nutshell, locomotor skills are the ways in which we move! It's essential that children get plenty of practice with their locomotor skills because they're the building blocks of moving with confidence and competence.
Locomotor skills support the development of physical literacy which is the motivation, confidence, physical competence, knowledge and understanding to value and take responsibility for engagement in physical activities for life.
(Source: Whitehead, 2016)
Watch Alice and Smith work on their locomotor skills in PE Lessons!
Alice & Smith will be trying out more of these activities over the coming weeks so make sure you follow our Early Years Instagram Feed @KLASS_EarlyYears and subscribe to our YouTube channel to follow their adventures!
Do you want to know more?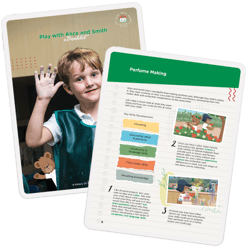 Click here to download our FREE eBook for:
Activities for you and your child to do
Ideas for play at home using simple everyday items
Insights from our experts on how the activities are preparing your child for future success
Information about how our play based approach at Alice Smith works
About Early Years
Our highly skilled and knowledgeable staff provide a challenging, rigorous and engaging curriculum to inspire our youngest students in Early Years. This is supported by teaching which is heavily influenced by a number of recognised approaches as to how children best learn at this age including Reggio Emilia, Anna Ephgrave, Maria Montessori and Alistair Bryce-Clegg.
Environments are carefully planned and created in order to provoke learning, interest, creativity and thought.
Each child is viewed as infinitely capable and intelligent. Our teachers provide support and challenge as our children learn through play. This creates a highly personalised and tailored environment, which is appropriately challenging for each individual child. Our aim is to ensure high levels of emotional wellbeing and involvement. This is characterised by children who are confident, comfortable, curious and eager to experiment and explore. The role of the environment as well as the teacher are continually assessed to ensure we offer a deep and challenging learning experience for all.