Last week we announced our new Head Students and like any other job our applicants went through a rigorous selection process! Here our new Head Student Team reflect on the process and give us some insight into how this year's Head Students were appointed.
"The process of becoming Head Student was a meaningful and rewarding one. All the candidates were exemplary which created a friendly sense of competition between us. Everyone pushed each other to perform to the best of their abilities, whilst remaining encouraging and supportive.

The week-long process began with a form we filled in, entailing questions about the importance of values, the contributions we would make, and developments to the school community we had previously worked on. This was followed by a time period of a few days when a form was sent out to teachers, asking for their thoughts on the suitability of candidates. The Senior Leadership Team then created a shortlist of 10 candidates based on the feedback that they received and our answers to the questions.

The shortlisted candidates then had a few days to create a short video; this was a chance for us to briefly introduce ourselves to the Alice Smith community and to portray our general character. From these videos, the students and teachers had a chance to cast two votes on their top choice candidates. Although this wasn't a deciding factor, it was one of the factors that the team took into consideration.

The interview was one of the more daunting parts of the process, but at the same time the most beneficial, as it gave us considerable insight into what future application processes in the professional world may look like. Having to answer questions spontaneously developed our ability to think on our feet while under pressure. We were required to demonstrate our ability to communicate and reflect on past experiences, but also express passion and our visions to the leadership team. Whilst selling our strengths was crucial, how the attributes of the individual candidates would compliment each other was a large consideration which was out of our control.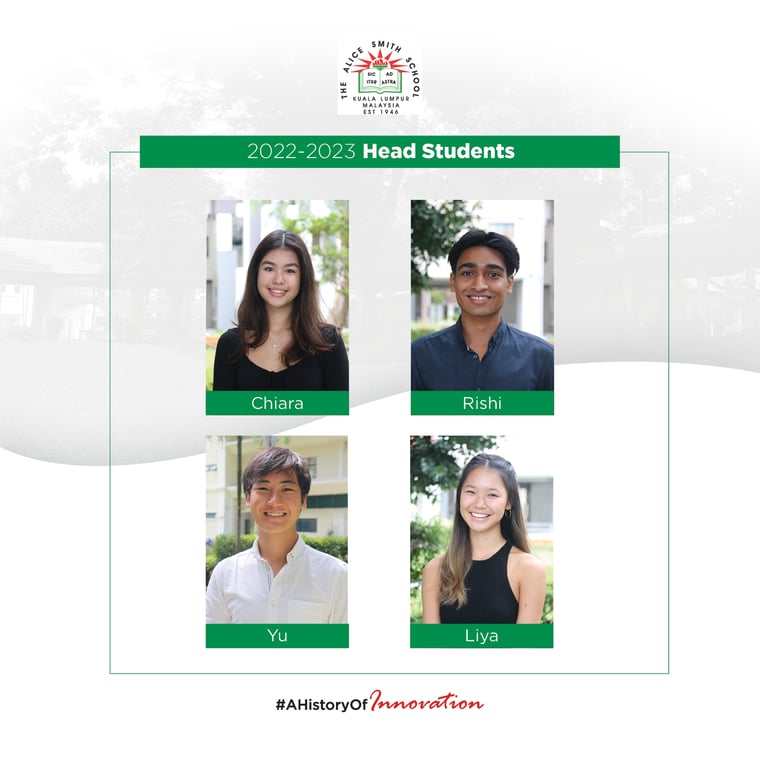 The main focus of the group task was to highlight how each candidate would collaborate and provide the leadership team with an idea of what type of dynamic we would have in the team of four. Being a Head Student isn't about being the best individual, but rather it is about working together as a team. We had to plan an induction day for the first day of school and present our ideas to members of the leadership team. We were given approximately half an hour to organise the different activities bearing in mind who would be supervising which activities and where these activities would take place. This was a simulation of the type of tasks we would be required to complete as Head Students.

With our full confidence, we can assuredly say that despite this being a rigorous process, we would encourage anyone with a passion to take the chance. There is only so much you can achieve without stepping outside of your comfort zone. No matter the outcome, there will always be a valuable experience to grow from; each step of the process allowed us to develop a different skill. Ultimately, growth is not linear; but with every unplanned outcome, it is accompanied by a valuable experience."

Rishi, Chiara, Yu and Liya
The Head Student Team (Elect)
We would also like to thank the outgoing Head Student Team of Rishabh, Tyler, Anwen and Melissa for their work over the past year and wish them all the best for their futures!