2022 brings a lot to look forward to, including welcoming our new Head of School, Ms. Sian May. Sian's appointment was made last summer after a five month search by our Council of Governors to ensure we found the right successor to take over leadership from Mr. Roger Schultz as he retires at the end of the academic year.
Sian is a passionate British educator with a strong track record of strategic success in developing exciting education provision across a range of international schools including teaching and leadership positions in the UK, Hong Kong, and Switzerland. She is joining us from Dulwich College International in Singapore where she is currently Director of Senior Schools with responsibility for educational strategy and vision across 10 schools in Singapore, China and Korea.
Over the next few months we will find out lots more about Sian but first we wanted to ask her two very important questions, why had she picked our school and what will she bring to our community? Over to Sian to find out the answers!
Why am I coming here?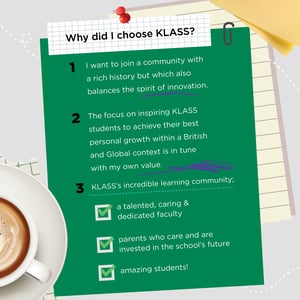 "I want to join a community with a rich history but which also balances the spirit of innovation. I believe KLASS balances both of these values. KLASS has many wonderful qualities but what most attracted me was KLASS's incredible learning community; a talented, caring and dedicated faculty, parents who care and are invested in the school's future and of course amazing students!
The relentless focus on inspiring KLASS students to achieve their best personal growth within a British and Global context is absolutely in tune with my own values.
I love working within an international community and the fact that the KLASS student body has over 40 different nationalities represented, as a British International school, means students can develop self-knowledge alongside building local and global understandings. This means that our students' inter-cultural literacy and character is fostered.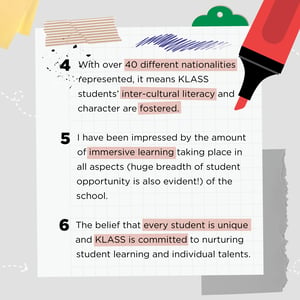 I have enjoyed following KLASS for the last few months on social media where I have been impressed by the amount of immersive learning taking place in all aspects (huge breadth of student opportunity is also evident!) of the school. Finally, what attracted me perhaps the most is that KLASS believes that every student is unique and that they are committed to nurturing student learning and individual talents. For me that was a non-negotiable when looking for a new school.
What do I bring?
Passionate belief in and understanding of the next generations of learners.
Huge ambitions for KLASS students and the opportunities that they will experience during their schooling. This is the result of extensive knowledge and experience in the region with schools, industry partners and higher education institutions.
Fresh perspective based on a group-strategic role.
A clear vision of the future of education.
Extensive experience and knowledge of the evidence regarding teaching and learning.
Our Primary Student Council also prepared a list of interesting interview questions for Sian. Watch the interviews HERE.
Welcome Sian and we look forward to seeing you in school soon!