Model United Nations is a role play debate forum simulating the debate procedures of the United Nations, following either Harvard (HMUN) or The Hague (MUN) rules of procedure. On 23rd March, 13 students from the Model United Nations Club set off to Ho Chi Minh, Vietnam, for the SEASAC 2023 MUN Conference. The three day event was hosted by Saigon South International School and included almost 250 students from international schools across South East Asia. In this week's Secondary blog, Year 11 student, Angus Woods, shares his reflections on the experience.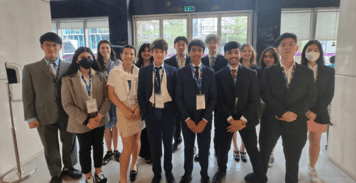 I think I speak for all of the students who attended the trip when I say it was a lot of fun and a great experience! KLASS students were in different councils with students from schools across South East Asia. Although I was the only student from Alice Smith in my council, I soon found myself meeting new friends and making contributions to the debate. During breaks and lunches, I had time to get to know people from other schools and members of the Alice Smith delegation that I barely knew. The debates in my council were lots of fun and became quite energetic and heated at some points. After council sessions were finished at the end of the day, we had time to socialise with others over dinner, as well as playing football on the school field.
I learnt a lot of skills, such as improving the content and formality of my speeches, with the help of some of the new friends I had made. This helped me to gain a better understanding of public speaking skills. As well as this, I gained a lot of confidence and knowledge about MUN, including how proper UN councils are run. At first I was quite nervous and shy to contribute, as my council was quite large, however I soon felt comfortable and fully able to make valuable comments to the discussions at hand, after some prompting from the Chairs in charge of my council.
After the social activities had ended, Miss Withrington and Mr Morris arranged for us to go to the mall nearby, which was really fun. We were allowed to go around in groups of 4, which gave us the independence to do our own thing and choose where to go. After eating in the mall we would return to the hotel where we were given free time to shower, eat snacks, get ready for the next day of debating and relax. The hotel was very nice, and we were put in rooms of 2 which had great views and plenty of space, and a bathroom. We had to wake up somewhat early to get showered and dressed, in order to eat the buffet breakfast before the bus left to go to the school.
On the final day we had the awards ceremony in which Kieve got the Most Improved Delegate Award, and Barghav received an Honourable Mention. Overall, SEASAC MUN was an incredible experience! I would strongly recommend it to anyone who is interested in MUN as it is a great opportunity to further new skills and meet some very friendly people.
It's safe to say that after the success of SEASAC 2023, we can't wait to sign up for 2024! A huge thank you to all students who took part in this event and to Ms Withrington and Mr Morris for supporting them throughout.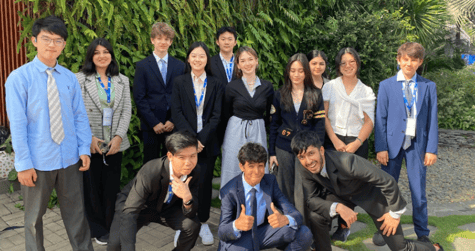 Wishing you a wonderful weekend!
Maria Osowiecki
Secondary Principal