Please join us in congratulating our new Head Student team for 2023-2024: Jordan, Kieve, Cally and Tahlia. Our Head Students play a pivotal role as ambassadors for the school throughout the entire year of their tenure. Here our new Head Student Team reflect on the process and give us some insight into how they were being appointed.
"The process began with a google form that was sent out to all applicants to complete. We were asked about values that are important to us, giving us an opportunity to showcase them, as well as being asked what contributions we would make to the role of Head Student and how we have developed the community. This was followed by a period of several days in which a sheet was submitted to teachers to get their thoughts and opinions on each of the candidates. This year we had a record number of applications for the role of Head Students and the Senior Leadership Team had a tough decision when it came to shortlisting 10 students who moved onto the next phase of the selection process.
These 10 candidates had to make a short video to introduce themselves and their vision for the school. These videos were then shown to the school community and students were able to vote for their top two boys and top two girls out of the shortlisted candidates. Whilst this wasn't the deciding factor, it was one of the things the Senior Leadership Team took into consideration when making their decision.
Next was the most nerve-racking process of the application: the Interviews. They took place with Mr Howard (Head of Sixth Form) and Dr Osowiecki (Principal).
During the interviews we were asked questions to help the Leadership Team to get a better insight into who we are and what we hope to achieve if we were selected for the role of Head Student.
We were asked about our past leadership experiences and what we have learnt from these opportunities as well as why we applied for the role. Whilst this was very daunting, it was an amazing chance to showcase all that we have to offer and gave us the chance to develop valuable interview skills which will help us when it comes to future applications.
As well as the interviews, we were tasked with a group activity to assess our teamwork skills, communication, creativity, conflict resolution and ability to work under pressure. The group activity entailed a simulation of enacting a school policy and the applicants were tasked with how to employ it while simultaneously making sure it fit with our school's new purpose.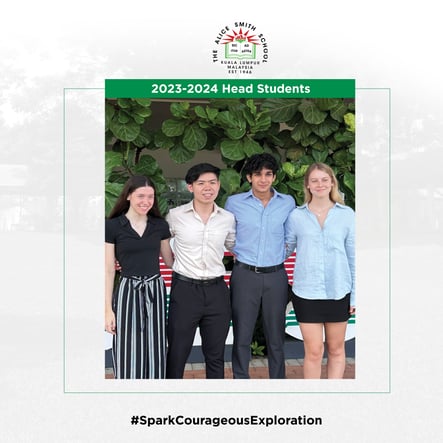 When it came to making the final decision, the Leadership Team had a very tough choice to make due to the quality of all the candidates that applied. Ultimately, the process was rigorous, but as your Head Students, we would encourage everyone to apply for the role as the experience and skills we gained from this experience was invaluable. Whilst not everyone was able to get the role, everyone got the chance to grow and will still have the opportunity to take on a leadership role within the school community.
On behalf of your 2023-2024 Head Students, we are excited to work with our Alice Smith School Community and we promise to give our all to make our school a place where everyone feels a sense of belonging, pride and purpose".
Jordan, Kieve, Cally and Tahlia
The Head Student Team 2023-2024