Over the last few weeks our Head of School, Sian May, has been introducing the KLASS Community to our new school Purpose statement. In this week's blog Ms. May answers some of the questions we have about why we should have a purpose statement and what it means for the school going forwards.
What do you think of Alice Smith's history and standing in the region?
"Alice Smith has an incredible history and renown. Our founder was courageous and embraced the future's uncertainty after the destruction of the Second World War. This sense of innovation and establishing our own way of doing things still remains at the heart of Alice Smith. This is made possible by our independence, strong community and passionate sense of belonging. This has enabled us to reaffirm our purpose for both our current and future generations of students."
Why purpose rather than Mission and Vision?
"This is a pivot rather than a revolution. We are a thriving community but we need to ensure we keep our eyes on the horizon and the future. Purpose is in our DNA as we were founded by someone who believed in doing things differently and providing their child with opportunities which were personalised, relevant and forward thinking. We are a positive psychology school and within the evidence-based PERMA framework M is for meaning i.e. your purpose. We see this meaning expressed through our character strengths for younger learners and our ACHIEVE programme in secondary which are bespoke and create a language of learning and self-expression. We believe that anything we can do across the organisation which can align a student's experience to accelerate their self-knowledge, sense of motivation and joy at learning then it is essential that we do it. Therefore, becoming purpose driven is an extension of our roots, our sense of belonging is reflected in our one unifying purpose. We also believe in the power of the individual so our purpose can be collective and individual simultaneously."
What do you mean by collective and individual purpose?
Our purpose is to "Spark courageous exploration to inspire a better world" this is our unifying purpose and as one team we might focus on a collective goal informed by this purpose such as aligning the work of our campuses. However, our purpose is broad enough that each individual member of our community whatever their age can determine what this means for them. From our student leaders, to one of our administrators and our PTA the purpose is there to be defined. "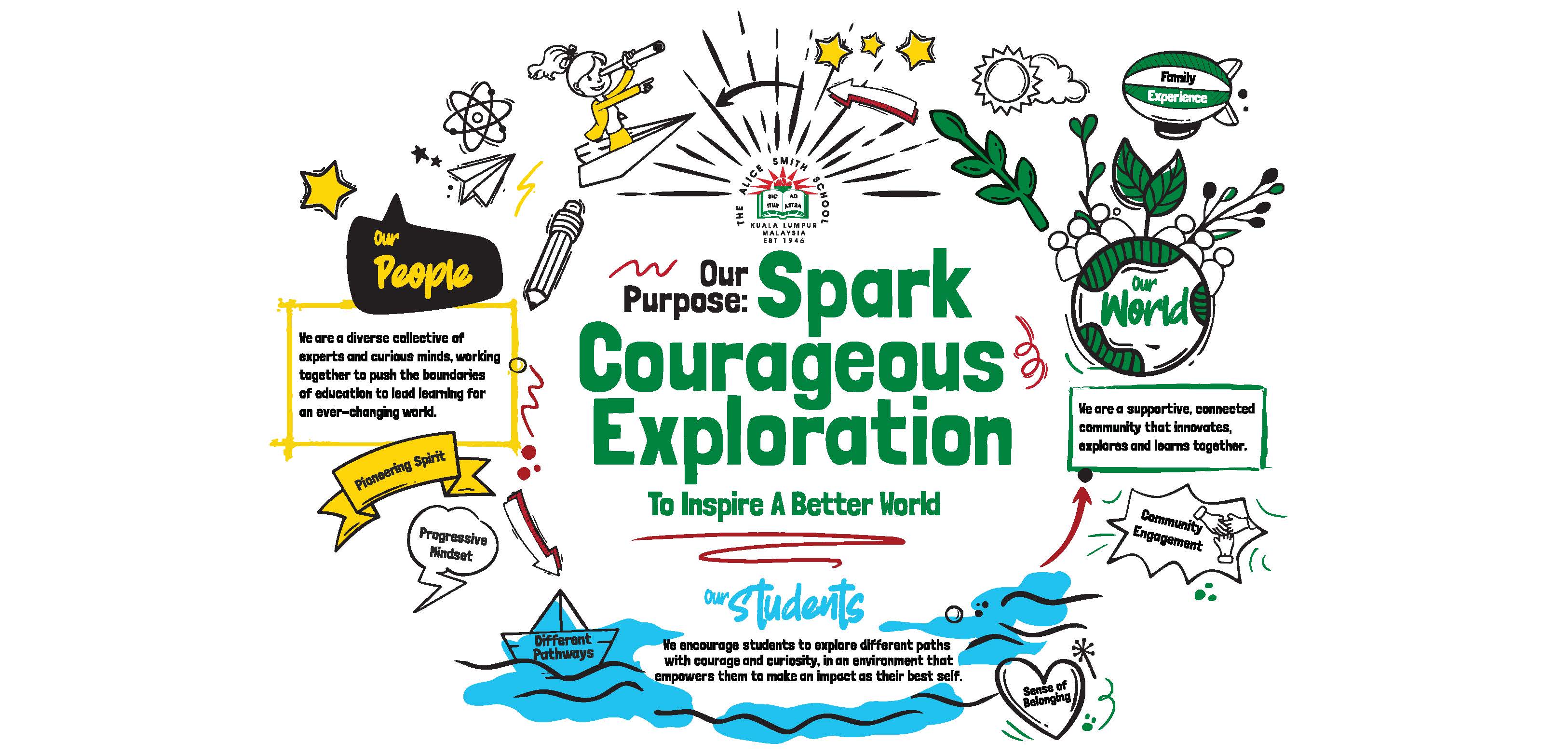 Why is the new imagery different?
"Some people have called it modern, some animated and I am sure we will invite a full spectrum of opinion and engagement but most agree it is a fresh look. However, this representation was about capturing the way our students see the world. We talk about our community in the warmest terms, about our sense of belonging and this being a special place, this vibrancy, passion and joy is what we have tried to capture."
How purpose?
"We embarked on a 12-week sprint, this was a cycle which allowed maximum pace to gather as we engaged our community. The process went as below: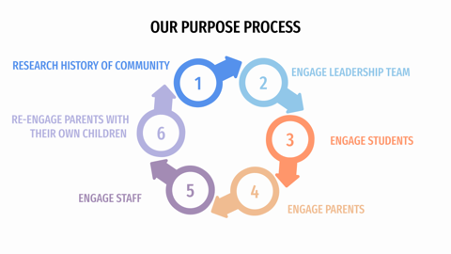 In step 1 of the process we drew on historical documents, our school song, survey data, 1:1 discussions and alumni to create a picture of all the common themes which were present in our sense of Alice Smith. This process allowed us to interact with a significant number of members of our community. It also meant we had incredible insights into how our community was feeling and provided a great starting point to reconnect following the pandemic."

You read more about the development of our Purpose statement in the second blog. Click HERE to read it now.