Earlier this term we were delighted to hear that Rebecca Lim, one of our talented Musicians had won the COBIS Music Award. We've been following Rebecca's successes on the blog over the past year; she is already our Senior Young Musician of the Year 2022, passed the Malaysian section in the Osaka Music Competition and placed in the Lyrical Flute Legends Competition.
In this last week of term we thought it would be great to catch up with Rebecca and find out more about her latest success.
Tell us about the COBIS Award you have recently received?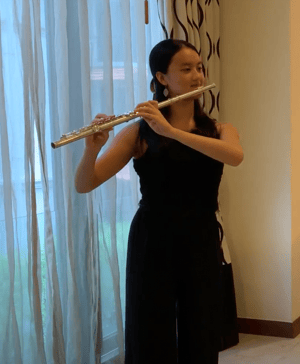 This was a competition Ms Handley, EP Music teacher, entered me for as I won the KLASS Young Musician of the Year Award Senior Category. I played a French romantic piece - the first movement of Suite, Op.34 - Charles-Marie Widor.
I really enjoyed playing because French romantic composers for flute is my favourite combination. I want to just be able to enjoy the performance rather than stress out so much about whether I was going to win. I think that really helped me enjoy the piece.
How long have you been playing the flute?
I have been playing the flute since I was 7 so that would be 10 years! I began taking peripatetic music lessons at JB in Year 3. My Mum actually had a flute that she wasn't using. No one in my year group played the flute and I wanted to be different! I now play with the Selangor Symphony Youth Orchestra. I'm doing a few performances with them, including a solo performance.
What are your future musical plans?
I am looking at universities that have vibrant musical scenes. Although I won't be taking it as a major, it's really important to me to carry on playing recreationally.
What did it mean to you to win this award?
It meant a huge deal. I was first and foremost very shocked as I didn't expect to win it. It's very enjoyable to have my efforts recognised. Music can be really gruelling sometimes so to receive praise is really nice. Obviously, it's nice to represent the school too and to have the school recognised on the international stage.
What advice would you give a younger student about entering a music competition?
For me, I think the main thing is to just do it. Don't stress too much. Every competition is a learning opportunity. You learn a new takeaway with each one you enter. I would recommend people take part.
Finally, which do you prefer recording music or playing live?
Playing live because then you get to feed off the audience's energy. I like the spontaneity of it.
Thank you Rebecca and congratulations again on your achievements this year!
Here's Rebecca's performance for you to enjoy!