Congratulations to Harry Ho, who graduated in the summer, on winning this prestigious competition with his photo series 'One last dance.. (1952 - 2022)'. If you attended the AD@PT show last summer you may remember seeing this work on display as part of Harry's final Photography A Level submission.
Harry told us more about his success;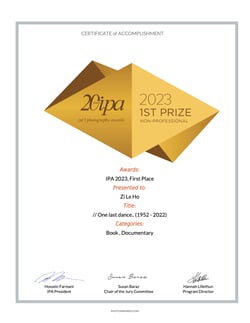 "This journey has been particularly meaningful to me, as it marks my second year of striving for this prestigious photography award. Being recognized and named as the grand winner in the sub-category of "Non-Professional: Book, Documentary open competition" is a significant milestone for me. My initial goal was to achieve this before turning 20, and I'm delighted to have achieved that dream now. Looking ahead, my aim for the next year is to secure the title of "Photographer of the Year 2024 in IPA," and I'm motivated to continue honing my skills.

I'd like to take a moment to share some insights into the photo series I submitted "//One last dance.. (1952 - 2022)" - Featuring the 70 years old: Aik Hoe Dim Sum Restaurant 1952-2022.

A Tribute to the Tradition and Dedication. This series pays a heartfelt tribute to Aik Hoe Dim Sum Restaurant, an iconic establishment that has graced George Town, Penang, Malaysia, for an impressive 70 years. Stepping inside takes you on a journey back in time, with its antique charm and nostalgic authenticity. I also reflect on the privilege of capturing the significant moments leading up to its closure. Allow me to share with you the untold stories of this historic event, which was first documented by me on its final day of operation.
What makes this achievement even more special is that my winning entry will be showcased on Sunday, October 29th, at Splashlight Studios in New York City, USA. It's an incredible opportunity, and I'm looking forward to this event with great anticipation."
If you're interested in seeing Harry's winning entry and learning more about this photo series and the competition, you can follow this link.

Harry also wanted to thank his teachers Mr. Jackson and Mr. Farrell for their support during his Photography A Level.
I wanted to express my sincere gratitude for their guidance and support during my photography journey.
"Their insights and encouragement have played a pivotal role in my growth as a photographer, and I'm excited to continue learning and evolving in this field. Thank you once again for being inspiring and supportive teachers. I look forward to sharing more of my photography adventures with you in the future."
We look forward to hearing about your future successes too Harry!