The final celebration of the diversity of our student body for this academic year is the Independence Day of the United States on 4th July.
Fourth of July is a federal holiday, commemorating the Declaration of Independence of the US on 4th July 1776.
The Second Continental Congress declared that the 13 American colonies were no longer subject to King George III of the Kingdom of Great Britain.

Fireworks, parades, BBQ's, carnivals, fairs, picnics, concerts, baseball games, family reunions and political speeches are traditional ways of celebrating.

A salute of one gun for each state in the US called a 'salute to the union' is fired on Independence Day at noon on military bases.
The flag of the United States has a few nicknames:
Stars and Stripes
Old Glory
Star Spangled Banner
Originally introduced in 1777, the flag has been modified 26 times ! The current design was ordered by President Eisenhower on 21st August 1959.

The 50 stars represent the 50 states of the US, and the 13 stripes represent the 13 colonies that declared independence from Great Britain.
Fun Facts!
1. The United States of America comprises 50 states. It is the 3rd most populous country in the World with a population of 332 million. It is the 4th largest country by total area.

2. The USA has the largest economy in the world.
3. It is home to some of the best musical artists of all times including: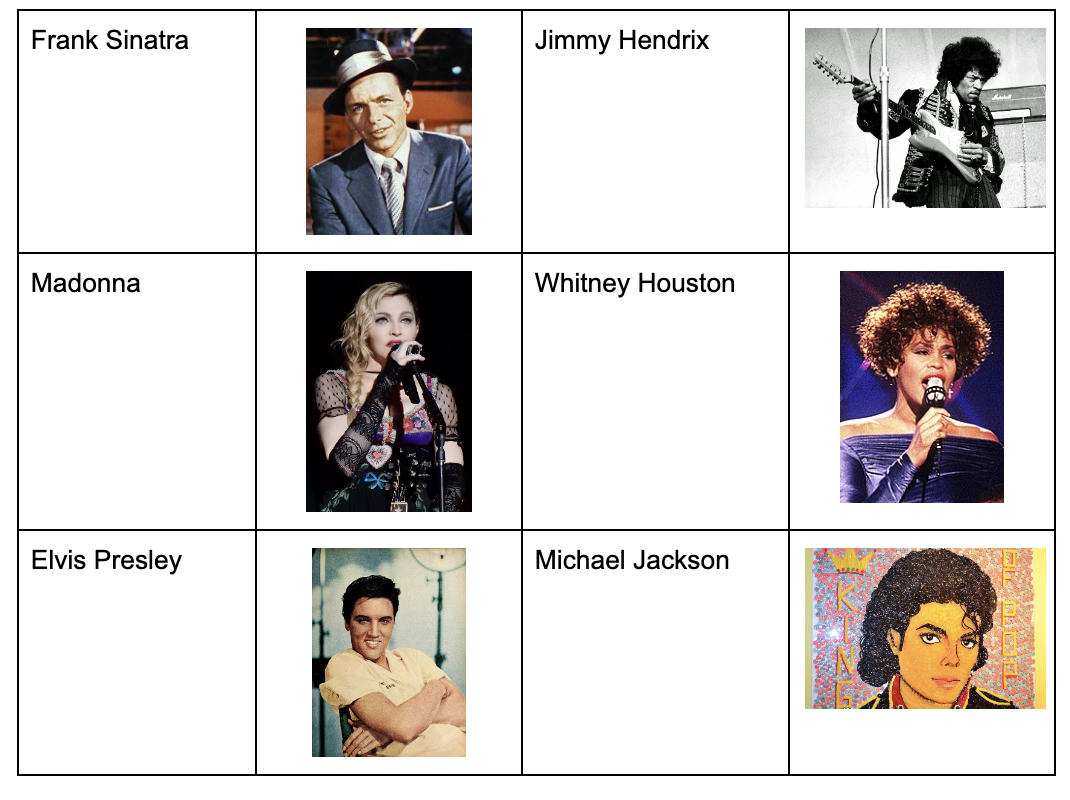 4. Hollywood is the World centre for entertainment.
5. Washington DC wasn't the capital city until 1790. From 1785 - 1790 it was actually New York City.
6. Boring is a city in Oregon, with a population of 7000. It was named after its founder William H Boring, who farmed the land in the 1870's. Boring partnered with Dull, Scotland and declared August 9th as an annual Dull, Boring Day !!!

7. The USA has no official language.
8. Alaska is the state with the longest coastline of 6,640 miles. If this were to include all the bays and inlets, it would actually stretch across 47,000 miles which is longer than all states combined.​​


9. The Statue of Liberty was a gift from France, to celebrate 100 years of Franco - American friendship. The statue was sculpted by Frederic Auguste Bartholdi and the framework was designed by Gustave Eiffel.
The torch is a symbol of enlightenment and lights the way to freedom by showing us the path to liberty.

10. America is the only country which has all of the Earth's 5 climate zones:
Tropical
Dry
Temperate
Continental
Polar
To help celebrate Independence Day , our Delischool chef at EP will be cooking up some all American delights:
Beef burger with coleslaw and potato wedges
New Orleans jambalaya with mixed salad and garlic bread
Vegetarian burrito with spicy Mexican corn and refried beans