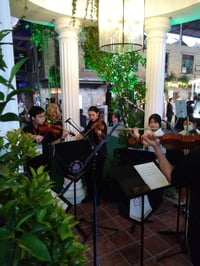 Our musicians were delighted to be invited to play at 'The King's Birthday Party' - the British High Commission's biggest event for decades! For our String ensemble, Brass group and Flute ensemble it was their final external engagement of the year. One of our performing students, Scott (Y13), who is this year's recipient of the BMCC Prize for Music and will be attending the Royal Welsh College of Music and Drama next year, told us more about the event and the benefits our student musicians get from them.
"A performance doesn't just magically come together, it is culmination of hours of practice. The Brass ensemble, Flute group and String ensemble rehearsed weekly and practised our parts individually so that as a team we could create the best performance possible for the King Charles III's Birthday Party for the British High Commission at KL Sentul last Wednesday evening.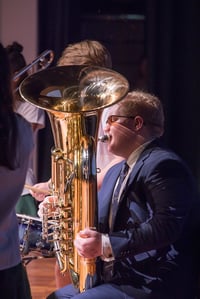 Playing at an event such as the Kings birthday celebration was a very exciting and different challenge to playing at other events. Some of the challenges we faced as musicians were the sheer humidity of playing outside, adapting to the performance space, as well as the pressure of playing outside of the relatively safe environment of school. It was an incredible experience that I feel has helped not only me, but all of the members of the ensembles develop and flourish into the best musicians we possibly can be."

We'd like to thank all our student musicians for the many performances we have enjoyed this year. From the opening of the refurbished music department in September to Carols at St. Mary's Cathedral at Christmas, and from providing the orchestra in our production of The Wizard of Oz to this final performance at The King's Birthday Party - Thank you and enjoy your summer break!