Did you know that music is one of the few activities that uses both the logical and creative sides of the brain? Music has the ability to strengthen the connection between the body and brain to work together as a team.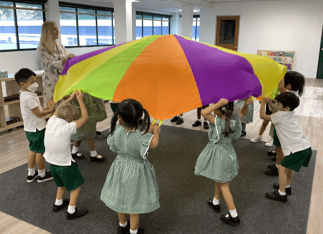 Music and movement comes naturally to children of all ages. Even infants will bounce, sway, smile or wave their hands along to their favourite tunes. It is also common for young children to make up their own songs and rhymes, and often sing to themselves during play.
Music-making is a natural part of every child's general development. They learn how to use their voices in different ways, how to play tuned and untuned percussion instruments.
They learn how to respond to music with their bodies, beginning to improvise and create their own music. Alongside this, they start to develop many other important skills.
Benefits of learning music in Early Years
Exposing children to music has many benefits for child development. Learning to understand music engages many skills including: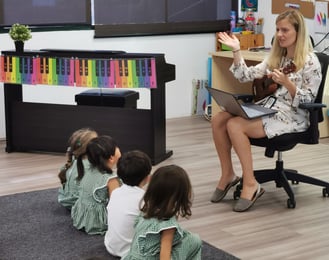 Developing aural skills

Moving to pulse and rhythm

Learning how music can be shaped through dynamics and changes in tempo

Focus and memory - listening and remembering songs and rhymes

Numeracy and Counting -

music engages children in basic mathematical concepts such as rhythmic counting and beat keeping

Physical balance and development of motor skills needed to dance and move our bodies along to a beat, as well as control sounds and movement

Motor skills - performing and exploring a range of percussion instruments as well as finger play songs and action songs

Active listening - improving concentration

Creativity - opportunity to explore, compose, improvise

Social skills such as working in groups, circle dances, taking turns, discussions and making music together as a team

And so much more

(Source: earlychildhood.qld.gov.au)
Watch Alice and Smith enjoy their Music Lessons!
Alice & Smith will be trying out more of the activities over the coming weeks so make sure you follow our Early Years Instagram Feed @KLASS_EarlyYears and subscribe to our YouTube channel to follow their adventures!
Do you want to know more?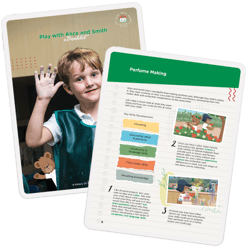 Click here to download our FREE eBook for:
Activities for you and your child to do
Ideas for play at home using simple everyday items
Insights from our experts on how the activities are preparing your child for future success
Information about how our play based approach at Alice Smith works
About Early Years
Our highly skilled and knowledgeable staff provide a challenging, rigorous and engaging curriculum to inspire our youngest students in Early Years. This is supported by teaching which is heavily influenced by a number of recognised approaches as to how children best learn at this age including Reggio Emilia, Anna Ephgrave, Maria Montessori and Alistair Bryce-Clegg.
Environments are carefully planned and created in order to provoke learning, interest, creativity and thought.
Each child is viewed as infinitely capable and intelligent. Our teachers provide support and challenge as our children learn through play. This creates a highly personalised and tailored environment, which is appropriately challenging for each individual child. Our aim is to ensure high levels of emotional wellbeing and involvement. This is characterised by children who are confident, comfortable, curious and eager to experiment and explore. The role of the environment as well as the teacher are continually assessed to ensure we offer a deep and challenging learning experience for all.