🎉🙌 Congratulations to our students who have received Pearsons Outstanding Learners Awards for their achievements in last year's A Level and (I)GCSE examinations. We would like to congratulate;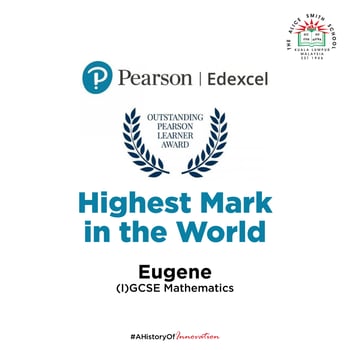 Highest Mark in the World:
Eugene: (I)GCSE Mathematics. Mr. Philip Welch, Head of Mathematics and Computing Faculty said, "Eugene is an incredibly able mathematician, who excels with curriculum content and in enriching mathematics such as competitions. He is also an exceptional person who is extremely modest, kind and compassionate to his compatriots despite his exceptional ability. Eugene will without a doubt have a very bright future in whatever he chooses to do in life and nobody deserves it more!"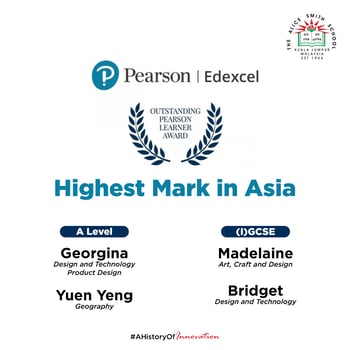 Highest Mark in Asia:
Yuen Yeng: A Level Geography. Mr Mark Williams, Head of Geography, said of Yuen Yeng's achievement,"There is no doubt that this award is deserved, and it is an attestation of what perseverance and hard work can bring. Well done, Yuen Yeng - a fantastic achievement!"
Madelaine: (I)GCSE Art, Craft and Design. Mr. Simon Farrell, commented, "
Madelaine has always impressed staff in the department with her exceptional skill and incredible work ethic. She is a flourishing young artist who fully embraces the art experience and engages in creative play with curiosity, passion, wonder and discipline. The work she produces is both mature and sophisticated and communicates ideas that resonate on both a physical and spiritual level. Maddy is always willing to experiment and explore beyond her comfort zone and she displays an exceptional level of skill in both the use of materials and the exploration of techniques. She is unfailingly positive and cheerful and is always enthusiastic about learning and engaging in the joy of creating art."
Congratulations also to our Product Design students Georgina: A Level Design And Technology and Bridget: (I)GCSE Design and Technology for achieving the Highest Mark in Asia in their respect examinations.
Several students also received recognition for achieving the Highest Mark in Malaysia.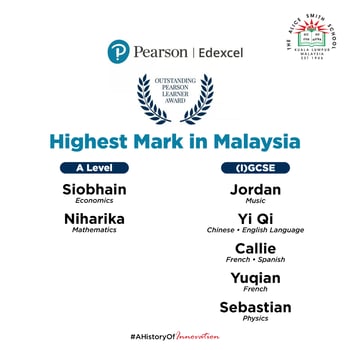 We'd also like to congratulate Ryan, who was separately recognised as achieving the Top Mark in Malaysia by Cambridge Assessment International Education (CAIE) for both GCSE Chinese as a Second Language and GCSE Geography.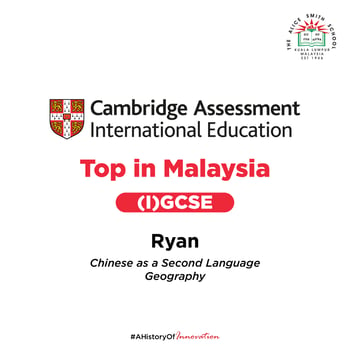 Overall our students were hugely successful in last summer's examinations with our Sixth Form cohort achieving a 100% pass rate with 34% of all grades at A* and 86% A* - B and at (I)GCSE, 57% of students were awarded grades 8-9 ( equivalent to A* and above), 76% A* or A (grades 9-7) and 90% were awarded A* to B (grades 9-6).
Congratulations again to our prizewinners and indeed to all our students who sat A Levels and (I)GCSEs in the summer of 2022!