Music Moments
We have had the most amazing term of Music Moments culminating today with incredible performances from our Year 1 children. Students have had the opportunity to perform in front of a live audience of their fellow performers, children from across their year group as well as their parents.
For some of our students, this has been the first time they have ever performed in front of a live audience which is an incredibly important and exciting milestone. Music Moments gives our young musicians the opportunity to practise more transferable skills developed through music education (2) - the opportunity to set goals, to share the product of their hard work, and to experience and overcome pre-performance nerves. To receive positive feedback from a supportive audience helps to build confidence and gives a sense of accomplishment. All performers should be very proud of their efforts this term! Music Moments will run again in Term 2 with dates TBC.
Term 1 performances have been shared on the JB Music Website for you to view.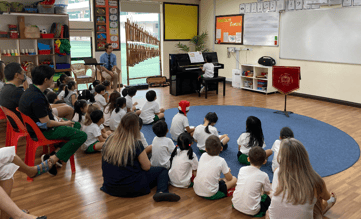 ECAs
Music ECAs have been simply incredible this term. All students and staff have been so excited to come together and make music! We have achieved some fantastic results so far. As always, it's not just about the musical outcome, but the journey it takes to reach it. Orchestral students are learning to take responsibility for their environment, their instruments and their music, and set up/pack up as a team each rehearsal. They are working in groups with other students to perfect their part in the pieces we are playing, and to play their unique role in the orchestra to the best of their ability.
JB Choir members are learning to project their voices, to sing as a group, and are experiencing a wide range of repertoire, from the German traditional carol 'Silent Night' to the American contemporary Christmas anthem 'Welcome This Christmas Day'. Junior Choir have recently enjoyed their first public performance singing 'I'm The Happiest Christmas Tree' to open this week's KS1 Assembly. Students in Year 3 and 4 have enjoyed beginning their musical journey in learning a variety of brass and woodwind instruments. Our Junior String students are so excited to be back rehearsing with Ms Angela. What a joy it is to see the learning and enjoyment being experienced by our students.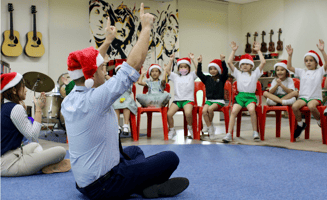 Musical Events
As we approach the end of term, it has been wonderful to see our students having so many opportunities to perform. The JB Choir has performed brilliantly at our Christmas Concert at EP, our PTA Bazaar at JB, as well as the recent Carol Service at St Mary's Cathedral. Next week there will be a few more opportunities for the children to entertain us with their amazing voices as we finish the term.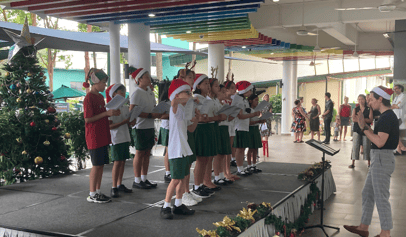 Alan McCarthy
Primary Principal