Term 2 has seen the second year of our 'Young Musician of the Year' competition. Being back in school has created more excitement for the competition with an amazing 66 entries being submitted. The standard of performances were excellent and we were pleased to announce our winners at the end of term Commendation Assemblies.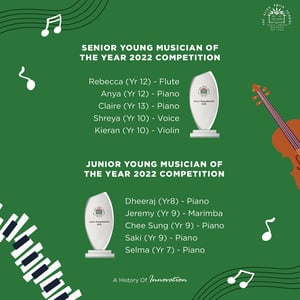 There were two categories, Year 7-9 and Year 10-13 and the top five performers from each were judged by an external judge, Dr Andrew Filmer, who picked our final two winners.
Our judge this year, Dr Andrew Filmer, teaches at Sunway University in Malaysia and performs in the Sutera Ensemble. He holds a PhD from the University of Otago, and a Master's in Viola Performance from Indiana University South Bend. He is versatile in the arts, combining his musicology training with that of viola performance and a passion for teaching. Andrew has won commendations and prizes in teaching, public speaking, research, performance and leadership. As an active supporter of historically-informed performance, he was part of a three-person team that constructed the first harpsichord built in Malaysia.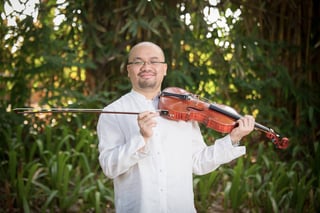 With a dedication towards teaching, Andrew has facilitated string pedagogy workshops for Trinity College London and the Associated Board of the Royal Schools of Music (ABRSM). He has a side speciality in technology for education, has facilitated workshops in Malaysia and New Zealand, and won Best Presentation for his research at the International Conference on Education and Multimedia Technology in Kyoto, Japan in 2020. We are thrilled he will be the judge of EP's Young Musician of the Year Competition 2022.
The KLASS Young Musician of the Year competition has remained an online event as this enables more students to be involved and the music prefect team have worked on preparing posters and a launch video which was shown to students during their tutor time, and they have supported our students in developing their independent learning skills while planning for the competition. Students have spent time discussing with their instrumental teachers the best piece to play for the competition.
The results were announced in our term 2 Commendation Assemblies. Our junior winner is Saki Hata in Year 9 who played Lieberstraum No. 3 in A-Flat Major by Franz Liszt on the piano and Rebecca Lim in Year 12 is our Senior winner who performed Suite, Op.34 - Charles-Marie Widor on the Flute. We are extremely proud of all of our performers and hope they will look forward to next years competition.
Here's what Saki had to say when she heard she had won the junior section;
"I chose Liebestraum No.3 by Franz Liszt as a piece for the young musician competition. He is a romantic composer and one of my most favourite pianists. This piece was originally written for piano and voice, and this song requires mature comprehension, expressiveness and techniques. Therefore, I wanted to play this song when I get older. This piece was especially difficult because the melody is not only on the right hand and I had to control both hands to stand out the melody. It required 2 months of practicing. Alice Smith has so many talented musicians and the competition was not easy so I am truly honoured to become a winner. I am most grateful to the school and especially Ms Handley and Mr Payne for giving me a chance."
The musical life at Alice Smith allows students to excel in performing and develop vital life skills through their love of music. The ECA program and the visiting peripatetic staff enhance the musical life of all involved, through expert guidance, a sense of belonging and commitment to music. We are inspired by the musical abilities of our students and hope that this opportunity has created an opportunity to show off all of the hard work that goes into preparing for a performance.
Please enjoy Saki and Rebecca's winning performances!
Author: Ms Jane Handley, Teacher of Music