We are thrilled to share the exciting developments happening at our JB campus, where waste reduction has become the key focus following our environmental review. Led by our passionate Eco-warriors, we launched a 'reduce waste with polished plates' campaign, aiming to significantly decrease the amount of food waste left behind at lunch and break time in the deli.
At EP, students have been learning about the different types of plastic and how they can be recycled. Students have been sorting, washing, and cutting plastics for use in our Precious Plastics machine and have made some zero waste coasters. Look out for more details and an update on our progress in next month's blog post!
And that is not all! Our JB and EP Eco-clubs teamed up to hold a 'Project Robot' competition. Across both campuses, our students worked hard to design and create recycled robots. The final products and accompanying videos have been creative, unique and informative.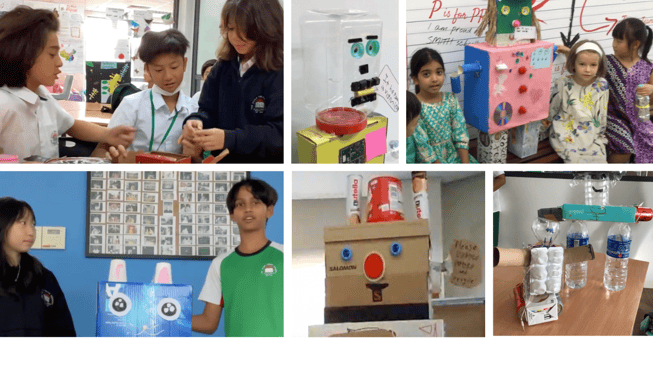 "I learnt about plastic and paper waste and the disadvantages for the earth with this waste. I also learnt what happens to plastics once it ends up in a landfill and how it affects the rest of the environment, hence why it's important to recycle it. I enjoyed working with a few of my friends to help me research ideas on plastic, so that I can also try their ideas, and I also enjoyed watching my classmates make the robot and film all of us talking about it." - Rachel, Year 8 winner.
This week, our whole school focus, in recognition of World Environment day on June 5th, has been fabric waste. In support of Kloth Cares, our pupils have been donating fabrics they no longer need in order for them to be donated to charities or upcycled.
Katie O'Hara and Hannah Richardson
Primary and Secondary Eco Leaders