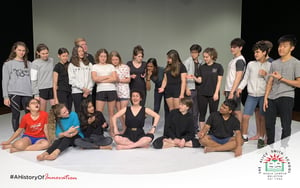 We were delighted to welcome Kerry Frampton, Artistic Director of Splendid Productions, the award-winning UK theatre company, back to Alice Smith School to deliver a theatre-making residency to our KS4 and KS5 Drama students in the mid term break.
Splendid Productions are the UK's foremost education theatre company. Led by Artistic Director, Kerry Frampton, they tour sell-out shows across the UK and internationally. Their work has recently been added to the new GCSE and A Level specifications, such is their reputation in the UK.
India and Rhianne took some time out from the workshop to find out a little more about Kerry.
What is your background in theatre and how did you start your theatre company?
"I did a degree in theatre at Bretton Hall, a drama school in Leeds, which was a brilliant place, and then I was a jobbing actor. I set Splendid up in 2003, and the aim was to create political theatre, with a small cast that was theatrical and interactive.
I've done lots of different types of performance, but I'm very interested in audience work, and I've always been very political. By political I mean socially political. With every group of students that we meet, we are trying to encourage confidence, understanding of self, and understanding of how much of an impact you can have.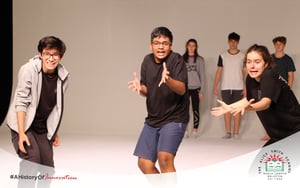 So, Splendid's been going for 17 years, and we have made 16 shows, and now I'm not in them anymore, I adapt them and direct them, which means I'm able to do a bit of performing for the people, and writing for the people, and directing for the people, and teaching. I've been teaching at Liverpool Institute for the Performing Arts, (LIPA). Teaching has always been very much hand in hand with performance, but I'm not a trained teacher so everything I've learnt, I've learnt from the doing of it."
What drew you to Brecht and Brechtian theatre?
"At the time I set the company up, there was a need or a requirement that if you were doing Stanislavski, that the students had to see a piece of Stanislavskian work, so you can probably access a piece of standard realism if not naturalism quite simply. But Brecht was really hard, so my first job I just did workshopping. There was a school in Reading which had gone to Glasgow - to Scotland - to see a piece of Brechtian theatre, and then the teacher said to me, "Do you know where I can see a piece of Brechtian theatre that's closer to home?" and I said, "Well that's funny because we're going to do that, next year." She said, "Oh what are you going to do?", and I said, "If you could choose, is there one show that you would particularly like to see?" and she said, "The Resistible Rise of Arturo Ui", which is about the rise of fascism. I was like, "That's funny, that's what we're doing."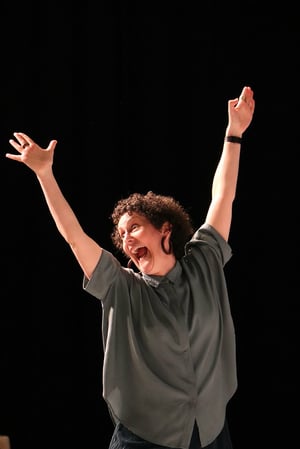 It was a lie. If you tell enough people you're going to make it happen, you'll just make it happen. So if you're like, "I'm not sure", say to other people that you're going to do it, then you have to do it. So, I did that, and then we did it, (and) now I have a company.
I don't like passive thought, where you just sit there and go "that's nice." I want something where you feel like you're part of it - I like theatre that makes you feel like you're at a gig. Where you feel like you are part of something, not passive in it. I don't ever want students to be passive in anything, I want them to be fully present. That doesn't mean being loud, it just means being open."
What is the most fulfilling part of your job?
Meeting people like you (India and Rhianne). That I get to meet incredible young people. We describe it in Splendid as planting seeds. So, it's not just about technique that you can then steal, it's more than that, it's about understanding what you're capable of, and always whatever you think your edges are, to just nudge them out a little bit, rather than narrowing down. We want our students to realise that one, they are not by themselves, and two that there's power in togetherness. This is what I mean by the social politics, the social politics aren't just within the show, they are totally embedded within the ethos of the company, which is that: We make each other better. We raise each other's games.
We want our students to realise that one, they are not by themselves, and two that there's power in togetherness
The lovely thing about my job is that I get to meet people - there are people I met 15 years ago who have their own companies now, or chose to go to drama school because we were like "You got this! You can do this!". It's like teachers with past students - there's a pleasure there of knowing you planted a seed of something, that to me is really important, and it's not evangelical, and it's not like saving. Some things will take, and some things won't take. What a pleasure. Look at these past four days with you lovely lot. Look at everyone's journey. It's about self, sufficiency, not being passive to drama, making your work in your way.
Jacques Lecoq. In his school, in Paris, it has across the door, "Don't do what I do, do what you do", I believe. I've not seen it. But I think that's quite a good thing isn't it? All of the skills we learnt and did, they're yours now, and you found your own versions of them, you found your own thing. So, it's about what you do. You take what we give you and then you work out your version."
Why should students study drama?
"Because it's never just drama. It's about life. When the robots come, they're going to be able to do a lot of the things that you're learning in school. What are they not going to be able to do? Creatively solve problems, emotionally observe the room, negotiate (with) one another, be emotionally intelligent.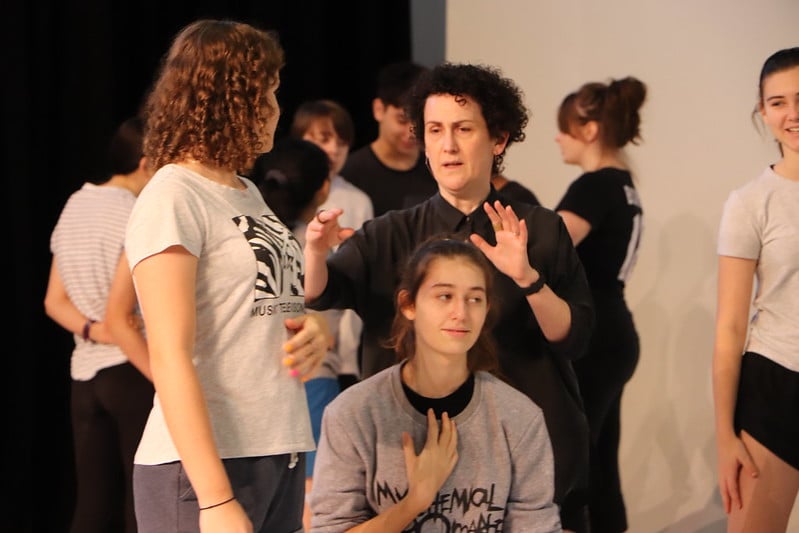 So, if you're a sociologist, you should do drama, if you're into politics, you should do drama, if you love language, you should do drama, if you like history you should do drama. If you want to be anything where you want to be in direct communion or you want to persuade, or you want to take space or be flexible, you should take drama. To be part of a team, to lead and to follow. It's never just drama. It's life skills. "Theatre is rehearsal for revolution". You've been someone you're not, expressed yourself in a way you've not, you know you've got that within you."
Thank you to Kerry and all our Splendid workshop participants. If you would like to see more check out our Flickr page for photographs and video.