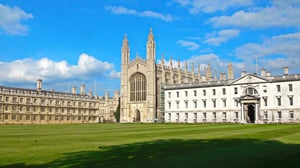 We were very fortunate to welcome Claire Canning, the Deputy Student Recruitment Manager (International) from the University of Cambridge to Alice Smith this week to talk to our students and parents about applying to, and studying at, this prestigious institution.
What's so special about Cambridge?
The University of Cambridge is one of the world's leading universities, providing a challenging, flexible and individual learning experience. If you have the ability, the commitment and the motivation to study there, you can expect to gain a lot in return. The University is globally respected for the quality of it's teaching and research, and it's graduates are highly sought after by employers.
The university offers more than 65 subjects within 30 undergraduate courses, some of which aren't offered at other institutions such as 'Land Economy' and 'Human, Social and Political Sciences'. Most of the courses cover the subject area broadly to start with before allowing you to choose from a range of specialisms.
Cambridge is unusual in that it is a 'collegiate' university, which means it comprises University faculties and departments in different academic subjects, and a number of Colleges. There are 29 undergraduate colleges. Each college is like a mini campus and acts as a base for its students providing academic and pastoral care. It has accommodation, dining and recreation facilities but it isn't an academic department. You can study the same program in different colleges, and the University coordinates and manages the course contents across all colleges.
Most universities are only able to offer accommodation to first year students but at Cambridge students are guaranteed a place on campus for three years, which is provided by your College. Storage is also available over summer and vacation periods, so you won't have to bring your big items home for the vacation and you don't need to pay in the holidays if you aren't staying.
There is a strong Careers office, and Cambridge students and alumni have lifetime access to the Career Service. Cambridge graduates are highly sought after by employers. You can also reach out to the Alumni network to find a mentor or get internship opportunities.
What attributes is the university looking for in future students?
The best and brightest students, irrespective of social, religious or school backgrounds.
They want to see evidence of your academic ability and potential demonstrated through:
Enthusiasm for your chosen subject
Knowledge of your chosen subject
Intellectual interest and initiative
You're a good 'fit' for the course you have applied for
You have vocational commitment (where appropriate)
What is not relevant:
Particular background
Type of school you attend
Irrelevant extra curricular activities
Entry requirements are high. A-Levels students will usually need to achieve A*AA for Humanities or Arts courses and A*A*A for Maths, Science and Economics courses.
So not only must you be good academically in a subject, but you also need to show a deep interest in that subject.
The university will look at each application individually, assessing your personal statements to see your interests in the course and referring to the reference letters to see your strengths in school.
If you're applying for more applied courses (Medicine, Veterinary Medicine, Architecture, etc), they also want to see some vocational or work experiences to see that you are interested in the career pathway.
So how do I apply?
Choose your course. If you're thinking of applying for the Medicine course, please remember that they have a quota of 21 international students - it is EXTREMELY competitive. There are no quotas for other courses at Cambridge and you should also consider new and different options that you might not have seen before.
Choose a College or make an open application. Choosing which college to apply for may be daunting, but make sure you consider location, accommodation, age and appearance (some are older than others), size (300 new students vs 50 new students) and facilities. It will be your home for at least 3 years!
Check admission assessment arrangements.

Some courses will have additional requirements or tests.

Make your application through UCAS. Applications need to be made early. For 2021 entry, the UCAS deadline is 20 September 2020 (for people interviewing in Malaysia) and 15 October 2020 (for people interviewing in Cambridge). Remember you can't apply to both Oxford and Cambridge in the same year!
Complete the Cambridge Online Preliminary Application (COPA) and Supplementary Application Questionnaire (SAQ) . These additional documents allow the university to collect useful information that isn't part of your UCAS application, and to make arrangements for overseas interviews. You can also make an additional personal statement to support your application. For instance if you're applying to a course unique to Cambridge and would like to explain the reasons behind your decision.
Submit written work and / or take admission assessment. This will be determined by the course you are applying to.
Attend your interview. The final phase of the application is the interview. This is a good opportunity for applicants to show their skills and interests in the course and University/college. Interviews are academic-based and last for around 20-45 minutes. If you have applied in time most courses will hold interviews in Malaysia, though for certain smaller or specific courses, such as Architecture or History of Art you may need to be interviewed in Cambridge itself.
Receive your decision. This happens in January. Cambridge receives between 5 and 6 applications for each available space so if you are unsuccessful, it's not that you weren't good enough it's that they don't have enough spaces to offer to every single outstanding applicant, so don't feel discouraged!
We are delighted that four students from Alice Smith have been offered places to study at the University of Cambridge this Sept in subjects including History and Politics, Engineering and English. Remember you can only be successful if you apply!


Our thanks goes to Claire Canning, the Deputy Student Recruitment Manager (International) from the University of Cambridge for taking the time to visit and sharing such helpful information with our students and parents.