Every strategic decision made by Council is guided by our vision for the Alice Smith School: To lead the pursuit of excellence in learning through nurturing, inspiring and enriching the lives and characters of young people. And, as a not-for-profit school, all our resources are focused on our students' success and wellbeing. Our role as the Council of Governors is to function at a strategic level in order to ensure the long-term sustainability of The Alice Smith Schools Association (ASSA) and to make decisions in the long-term best interests of current and future students.
Council's Core Functions

Council's sole employee is the Head of School to whom Council delegates responsibility for the day-to-day management and operations of the school. The Head of School is accountable to Council for the educational performance of the school and its students and the performance management of staff.
For details of the skills and backgrounds of our current governors please click here.
The Structure of the Council of Governors

Council meets twice a term to consider strategic matters relevant to the core functions mentioned above.
More detailed work takes place through the subcommittees: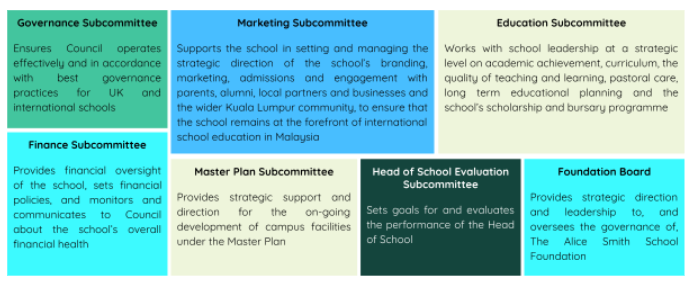 Council is most appreciative of the time given by various non-Council parent members who sit on the above subcommittees. The contribution of their specific expertise and skills to subcommittee discussions adds value to the work of the relevant subcommittees and Council overall.

Council also has a Safeguarding Governor and a Health & Safety Governor who take leadership responsibility for ensuring the school's safeguarding, child protection and health and safety arrangements comply with international best practice. In addition to Council's subcommittees, task forces are used by Council to undertake specific short-term tasks (most recently, the Crisis Task Force, the HOS Search Task Force and the Transition Task Force referred to below).

In accordance with best governance practices at international schools, each governor undertook this year, online training in safeguarding and child protection, anti-bribery and corruption, data protection and cybersecurity. Governors also participated in various webinars held by international governance experts over the year and interacted with other international school boards to learn best practice responses to the ongoing impact of the pandemic on our school.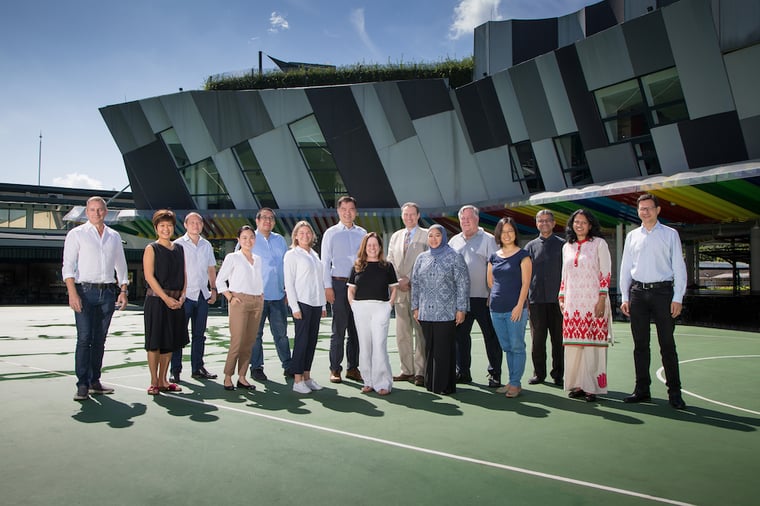 Author: Marama Schnitker, Chair, Council of Governors
Find out more about the history of our school on our interactive timeline here.