The Shakespeare Double Bill of The Tempest and Macbeth, takes place on December 10th and 11th at the Secondary Campus, with KS3 students performing The Tempest and KS4 and KS5 in Macbeth.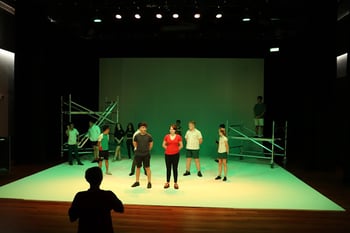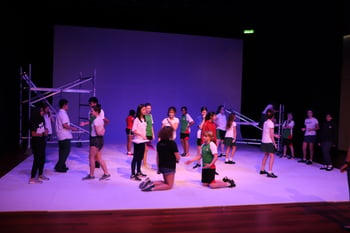 Across twelve weeks of rehearsals, over 70 students have come together to challenge themselves to explore the complex language of the text, master their performance and technical skills and develop strong bonds within their company.
On an isolated island Prospero waits, robbed of his position, power and wealth, he plots revenge for his brother's betrayal. He bends nature to his will to regain what was taken.
The actor of Prospero in The Tempest, Lauren commented on the process: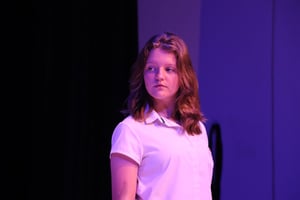 "I am so grateful for the opportunity to take part in this years production as everyone has such a positive mindset. I am very excited to be taking (I)GCSE drama next year, as I hope it will help develop my skills even further in a subject that I truly enjoy and I am excited to work on more high level pieces. I have loved every experience that The Tempest has brought to me so far and I look forward to the 'curtain falling' on our final performance and seeing the culmination of all our hard work."
Returning home from battle, the victorious Macbeth meets three witches on the heath. Driven by their disturbing prophecies, he sets out on the path to murder.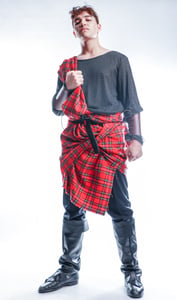 Adam, playing Macbeth added, "Since coming to this school, I've had an engaged interest in Drama. Each year, I've signed up for the production, and enjoyed it thoroughly. It is always productive and fast paced, working collaboratively on our acting and and we always improve due to direction, and collaborative acting."
While the actors in both productions are the most obvious roles our students fill there are also many opportunities for them to develop their technical skills as well with students working on all aspects of the production including directing, lighting and sound.
Rhianne, our Year 12 A Level Drama and Theatre Studies student, comments on her work exploring sound in her role as Assistant Sound Technician for Macbeth.
"Working on the sound for Macbeth has been a new and exciting experience and I am enjoying it a lot. It has not only given me the opportunity to learn new things about using the soundboard but it has also helped me develop friendships with people who I never would've talked to if it weren't for Macbeth. I feel as though I have learnt a lot from working on the play, which can be incorporated into my A Levels."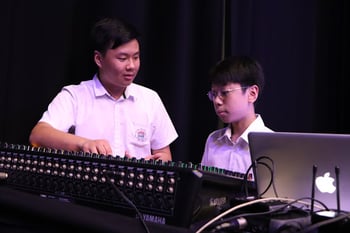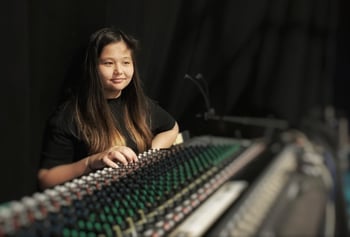 Austin and Derrick (Year 9 students), are operating the sound for The Tempest. This is their third year in their role, having first worked on Beauty and The Beast back in 2017. Here they discuss their involvement in the piece.
"Being a part of the productions throughout the years has been a great pleasure, as we have gotten to see everything inside and out of the procedures of the show, with a focus on designing the lights, sound and cues. I've experienced a lot of things from Year 7 and have especially cherished the friendships created solely from the 4 hours of rehearsals a week. Most of all, we love being a part of the whole process, and seeing it come together so perfectly, with trials and errors throughout the way. We will definitely be joining in on the fun next year. I highly recommend you join, whether you are interested in specialising in the technical side of the production or are an aspiring actor, it is an experience that one will never forget."
You can read more about our production preparations in our earlier post 'Be prepared to laugh, cry and be terrified at Macbeth'.
Tickets are available now via KLASS OPS or directly from the school. Please note, no paper tickets will be issued. Your tickets will be held at the box office and available before the show. We recommend you arrive with plenty of time to collect your tickets. Please be aware that due to the configuration of the staging latecomers will not be admitted until the interval and plan your journey allowing for traffic and KL weather!
See you there!