Our Secondary campus holds Wider Learning Days (WLDs) three times a year and on these days, the timetable is collapsed and students participate in learning beyond the syllabus. This often takes the form of working in teams, learning about our place in the world or applying skills in an unusual aspect of life. Have a read below to find out more about our most recent WLD.
Year 7: Modern Foreign Language (MFL) Games, a French Film and Kite Making
"In this activity we were playing Malay games such as chongkok and 5 stones. We played in our groups and a sense of friendly competition arose. The games were a great team bonding activity and helped build and develop friendships among the groups. We played many other Malaysian games with help from the MFL staff which helped us play and understand the games and where they came from. The other game we played was an Aztec game called "patolli" using corn to represent gold and beans with holes carved in them as dice. We had great fun attempting this ancient game. We thank Mr Rodic and Mr East for finding the game and creating the pieces for the year on such short notice. The game involved an ancient Aztec God named Macuilxochitl (ma - quil - cha - ti - tal) the ancient God of games. It involved "calling" the God to give us luck. Unfortunately the game was very long and a lot of teams did not finish their games however it was very fun."
Sofina, Year 7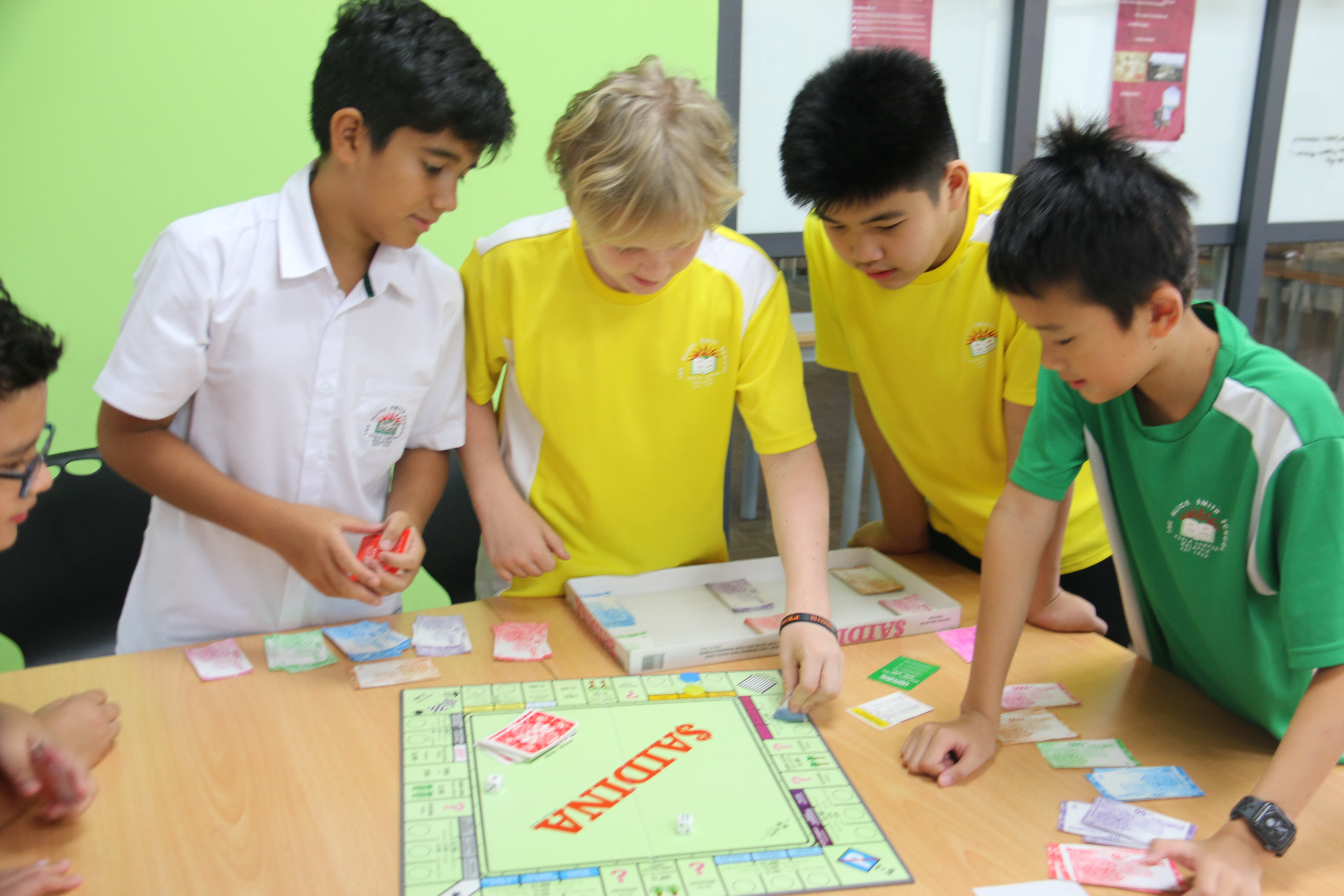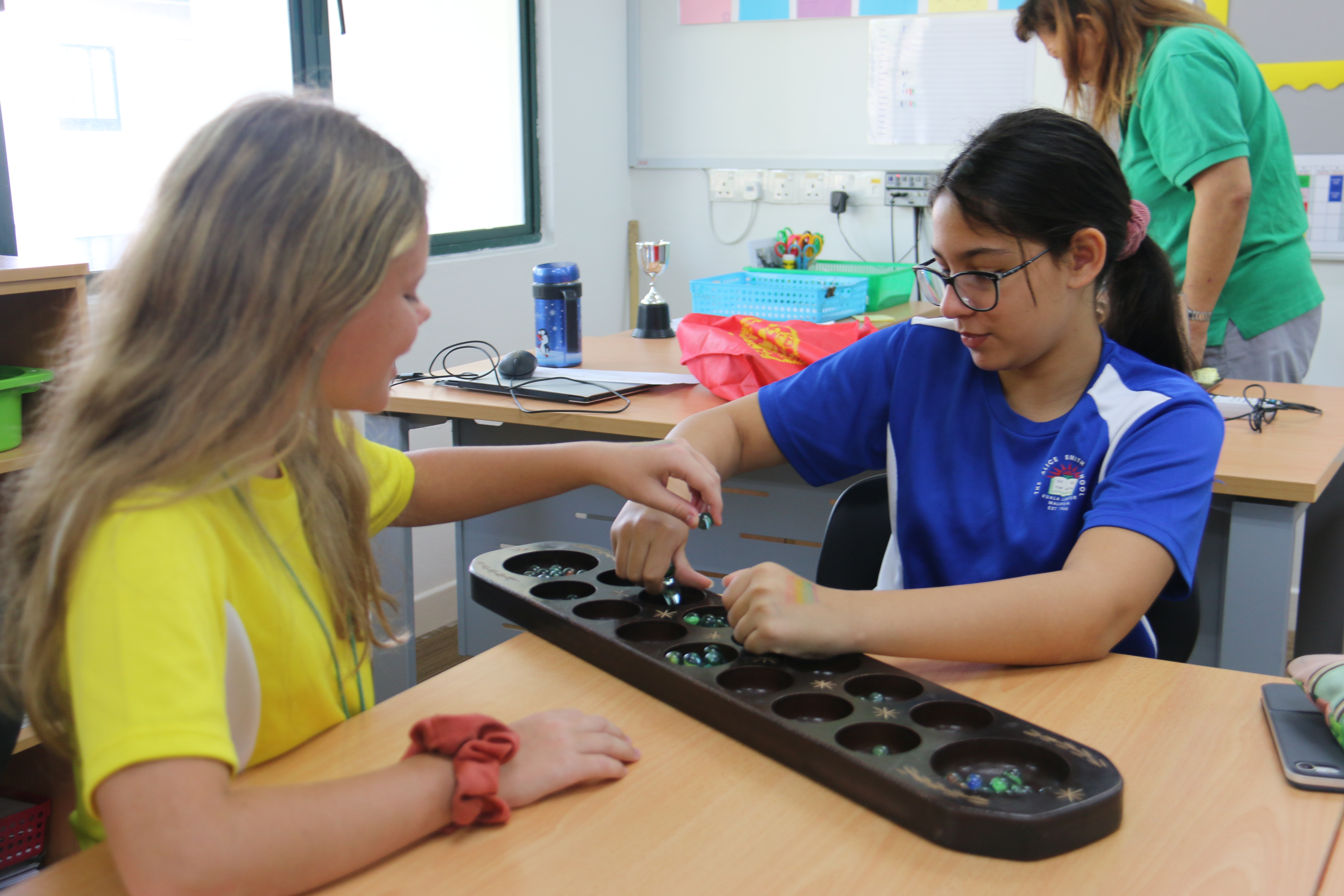 "During one of the sessions we watched a thrilling French film "The Extraordinary Adventures of Adèle Blanc-Sec '' It was a mystery fantasy film set in 1911 France. The whole film was in French which definitely expanded our knowledge of the language. Students who do not learn French had the chance to listen and get used to the language. The film was very interesting and hooked every Year 7; it was about a young lady named Adèle who tries to save her sister after a tragic death. The MFL staff also really enjoyed the film as Mr East said he was eager to watch it. Overall I think the film was interesting and extremely exciting. Definitely an interesting activity and my favourite throughout the day."
Erin, Year 7
"In this activity, we made unique kites that actually flew! Each student made their own kite from just a coloured piece of cloth. We used colour pens to decorate our designs and there was a sweet treat at the end of each session for the best designs. Yum!! Danny, the kite instructor helped us to attach the string to the kites and let us fly them in the Spanish breakout space. These kites showed us different cultures and festivals in countries other than Malaysia. It gave us an opportunity to release our creative instincts in drawing and colouring our designs. This activity was really interesting and fun and all feedback leading on was positive. Everyone especially enjoyed testing the kites after creating them."
Alina, Year 7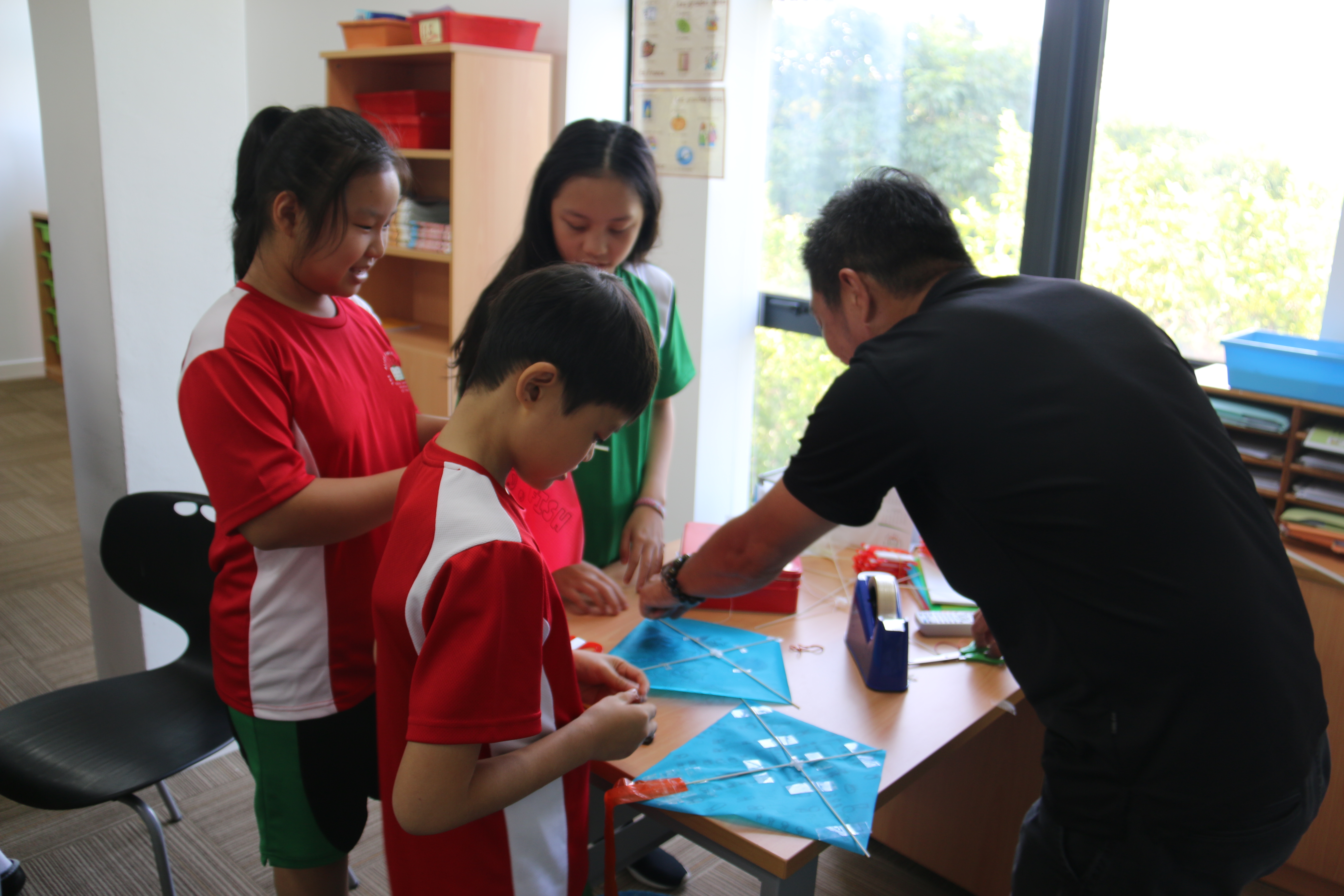 Year 8: STEM challenge
"During our Wider Learning Day, every group was tasked to create bath salts and face cream, including packaging and an advert. This tested our ability to make decisions on equipment, finance, design and marketing. By the end of the day, everyone made a sales pitch that displayed their product and the reasons why it was unique and prodigious. Even though the day was filled with numerous challenges, it made everyone learn that in order to succeed in life, you have to be willing to take chances and use skills that will help you develop as a person and as a team. Despite my group facing a few minor problems, we worked together to overcome them which made us stronger as a team and more open-minded as individuals. By the end of it, we had surpassed our expectations, we did a great job and were very proud of our products!
Wider Learning Days are always an incredible way to broaden our understanding of essential topics while obtaining key skills that will help us in the future. I think that our recent Wider Learning Day was an extremely enjoyable day filled with activities and tasks that pushed us out of our comfort zones. From making our own products to investing in others, the day was an exceptional way to show us what the real world is like. I can now confidently say that I have learned how to think outside the box in complicated situations, communicate well with others in order to be a successful team, think logically to make rational decisions, and be a shrewd and sensible person while taking risks and having fun."
Aniqah, Year 8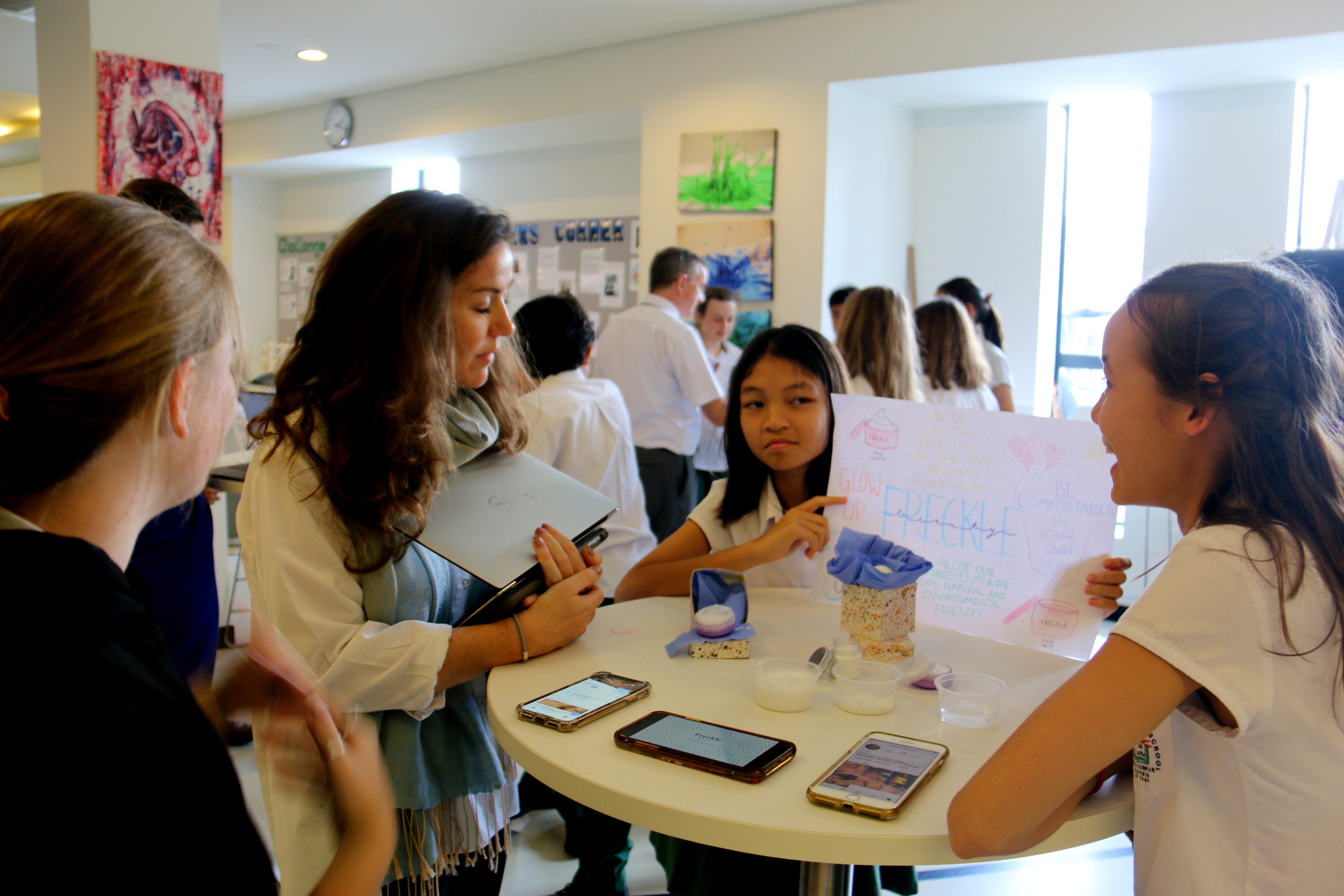 "I enjoyed Wider Learning Day this term because it was fun and I learned how to handle money. I also learned how to make face cream and bath salts. I think it was a good experience and I learned a lot about science and economics although, in the end, my team ended up losing a lot of 'money'!"
Alessandra, Year 8
"During Wider Learning Day I had a lot of fun and also learned about business and how stocks and stock markets work. I found it really informative. We picked our groups and went to our 'offices' which was kind of cool. We had to write a lot of info about our company which hurt my brain but my group did it in the end. My group members went to the company registration place to register our company, we went to the bank to get a loan and after a few rejections we finally got the money.
We had to go through a lot of chemistry, sadness and "prison'' but in the end, I had a great time however I don't think I will ever sell face cream or bath salts in the future."
Rex, Year 8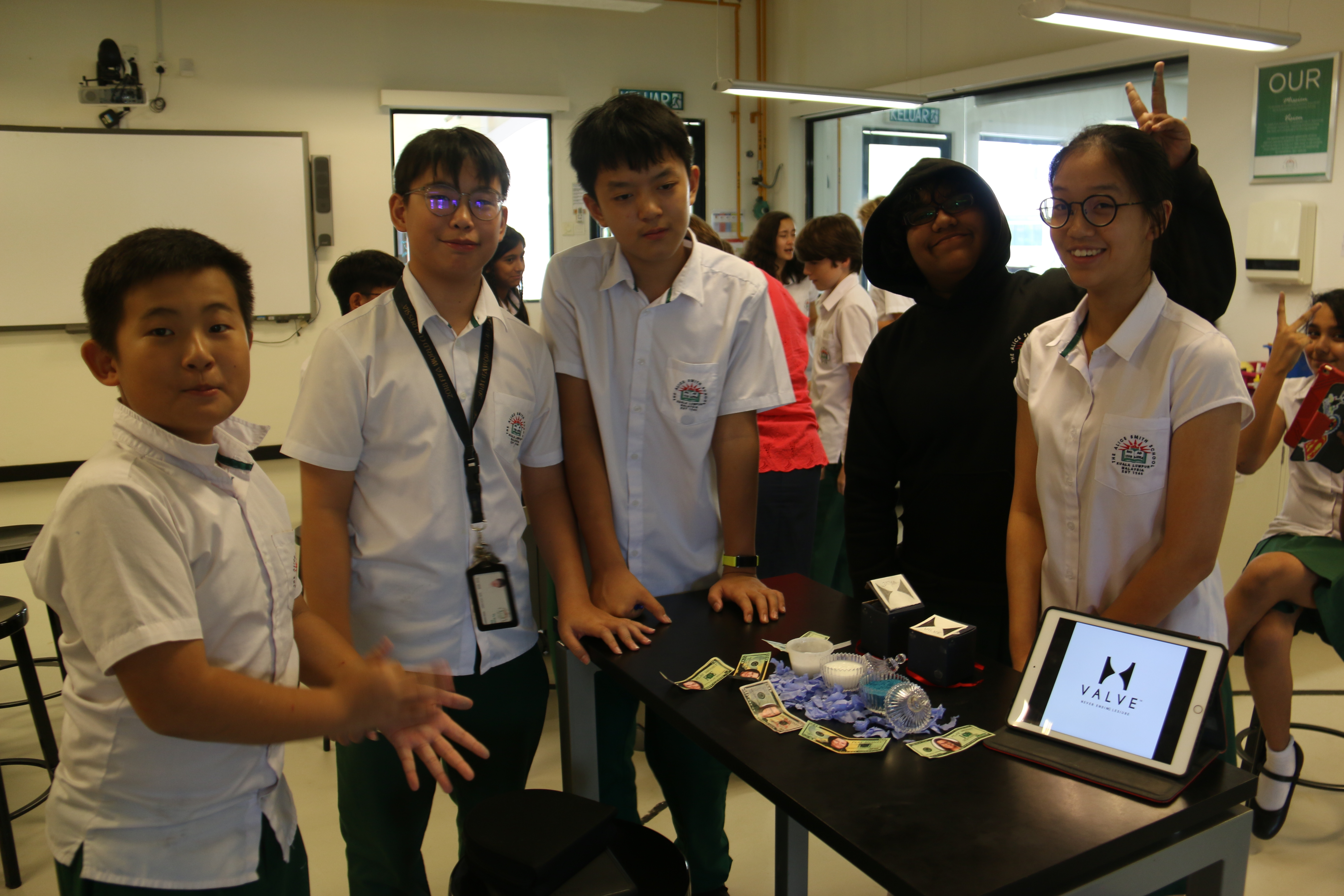 Year 9: Travel - The Gobi Desert
"Wider Learning Day 2 was a great experience for Year 9's as we got to meet Jeff Ross, an experienced ultramarathon runner who ran through the Gobi desert with just a backpack and himself to rely on. He told us tales of nerves and excitement as he prepared to run through some of the toughest terrain known.
Groups got to choose from a range of different topics to research and respond to, including animal adaptations, survival skills in the desert and stories of adventure and danger in the wilderness. We explored ways to write our article on animal adaptations and got to learn more about the Gobi Desert at the same time. We asked Jeff about what animals and wildlife he saw during the race around the Gobi Desert, but he said he didn't really get to see any animals and there were just a few insects here and there. However, he taught us a lot about the difficulties of survival in the desert, so we knew the animals had a lot to adapt to. We also saw the importance of being focused on your end goal, because of how he focused solely on the race and on his well being rather than getting distracted by the surroundings.
We then created an article to inform people about some of the bizarre wildlife that thrives in the desert, from the long-legged but mouse-like jerboa, to the soaring golden eagle. We think that it was a great experience as we got to develop our writing and advertising skills and also hear the first hand experience of the Gobi March as well.
Michele and Claire, Year 9
Year 10: Stocks and Shares
"I found the day exciting, because we got to learn new things about business and about how we can manage our money better by investing. The lessons on the Young Investors website were very informative. My team enjoyed earning imaginary credit from the quizzes which we could later invest in businesses after researching them. The day ended with watching great presentations by the best groups from other tutor groups. Overall, the day inspired me to invest my money with care.
Zi Xuan, Year 10
Year 11: Exam Preparation and Study Technique
"Students partook of a number of academic study skills sessions with a particular goal of providing the necessary tools needed to ace their upcoming summer exams. Students had the choice to pick subjects they felt that they needed extra support and development in and they found these sessions to be a great confidence booster, as well as a much-needed focus on some subjects that require copious amounts of coursework.
Overall, the day was a great success and was educational yet enjoyable and serious yet liberating; students found the advice and support given to be particularly invaluable while being a great escape from the usual rigour of the school day.
Theo and Li-Anne, Year 11
Sixth Form
Our older students were given an opportunity for some focused time with subject teachers to improve their understanding of key areas of the curriculum, support with coursework, and review material. Feedback from these students has been really positive.
"I found it particularly useful because I was able to learn essay-writing skills"
"We went through past paper questions and discussed [how to complete them] efficiently"
"I thought it was very useful to get a overall insight into how all the information comes together"
"I had time to work on my coursework with my teacher there so I could ask for feedback and help"
"Both drama sessions were very beneficial to my upcoming 'devising' process"
"Building rockets was fun and a good application of my A Level physics that I have studied"
"I found the maths session particularly useful as it was on a topic that I found difficult"
"Sessions about exam technique and revision because ultimately that will be what determines our success, aside from learning the subject content"
Enrichment activities are an integral part of our school's mission and vision in providing enriching, holistic education our students experience beyond the classroom. You ca read more about the huge range of opportunities available here.