"Despite the challenges that the pandemic has brought, our students have continued to work hard in independently preparing for music examinations. Dheeraj is one such student, who has demonstrated that with effort, dedication and guidance incredible things can be achieved. To attain an ABRSM distinction at Grade 8 is notable, but to score 140/150 is simply outstanding, and not something that is seen often at this high level of performance. I am sure that this will inspire others to follow in these footsteps. Congratulations to Dheeraj on this milestone achievement." Mr. Payne, Head of Music, Secondary School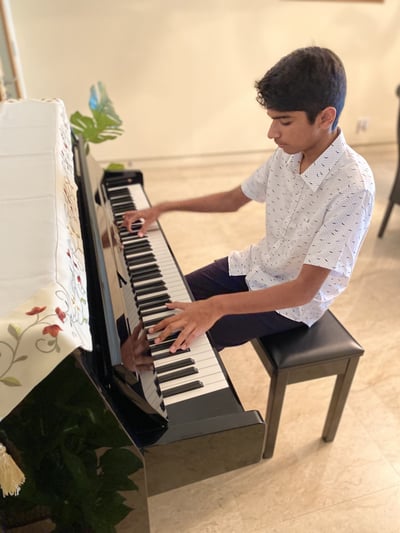 Here's Dheeraj to tell us more about his fantastic achievement.

"It is an honour and privilege to have finally achieved what I thought was a distant dream a few years ago. Now a reality, I recently completed my grade 8 on the piano, following the ABRSM syllabus.

Preparing for this assessment was one of the hardest, as expected. I mainly found that one piece, of my least favourite genre, classical, was a cause for an obstacle. I spent about 7 - 8 months preparing successive to my Grade 7 exam which I did during summer 2021. I continued with the same preparations for Grade 8, by having weekly (sometimes twice in a week towards the closing of the due date) lessons to progress. I managed to master 3 pieces by late December, but as I was sitting for the virtual exam category, I had to learn 4 pieces.

Eventually, the time had come to start filming - in total I had 4 complete attempts, in addition to 1 half attempt (all pieces have to be in one take, though). I decided to go with the last clip, and my expectations were a merit, especially due to my third song, "Fantasia in C Minor" by J.S. Bach.
I was taken by awe when I was informed that I got a Distinction (140/150) for my exam.
Despite my lack of confidence for the third piece, I still achieved a 27 / 30, and the examiner remarked that the piece's "articulation was purposeful and the triplet groupings were well defined, with just occasional unevenness of tone." The highest score I acquired for an individual piece was 29/30.

The examiner also remarked that, on the performance's whole scale, "There was a high level of musical engagement throughout the programme, with suitable framing of pieces and a clear differentiation between musical styles."

Ultimately, I have to give special thanks to my teacher who has conducted the way for me since Grade 2 - this wouldn't have been possible without her guidance."
Many congratulations Dheeraj! 👏👏👏
Editor's note: If you are interested in learning a musical instrument our peripatetic music teachers offer 1-2-1 lessons in over 15 different instruments and lessons are available at both campuses. If you are interested please get in contact with the music department.