It is a pleasure to be able to share with you in this week's Secondary Blog, two snapshots of special moments that celebrate and highlight the exceptional calibre of our students. In the field of creative writing, Caitlin Gray (Assistant Head of Department for English) explains how our students across Key Stages 3 and 4 have risen to the challenge of this year's FOBISIA Short Story Competition theme of 'memories' to compose memorable and impactful stories. We will also hear from our Vice Principal for Community and Operations, Gavin Lazaro, about the KLASS Scholarship Programme and the uplifting Scholarship Presentation Ceremony that took place last week. Enjoy!
FOBISIA Short Story - EP Winners!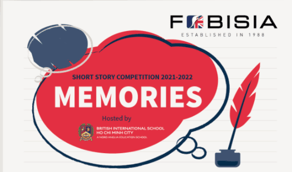 This term, a number of Secondary students composed entries to the annual FOBISIA Short Story Competition. The English Department was thoroughly impressed by the level of sophistication, maturity and creativity on display in the stories produced for this year's theme: 'Memories'. 20 entries were received in total, from students in Year 7 right up to Year 11! We're pleased to share that the KLASS internal winners for the competition are:
1st place - Zhiyi (Year 9), 'The Memory Catcher'
2nd place - Thara ( Year 10), 'Our Patchwork Quilt'
3rd place - Xian Lyn (Year 10), 'Why Won't the Cicadas Sing?'
Zhiyi's beautiful story has now been submitted for final judging by FOBISIA and we await the outcome with anticipation!
The presentation of our Scholars
For obvious reasons, we have only been unable to celebrate this type of event for the past two years, so what a delight it was last week to finally welcome over 60 parents to campus to help celebrate their children being awarded one of four Alice Smith Scholarships. Parents, students, staff and Board members were delighted to help applaud and celebrate our amazing scholars. Let me share with you more about our programme and the names of students who were celebrated at last week's event.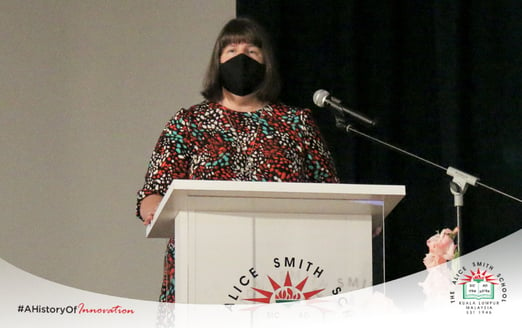 The KLASS Scholarship is part of our philanthropic approach to education for students not currently enrolled in our school. It is a full scholarship which aims to benefit high achieving post-SPM Malaysian students who have limited financial means.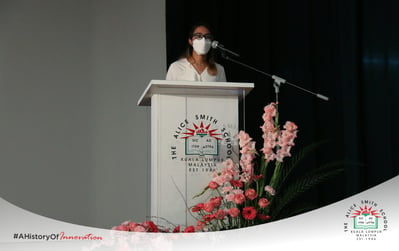 Scholars will have demonstrated consistently outstanding academic achievement, will be aiming for an international level of education at a good university, and must fulfil all the criteria for entry onto A Levels in our Sixth Form. Scholars are expected to push themselves in all aspects of learning, attain high levels of excellence in both academic and non-academic fields, and become a fully involved member of our school community. In the past, graduates from the KLASS Scholarship programme have moved on to world class universities.
The Reach for the Stars Scholarships are partial scholarships covering up to 50% of fees, and are awarded on the basis of excellent academic attainment or talent in, for example, the arts or sports. Interested scholars will need to show strong academic performance and be an outstanding model student. This scholarship is awarded to external students and is awarded prior to the start of both (I)GCSE and A Level programmes.
The Principal's Scholarship is awarded to current Year 11 Alice Smith students on the basis of proven outstanding ability. Students do not apply for the Principal's Scholarship. Instead, faculties analyse data from Key Stage 4 (and sometimes Key Stage 3 too) to identify sustained attainment and/or achievement. There are two categories of the Principal's Scholarship: academic and talent. Our academic Principal's Scholars have a proven track record of outstanding academic attainment across a number of subjects. Like their academic counterparts, our talent Principal's Scholars will have a proven track record, but in this case in the fields of either the Arts or Sports. They will have been involved in teams, productions, showcases and supported their younger peers.
During last week's presentation event, we applauded and congratulated the following students:
Reach for the Stars Scholarship IGCSE (Year 10 2021/22)
Andrea
Ella
Huan
Noshin
Shreya
Sophie
Zhang Ning
Reach for the Stars Scholarship IGCSE (Year 10 2020/21)
Ana
Cally
Cuan
Eugene
Austin
Kenneth
Xin Yan
Kieve
Qian Hui
Yuqian
Reach for the Stars Scholars from the Sixth Form (Year 12 2021/22)
Ashley
Daniel
Elizabeth
Hayley
Ivan
Keith
Nam Phuong
Lin Teoh
Harry
Reach for the Stars Scholars from the Sixth Form (Year 12 2020/21)
Anandita
Anna
Henry
Hiba
Ishnajit
Jayden
Nicole
Oliver
Rishabh
Vanessa
Sophia
Sze Wei
Gwyneth
Alexa
Yuen Yeng
Zhe Xian
Zi Mo
KLASS Scholars (Year 12 2021/22)
Divya
Gha Yuan
Shu Qi
Please take a look at the photos of the event here.
Wishing you a wonderful weekend,
Maria Osowiecki
Secondary Principal