The KL Coding Cup hosted at The Alice Smith School on 11th March 2023 was a resounding success, with about 200 participants from 7 different schools. The 4 hour event aims to provide an exciting platform for young coders to showcase their skills and help foster a spirit of healthy competition and camaraderie among participants.
Designed to cater to coders of all levels, the 36 programming questions were crafted with varying degrees of difficulty and some even included elements of maths, physics and designing. Participants, ranging from year 7 to 13, worked with students from their own school in hopes of securing the prestigious KL Coding Cup trophy. Here's a great video from our CS Prefects to give you an overview of the day.
The overall first place trophy was awarded to Garden International School, with Sri KL and Sri KDU taking second and third place, respectively. Congratulations to all! A huge congratulation goes to Alice Smith's team, Island Men consisting of Huan Sha, Derrick, Kok Jin and Thivyesh for placing second out of a total of 60 teams! A special mention goes to the team of Adam and Sebastian from Alice Smith, who were the only team to solve all of the most challenging platinum-level questions.
Aside from competing, the event provided a great opportunity for the participants to meet new people and have fun. An especially memorable part of the event was the ice breaker activity, during which students from different schools collaborated to create the message "Hello World" using only their bodies (Photos).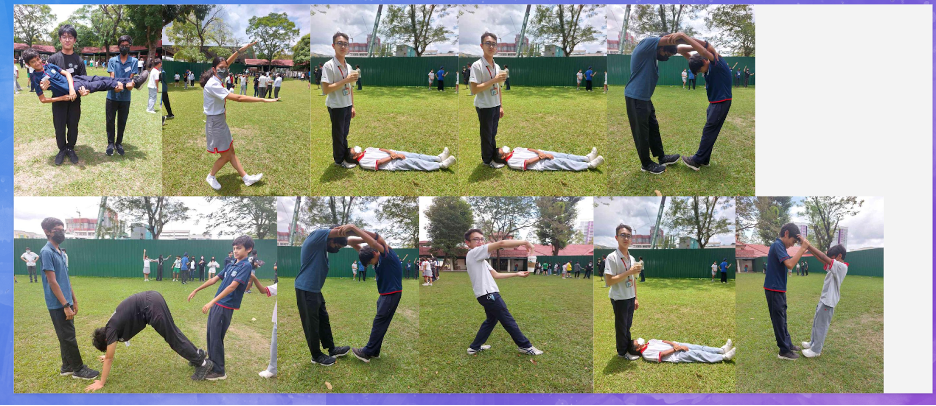 We also extend a special thanks to our year 12 helpers: Raisa, Frederik, Erin, Qian Hui, Kieran, and Tristan, for their invaluable support in making sure the event ran smoothly. Finally, we would like to express our gratitude to the technicians and maintenance staff who were present on the day for their assistance.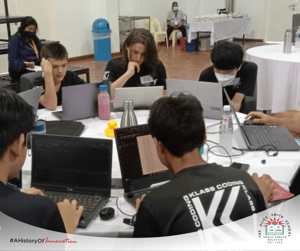 Overall, the KL Coding Cup was an incredible success that showcased the talent and potential of young coders from all across KL. It provided a platform for participants to hone their skills, learn new techniques, and make new friends. We hope that the event will inspire more young people to pursue coding as a career or hobby and look forward to hosting similar events in the future.
The level of participation from our school was truly impressive, and we want to express our gratitude to all the students listed below for representing the school with such enthusiasm and dedication:
Evan J, Luca M, Jun Wei K, Philippe V, Awab A, William M, Saaransh M, Ethan L, Zen C, Weng Kiat Y, Rex K, Leiyi S, Joy L, Yuki J, Effie K, Rangga G, Sachdev S,Kian L, Laith B, Taka B, Daniel S, Laksh M, Thivyesh S, Derrick S, Kok Jin T, Huan Sha C, Sebastian C and Adam S.
We hope to see you again in the next Coding Cup. Go KLASS coding!
CS prefects, Eugene and Jeremy
If you want to see more photos, have a look at the flickr page